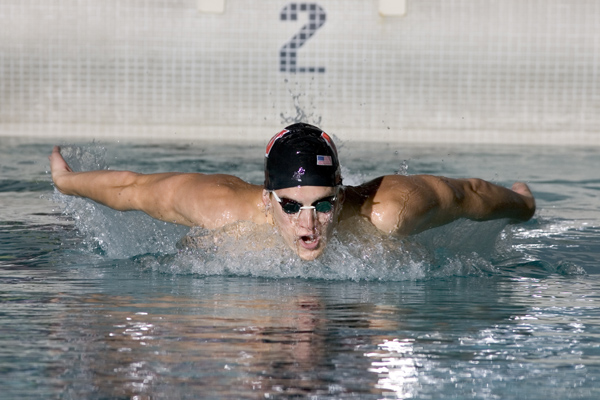 MINNEAPOLIS, Minnesota. January 28. THE No. 8 Minnesota men's swimming and diving team improved to 10-0 in dual meet action with victories over No. 15 Purdue and Wisconsin this weekend at University Aquatic Center. The Gophers defeated the Boilermakers 219-134 and the Badgers 281-72. Senior Adam Mitchell completed a sweep of his four individual events by winning the 400 individual medley and 200 backstroke this afternoon. The Gophers won six of the nine events today and 13 of 20 overall.
Purdue collected three wins Saturday en route to beating Wisconsin and falling short to Minnesota. Freshman Chris Etherington won the 100 fly with a personal best of 48.70, Giordan Pogioli took first in the 200 breast in 1:58.72 and Josh Karshen was victorious off the platform with a season-best total of 322.13 points.
Wisconsin's men were led by Tom Molzahn, who finished second in the 500-yard freestyle (4:30.77) and fourth in the 200-yard freestyle relay (1:23.10), along with teammates Mike Desautels, Kyle Sorensen and Eric Johnson. Mike Swanson earned third in the 500-yard freestyle in a time of 4:32.73.
University of Minnesota 219 over 134 Purdue University
Purdue University 227 over 126 University of Wisconsin
University of Minnesota 281 over 72 University of Wisconsin
Licensed to Univ. of Minnesota Aq. Center – Site License
Hy-Tek's Meet Manager 1/28/2006 02:14 PM
2006 Quad Duals – 1/27/2006 to 1/28/2006
Results
Event 2 Men 200 Yard Medley Relay
===============================================================================
School Seed Finals Points
===============================================================================
1 University of Minnesota 'A' NT 1:28.93
1) Berve, Dan JR 2) Lee-To, Colin FR
3) Osten, Neil A SR 4) Cerensek, Igor JR
11.40 22.74 11.30 24.74 9.51 21.56 9.67 19.89
2 Purdue University 'A' NT 1:29.84
1) Colley, Joe E SO 2) Pogioli, Giordan S SR
3) Etherington, Chris D FR 4) Smith, Trey JR
11.78 23.50 10.98 24.55 9.61 21.16 9.78 20.63
3 University of Minnesota 'B' NT 1:31.20
1) Volcansek, Ales JR 2) Knoechel, Drew JR
3) Engel, Matt SO 4) Timmer, Jason SO
11.35 23.24 11.07 25.24 10.19 22.58 9.42 20.14
4 University of Wisconsin 'A' NT 1:32.91
1) Rice, Scott D FR 2) Johnson, Eric C FR
3) Gregory, Tommy C SO 4) Sorensen, Kyle D FR
12.53 24.64 11.50 25.76 10.85 22.47 9.45 20.04
5 Purdue University 'B' NT 1:34.36
1) Watts, Tim B FR 2) Lashley, Chris J JR
3) Ranochak, Jon E SO 4) Pereira, Andre C SR
12.39 24.50 12.11 26.97 10.00 22.14 9.69 20.75
6 University of Wisconsin 'B' NT 1:37.85
1) Hopkins, Mike P FR 2) Weeks, Will F SO
3) Bennett, Nick E SO 4) Rowlands, Dan T SO
12.74 25.24 12.55 27.60 10.69 23.61 10.06 21.40
— University of Minnesota 'C' NT X1:33.74
1) Plummer, David SO 2) Kelly, Sean SR
3) Weis, Adam FR 4) Bernier, Evan FR
12.04 23.88 11.45 26.03 10.47 23.17 9.88 20.66
— Purdue University 'C' NT X1:37.18
1) Hedge, Michael J FR 2) Kim, Jin-Soo SO
3) Scholz, Blake B SR 4) Kenney, Eddie E SO
12.61 25.18 12.41 27.15 10.52 23.74 9.98 21.11
Event 4 Men 1 mtr Diving
===============================================================================
Name Year School Seed Finals Points
===============================================================================
1 LoBue, Steve A JR Purdue NT 286.10
2 Karshen, Josh T SR Purdue NT 262.80
3 Kennedy, Shaun JR Minnesota NT 260.55
4 Young, Cole FR Minnesota NT 242.80
5 Schultz, Zach R FR Purdue NT 223.85
6 Skeate, Joe SO Minnesota NT 212.05
7 Schmidt, John SR Minnesota NT 211.60
8 Hillis, JR R SR Purdue NT 204.25
9 Todd, Kelly J FR Wisconsin NT 190.70
10 Bonner, Justin D SO Wisconsin NT 159.05
11 Bonner, Josh J SO Wisconsin NT 158.80
Event 6 Men 1000 Yard Freestyle
===============================================================================
Name Year School Seed Finals Points
===============================================================================
1 Beckerle, Travis SR Minnesota NT 9:16.06
25.61 27.66 27.79 27.89 27.95 28.08 27.97 28.10
28.32 28.03 28.25 28.07 27.98 28.10 28.41 27.54
27.37 27.80 27.90 27.24
2 Wood, Zach JR Minnesota NT 9:26.16
26.32 28.35 28.42 28.47 28.59 28.50 28.45 28.65
28.11 28.21 28.53 28.59 28.61 28.59 28.60 28.50
28.76 28.58 28.31 27.02
3 Swanson, Mike J SO Wisconsin NT 9:27.77
25.81 27.74 27.75 27.77 28.03 28.16 28.21 28.10
28.17 28.27 28.58 28.62 28.82 29.13 29.37 29.07
29.42 29.51 29.20 28.04
4 Wolfred, Mark B SR Purdue NT 9:33.47
26.31 28.26 28.49 28.60 28.82 28.96 28.99 28.89
28.88 28.87 28.91 28.87 29.09 29.10 28.79 28.84
29.04 29.28 28.95 27.53
5 Toth, Fabian JR Minnesota NT 9:35.46
26.79 28.67 28.73 28.89 28.93 28.99 28.90 28.98
29.04 29.12 28.92 28.99 28.99 29.00 29.04 29.07
29.14 29.15 28.98 27.14
6 Malmgren, Graham T SO Purdue NT 9:35.59
26.61 28.82 29.43 29.42 29.71 29.11 29.32 29.32
29.41 29.29 28.84 29.09 28.90 29.23 29.06 29.41
28.73 28.54 27.29 26.06
7 Mathis, Taylor T SO Wisconsin NT 9:39.30
26.54 28.34 28.13 28.54 28.70 28.66 28.89 28.93
28.95 29.19 28.92 29.08 29.55 29.46 29.64 29.71
29.82 29.68 29.58 28.99
8 Davis, Sean T FR Purdue NT 9:40.74
26.34 28.29 28.82 28.69 28.87 28.95 29.18 29.32
29.48 29.23 29.04 29.22 29.19 29.36 29.64 29.64
29.68 29.66 29.43 28.71
— Holmes, Mike FR Minnesota NT X9:30.66
26.22 28.60 28.72 28.63 28.87 28.77 28.75 29.02
28.47 28.84 29.06 28.65 28.82 28.61 28.89 28.56
28.53 28.70 28.54 27.41
— Welton, Erich SO Minnesota NT X9:34.89
26.56 28.27 28.67 28.66 28.92 28.92 28.96 28.97
28.91 28.85 29.06 29.14 29.16 29.21 29.18 29.12
29.04 28.87 28.62 27.80
— Loeffler, Tim SO Minnesota NT X9:45.15
26.55 28.64 28.93 28.98 29.11 29.49 29.25 29.14
29.36 29.55 29.44 29.53 29.49 29.96 29.79 29.75
29.89 29.83 29.90 28.57
Event 8 Men 200 Yard Freestyle
===============================================================================
Name Year School Seed Finals Points
===============================================================================
1 Mitchell, Adam SR Minnesota NT 1:37.37
23.35 25.08 24.91 24.03
2 Maire, Romain P SO Purdue NT 1:39.95
23.28 25.47 25.74 25.46
3 Schmidt, Tyler SO Minnesota NT 1:40.18
23.50 25.57 25.62 25.49
4 Molzahn, Tom W JR Wisconsin NT 1:40.76
23.71 25.47 25.77 25.81
5 Schmitt, John S FR Purdue NT 1:40.87
23.71 25.62 26.06 25.48
6 Delac, Mario JR Minnesota NT 1:41.23
23.42 25.71 25.96 26.14
7 Hamm, Michael M SR Wisconsin NT 1:42.37
24.09 25.29 25.95 27.04
8 Thompson, Craig B SO Purdue NT 1:42.53
24.06 26.03 26.55 25.89
9 Ochalek, Kiel SR Minnesota NT 1:43.21
24.09 25.87 26.48 26.77
10 Swanson, Mike J SO Wisconsin NT 1:44.09
24.16 25.96 27.18 26.79
11 Ivinger, Erik N FR Purdue NT 1:44.98
24.58 26.89 26.84 26.67
12 Mathis, Taylor T SO Wisconsin NT 1:48.27
25.12 27.41 28.29 27.45
— Zhuravlev, Pavel SR Minnesota NT X1:43.17
24.32 25.74 26.07 27.04
— Portela, Anthony FR Minnesota NT X1:46.27
23.98 27.08 27.32 27.89
— Dorweiler, Jimmer JR Minnesota NT X1:47.67
24.77 26.95 27.58 28.37
— Abrahamson, Dan SO Minnesota NT X1:50.04
25.64 27.79 28.54 28.07
Event 10 Men 100 Yard Backstroke
===============================================================================
Name Year School Seed Finals Points
===============================================================================
1 Plummer, David SO Minnesota NT 49.51
12.08 12.05 12.81 12.57
2 Berve, Dan JR Minnesota NT 49.60
11.49 12.33 12.93 12.85
3 Woodson, Mike SO Minnesota NT 50.34
11.84 12.30 13.23 12.97
4 Colley, Joe E SO Purdue NT 50.77
11.98 12.39 13.34 13.06
5 Payne, Russ SO Minnesota NT 50.91
12.25 12.54 12.89 13.23
6 Watts, Tim B FR Purdue NT 52.15
12.62 12.84 13.55 13.14
7 Fulton, Nick J FR Wisconsin NT 52.91
12.91 13.06 13.81 13.13
8 Hopkins, Mike P FR Wisconsin NT 53.14
12.86 13.17 13.99 13.12
9 Hedge, Michael J FR Purdue NT 53.57
12.92 13.36 13.81 13.48
10 Bruce, Ben E FR Wisconsin NT 53.86
13.02 13.32 13.87 13.65
11 Kautz, Teddy E SO Wisconsin NT 55.58
13.11 13.70 14.49 14.28
Event 12 Men 100 Yard Breaststroke
===============================================================================
Name Year School Seed Finals Points
===============================================================================
1 Pogioli, Giordan S SR Purdue NT 54.74
11.97 13.76 14.55 14.46
2 Lee-To, Colin FR Minnesota NT 55.36
12.20 13.82 14.61 14.73
3 Knoechel, Drew JR Minnesota NT 56.27
11.81 14.66 14.60 15.20
4 Kim, Jin-Soo SO Purdue NT 56.80
12.65 14.28 14.83 15.04
5 Johnson, Eric C FR Wisconsin NT 57.19
12.40 14.40 14.89 15.50
6 Timmer, Jason SO Minnesota NT 57.92
15.77 15.13
7 Miskovetz, Steve A JR Purdue NT 58.19
15.54 15.61
8 Kelly, Sean SR Minnesota NT 59.03
15.22 16.09
9 Lashley, Chris J JR Purdue NT 1:00.52
16.04 16.10
9 Weeks, Will F SO Wisconsin NT 1:00.52
13.53 15.19 15.84 15.96
Event 14 Men 200 Yard Butterfly
===============================================================================
Name Year School Seed Finals Points
===============================================================================
1 Rice, Scott D FR Wisconsin NT 1:50.36
24.51 27.96 28.94 28.95
2 Scholz, Blake B SR Purdue NT 1:50.99
25.43 27.67 28.70 29.19
3 Colley, Joe E SO Purdue NT 1:51.40
25.28 28.07 28.67 29.38
4 Weis, Adam FR Minnesota NT 1:51.73
25.52 28.67 28.61 28.93
5 Bernier, Evan FR Minnesota NT 1:51.94
25.03 27.85 29.04 30.02
6 Natali, Mike JR Minnesota NT 1:52.07
24.80 28.70 29.24 29.33
7 Mullen, John G SO Purdue NT 1:53.09
25.00 28.62 28.98 30.49
8 Gregory, Tommy C SO Wisconsin NT 1:53.53
24.93 28.55 29.61 30.44
9 Koerten, Brett J SO Wisconsin NT 1:53.59
25.40 28.54 29.25 30.40
10 Hedge, Michael J FR Purdue NT 1:53.78
25.98 28.61 29.09 30.10
11 Bennett, Nick E SO Wisconsin NT 1:54.42
25.57 28.95 29.77 30.13
12 Wood, Zach JR Minnesota NT 2:02.90
27.07 31.58 32.28 31.97
— Loeffler, Tim SO Minnesota NT X2:01.95
26.68 30.24 32.10 32.93
— Driscoll, Frisk FR Minnesota NT X2:05.34
28.45 31.64 32.68 32.57
Event 16 Men 50 Yard Freestyle
===============================================================================
Name Year School Seed Finals Points
===============================================================================
1 Cerensek, Igor JR Minnesota NT 20.62
10.30 10.32
2 Volcansek, Ales JR Minnesota NT 20.72
10.23 10.49
3 Sorensen, Kyle D FR Wisconsin NT 20.97
10.33 10.64
4 Etherington, Chris D FR Purdue NT 21.03
10.44 10.59
5 Osten, Neil A SR Minnesota NT 21.20
10.20 11.00
6 Delac, Mario JR Minnesota NT 21.23
10.60 10.63
7 Desautels, Mike R FR Wisconsin NT 21.28
10.50 10.78
8 Smith, Trey JR Purdue NT 21.39
10.47 10.92
9 Pereira, Andre C SR Purdue NT 21.53
10.49 11.04
9 Kenney, Eddie E SO Purdue NT 21.53
10.56 10.97
11 Rowlands, Dan T SO Wisconsin NT 21.87
10.82 11.05
12 Fulton, Nick J FR Wisconsin NT 22.26
11.15 11.11
— Ranochak, Jon E SO Purdue NT X21.79
10.66 11.13
— King, Adam S SR Purdue NT X22.01
10.66 11.35
— Zhuravlev, Pavel SR Minnesota NT X22.07
10.98 11.09
— Dorweiler, Jimmer JR Minnesota NT X22.43
11.04 11.39
Event 18 Men 200 Yard IM
===============================================================================
Name Year School Seed Finals Points
===============================================================================
1 Mitchell, Adam SR Minnesota NT 1:49.27
23.47 27.07 32.69 26.04
2 Pogioli, Giordan S SR Purdue NT 1:51.22
23.98 29.30 31.13 26.81
3 Maire, Romain P SO Purdue NT 1:51.42
23.99 28.07 33.60 25.76
4 Kim, Jin-Soo SO Purdue NT 1:52.45
24.58 29.67 31.18 27.02
5 Payne, Russ SO Minnesota NT 1:53.66
24.76 27.29 33.85 27.76
6 Koerten, Brett J SO Wisconsin NT 1:54.64
25.41 29.00 33.00 27.23
7 Plummer, David SO Minnesota NT 1:54.72
25.08 27.92 34.19 27.53
8 Timmer, Jason SO Minnesota NT 1:55.65
24.83 32.02 33.19 25.61
9 Hopkins, Mike P FR Wisconsin NT 1:58.80
25.31 28.69 36.91 27.89
10 Johnson, Eric C FR Wisconsin NT 1:59.05
25.75 30.68 33.81 28.81
11 Miskovetz, Steve A JR Purdue NT 1:59.55
26.48 31.83 33.09 28.15
12 Bruce, Ben E FR Wisconsin NT 2:00.69
26.69 29.48 36.67 27.85
— Portela, Anthony FR Minnesota NT X1:59.83
25.25 29.94 36.06 28.58
— Abrahamson, Dan SO Minnesota NT X2:07.47
27.12 31.05 42.06 27.24
— Lashley, Chris J JR Purdue NT XDQ
28.33 36.11 35.31 30.55
Event 20 Men 3 mtr Diving
===============================================================================
Name Year School Seed Finals Points
===============================================================================
1 LoBue, Steve A JR Purdue NT 369.60
2 Karshen, Josh T SR Purdue NT 367.50
3 Schultz, Zach R FR Purdue NT 328.00
4 Hillis, JR R SR Purdue NT 326.50
5 Kennedy, Shaun JR Minnesota NT 325.40
6 Schmidt, John SR Minnesota NT 312.90
7 Young, Cole FR Minnesota NT 279.70
8 Skeate, Joe SO Minnesota NT 276.05
9 Todd, Kelly J FR Wisconsin NT 246.00
10 Bonner, Justin D SO Wisconsin NT 245.30
11 Bonner, Josh J SO Wisconsin NT 228.95
Event 22 Men 800 Yard Freestyle Relay
===============================================================================
School Seed Finals Points
===============================================================================
1 University of Minnesota 'A' NT 6:37.80
1) Cerensek, Igor JR 2) Schmidt, Tyler SO
3) Woodson, Mike SO 4) Bernier, Evan FR
23.46 49.26 1:14.34 1:39.58 23.05 49.08 1:14.72 1:39.87
22.25 47.38 1:12.69 1:38.14 22.98 48.75 1:15.00 1:40.21
2 University of Wisconsin 'A' NT 6:45.23
1) Desautels, Mike R FR 2) Molzahn, Tom W JR
3) Hamm, Michael M SR 4) Rice, Scott D FR
23.60 49.74 1:15.89 1:41.61 22.61 47.46 1:13.14 1:39.13
23.48 49.22 1:15.31 1:41.84 23.22 49.17 1:15.67 1:42.65
3 Purdue University 'A' NT 6:48.17
1) Smith, Trey JR 2) Schmitt, John S FR
3) Maire, Romain P SO 4) Thompson, Craig B SO
23.80 50.08 1:17.02 1:43.93 15.36 47.96 1:13.75 1:40.41
22.92 49.46 1:15.97 1:41.88 23.06 49.02 1:15.60 1:41.95
4 University of Minnesota 'B' NT 6:48.64
1) Weis, Adam FR 2) Beckerle, Travis SR
3) Ochalek, Kiel SR 4) Knoechel, Drew JR
24.08 50.53 1:17.33 1:43.73 23.20 49.03 1:15.27 1:41.58
22.87 49.62 1:16.42 1:42.79 23.22 48.86 1:15.05 1:40.54
5 Purdue University 'B' NT 6:54.29
1) Malmgren, Graham T SO 2) Hedge, Michael J FR
3) Mullen, John G SO 4) Wolfred, Mark B SR
24.61 50.86 1:17.26 1:43.79 24.50 51.38 1:18.18 1:45.01
23.32 50.13 1:16.31 1:42.62 23.86 50.11 1:16.60 1:42.87
6 University of Wisconsin 'B' NT 7:03.24
1) Swanson, Mike J SO 2) Koerten, Brett J SO
3) Bruce, Ben E FR 4) Mathis, Taylor T SO
24.04 50.21 1:17.11 1:43.46 24.62 51.76 1:19.47 1:46.53
24.18 51.36 1:19.20 1:46.83 24.43 51.14 1:18.78 1:46.42
— University of Minnesota 'C' NT X7:00.48
1) Welton, Erich SO 2) Holmes, Mike FR
3) Natali, Mike JR 4) Zhuravlev, Pavel SR
24.82 51.78 1:18.67 1:45.66 23.79 50.58 1:18.05 1:45.43
23.69 50.83 1:18.65 1:45.48 23.90 49.97 1:16.83 1:43.91
Event 24 Men 200 Yard Freestyle Relay
===============================================================================
School Seed Finals Points
===============================================================================
1 University of Minnesota 'A' NT 1:21.62
1) Lee-To, Colin FR 2) Osten, Neil A SR
3) Volcansek, Ales JR 4) Delac, Mario JR
10.24 21.00 9.47 20.35 9.51 19.97 9.73 20.30
2 University of Minnesota 'B' NT 1:22.66
1) Woodson, Mike SO 2) Berve, Dan JR
3) Schmidt, Tyler SO 4) Engel, Matt SO
10.36 21.10 9.65 20.63 9.76 20.45 9.76 20.48
3 Purdue University 'A' NT 1:22.95
1) Etherington, Chris D FR 2) Smith, Trey JR
3) Kenney, Eddie E SO 4) Pereira, Andre C SR
10.39 21.05 9.43 20.33 10.03 20.83 9.81 20.74
4 University of Wisconsin 'A' NT 1:23.10
1) Sorensen, Kyle D FR 2) Desautels, Mike R FR
3) Johnson, Eric C FR 4) Molzahn, Tom W JR
10.49 21.29 9.60 20.30 10.20 21.40 9.48 20.11
5 University of Wisconsin 'B' NT 1:25.63
1) Rowlands, Dan T SO 2) Gregory, Tommy C SO
3) Fulton, Nick J FR 4) Bennett, Nick E SO
10.72 21.59 10.09 21.23 10.20 21.38 10.08 21.43
6 Purdue University 'B' NT 1:25.76
1) Mullen, John G SO 2) Schmitt, John S FR
3) Thompson, Craig B SO 4) Watts, Tim B FR
10.59 21.56 10.15 21.40 10.11 21.05 10.62 21.75
— University of Minnesota 'C' NT X1:23.94
1) Timmer, Jason SO 2) Ochalek, Kiel SR
3) Portela, Anthony FR 4) Plummer, David SO
10.28 20.80 9.80 20.55 10.40 21.57 10.20 21.02
Event 26 Men 400 Yard IM
===============================================================================
Name Year School Seed Finals Points
===============================================================================
1 Mitchell, Adam SR Minnesota NT 3:50.99
24.92 27.91 28.91 28.12 33.54 32.80 28.37 26.42
2 Maire, Romain P SO Purdue NT 3:59.26
24.68 28.41 29.94 29.12 35.18 35.95 28.46 27.52
3 Pogioli, Giordan S SR Purdue NT 4:00.07
24.75 29.05 32.21 31.63 32.76 33.15 28.94 27.58
4 Payne, Russ SO Minnesota NT 4:00.89
26.21 29.69 29.43 29.66 34.24 35.02 28.63 28.01
5 Koerten, Brett J SO Wisconsin NT 4:02.27
25.85 29.17 31.25 30.88 33.65 34.59 28.76 28.12
6 Wolfred, Mark B SR Purdue NT 4:06.33
26.87 30.17 32.14 31.33 34.99 35.47 28.74 26.62
7 Knoechel, Drew JR Minnesota NT 4:07.66
26.98 29.68 33.76 32.42 32.02 34.39 29.98 28.43
8 Bruce, Ben E FR Wisconsin NT 4:08.51
26.80 29.80 30.94 30.67 36.22 36.89 28.97 28.22
9 Malmgren, Graham T SO Purdue NT 4:18.76
28.09 31.61 32.56 33.05 36.92 36.70 29.84 29.99
10 Driscoll, Frisk FR Minnesota NT 4:22.37
28.23 31.68 33.75 32.32 39.64 39.36 29.18 28.21
vent 28 Men 100 Yard Freestyle
===============================================================================
Name Year School Seed Finals Points
===============================================================================
1 Cerensek, Igor JR Minnesota NT 44.62
10.53 11.04 11.63 11.42
2 Delac, Mario JR Minnesota NT 45.13
10.59 11.13 11.64 11.77
3 Schmidt, Tyler SO Minnesota NT 46.00
10.73 11.52 11.96 11.79
4 Desautels, Mike R FR Wisconsin NT 46.05
10.66 11.48 12.04 11.87
5 Schmitt, John S FR Purdue NT 46.45
10.78 11.41 12.09 12.17
6 Ochalek, Kiel SR Minnesota NT 46.60
10.84 11.79 12.01 11.96
7 Kenney, Eddie E SO Purdue NT 46.65
10.91 11.60 12.14 12.00
8 Mullen, John G SO Purdue NT 46.74
10.82 11.72 12.24 11.96
9 Pereira, Andre C SR Purdue NT 47.33
11.04 11.79 12.19 12.31
10 Sorensen, Kyle D FR Wisconsin NT 47.34
10.92 11.67 12.50 12.25
11 Rowlands, Dan T SO Wisconsin NT 48.10
11.00 11.81 12.67 12.62
12 Hamm, Michael M SR Wisconsin NT 48.25
11.34 11.96 12.57 12.38
— Zhuravlev, Pavel SR Minnesota NT X47.44
11.43 11.93 12.31 11.77
— Dorweiler, Jimmer JR Minnesota NT X49.79
11.56 12.31 13.13 12.79
Event 30 Men 200 Yard Backstroke
===============================================================================
Name Year School Seed Finals Points
===============================================================================
1 Mitchell, Adam SR Minnesota NT 1:47.40
26.23 27.41 27.15 26.61
2 Plummer, David SO Minnesota NT 1:47.55
25.79 27.48 27.35 26.93
3 Maire, Romain P SO Purdue NT 1:48.12
26.13 27.41 27.52 27.06
4 Woodson, Mike SO Minnesota NT 1:51.14
26.22 28.05 28.45 28.42
5 Payne, Russ SO Minnesota NT 1:51.18
26.89 28.08 28.60 27.61
6 Hopkins, Mike P FR Wisconsin NT 1:53.81
26.59 28.76 29.13 29.33
7 Hedge, Dave J SO Purdue NT 1:54.23
26.97 28.88 29.10 29.28
8 Bruce, Ben E FR Wisconsin NT 1:54.34
27.79 28.89 29.45 28.21
9 Fulton, Nick J FR Wisconsin NT 1:56.12
27.30 29.56 29.93 29.33
10 Kautz, Teddy E SO Wisconsin NT 1:58.44
28.47 30.52 30.04 29.41
Event 32 Men 100 Yard Butterfly
===============================================================================
Name Year School Seed Finals Points
===============================================================================
1 Etherington, Chris D FR Purdue NT 48.70
10.63 11.96 13.08 13.03
2 Berve, Dan JR Minnesota NT 49.55
10.42 12.19 13.33 13.61
3 Bernier, Evan FR Minnesota NT 49.71
10.72 12.43 13.39 13.17
4 Osten, Neil A SR Minnesota NT 49.96
10.40 12.57 13.12 13.87
5 Rice, Scott D FR Wisconsin NT 50.13
10.85 12.65 13.15 13.48
6 Gregory, Tommy C SO Wisconsin NT 50.42
10.78 12.51 13.36 13.77
7 Ranochak, Jon E SO Purdue NT 50.46
10.89 12.55 13.32 13.70
8 Colley, Joe E SO Purdue NT 50.49
10.98 12.56 13.36 13.59
9 Kim, Jin-Soo SO Purdue NT 50.51
11.21 12.55 13.32 13.43
10 Engel, Matt SO Minnesota NT 51.30
10.88 12.85 13.21 14.36
11 Bennett, Nick E SO Wisconsin NT 52.11
11.38 13.11 13.60 14.02
12 Weeks, Will F SO Wisconsin NT 52.99
11.59 13.22 13.90 14.28
— Natali, Mike JR Minnesota NT X51.14
11.14 12.90 13.41 13.69
— Portela, Anthony FR Minnesota NT X52.07
11.20 12.85 13.70 14.32
— Scholz, Blake B SR Purdue NT X52.53
11.26 13.37 13.56 14.34
Event 34 Men 500 Yard Freestyle
===============================================================================
Name Year School Seed Finals Points
===============================================================================
1 Beckerle, Travis SR Minnesota NT 4:30.54
25.57 27.35 27.32 27.41 27.47 27.52 27.45 27.26
27.51 25.68
2 Molzahn, Tom W JR Wisconsin NT 4:30.77
25.27 27.22 27.57 27.78 27.47 27.60 27.12 27.00
27.15 26.59
3 Swanson, Mike J SO Wisconsin NT 4:32.73
24.79 26.44 27.35 27.63 27.78 27.88 27.99 28.15
27.47 27.25
4 Wood, Zach JR Minnesota NT 4:33.42
25.46 27.59 27.64 27.66 27.74 27.74 27.66 27.84
27.75 26.34
5 Thompson, Craig B SO Purdue NT 4:35.94
25.08 27.37 27.87 27.93 27.96 27.87 27.93 28.14
28.30 27.49
6 Holmes, Mike FR Minnesota NT 4:37.01
25.50 27.86 27.97 28.10 27.95 28.15 28.09 27.98
28.23 27.18
7 Davis, Sean T FR Purdue NT 4:38.11
25.89 27.82 28.23 28.15 27.95 28.07 28.05 28.17
28.19 27.59
8 Wolfred, Mark B SR Purdue NT 4:38.52
25.93 27.80 27.90 27.89 28.16 28.32 28.34 28.66
28.50 27.02
9 Hamm, Michael M SR Wisconsin NT 4:38.90
25.91 27.91 27.49 27.62 27.51 28.24 28.30 29.10
29.05 27.77
10 Weis, Adam FR Minnesota NT 4:39.97
25.39 27.87 28.37 28.43 28.37 28.54 28.36 28.66
28.41 27.57
11 Malmgren, Graham T SO Purdue NT 4:41.08
26.42 28.54 28.84 28.64 28.37 28.30 28.67 29.33
27.53 26.44
12 Mathis, Taylor T SO Wisconsin NT 4:43.25
26.39 27.95 28.05 28.25 28.51 28.51 28.76 29.00
29.17 28.66
— Loeffler, Tim SO Minnesota NT X4:41.53
26.18 28.26 28.73 28.63 29.02 29.18 28.42 28.90
28.33 25.88
— Toth, Fabian JR Minnesota NT X4:47.21
25.89 28.17 28.74 28.86 29.04 29.06 29.37 29.38
29.77 28.93
— Zhuravlev, Pavel SR Minnesota NT X4:49.58
26.40 28.05 28.68 29.31 29.69 29.60 29.72 29.55
29.93 28.65
Event 36 Men 200 Yard Breaststroke
===============================================================================
Name Year School Seed Finals Points
===============================================================================
1 Pogioli, Giordan S SR Purdue NT 1:58.72
27.01 30.28 30.74 30.69
2 Kim, Jin-Soo SO Purdue NT 2:02.87
27.98 31.09 31.41 32.39
3 Timmer, Jason SO Minnesota NT 2:05.46
28.21 32.36 32.26 32.63
4 Knoechel, Drew JR Minnesota NT 2:06.12
28.87 32.19 31.99 33.07
5 Lee-To, Colin FR Minnesota NT 2:06.77
29.33 33.22 32.57 31.65
6 Kelly, Sean SR Minnesota NT 2:07.15
28.46 32.17 32.66 33.86
7 Miskovetz, Steve A JR Purdue NT 2:07.68
28.10 31.99 33.41 34.18
8 Johnson, Eric C FR Wisconsin NT 2:08.93
28.77 32.60 33.29 34.27
9 Koerten, Brett J SO Wisconsin NT 2:09.40
29.28 33.21 33.31 33.60
10 Weeks, Will F SO Wisconsin NT 2:12.20
29.78 33.35 33.94 35.13
11 Wolfred, Mark B SR Purdue NT 2:13.24
29.71 33.83 35.00 34.70
— Payne, Russ SO Minnesota NT X2:11.50
29.65 32.85 34.38 34.62
— Lashley, Chris J JR Purdue NT X2:14.66
29.54 34.00 35.39 35.73
Event 38 Men 400 Yard Freestyle Relay
===============================================================================
School Seed Finals Points
===============================================================================
1 University of Minnesota 'A' NT 2:57.41
1) Mitchell, Adam SR 2) Delac, Mario JR
3) Osten, Neil A SR 4) Cerensek, Igor JR
21.78 44.95 21.00 44.31 20.84 44.68 20.52 43.47
2 University of Minnesota 'B' NT 3:02.04
1) Woodson, Mike SO 2) Schmidt, Tyler SO
3) Ochalek, Kiel SR 4) Bernier, Evan FR
21.98 46.08 21.33 45.19 21.29 45.66 21.51 45.11
3 Purdue University 'A' NT 3:03.24
1) Kenney, Eddie E SO 2) Smith, Trey JR
3) Etherington, Chris D FR 4) Schmitt, John S FR
22.09 47.21 21.36 45.22 20.98 44.98 21.20 45.83
4 University of Wisconsin 'A' NT 3:04.27
1) Desautels, Mike R FR 2) Molzahn, Tom W JR
3) Sorensen, Kyle D FR 4) Rice, Scott D FR
22.22 46.19 21.65 45.61 21.58 46.28 21.60 46.19
5 Purdue University 'B' NT 3:08.54
1) Thompson, Craig B SO 2) Mullen, John G SO
3) Pereira, Andre C SR 4) King, Adam S SR
22.67 46.98 21.81 46.47 22.17 46.92 22.24 48.17
6 University of Wisconsin 'B' NT 3:10.76
1) Swanson, Mike J SO 2) Rowlands, Dan T SO
3) Gregory, Tommy C SO 4) Hamm, Michael M SR
23.41 47.79 21.77 47.12 21.79 47.34 23.21 48.51
— University of Minnesota 'C' NT X3:07.57
1) Volcansek, Ales JR 2) Lee-To, Colin FR
3) Weis, Adam FR 4) Engel, Matt SO
22.82 47.09 22.27 46.70 22.79 47.96 21.79 45.82
Event 40 Men Platform Diving
===============================================================================
Name Year School Seed Finals Points
===============================================================================
— LoBue, Steve A JR Purdue NT X124.05
— Bonner, Josh J SO Wisconsin NT X187.95
— Todd, Kelly J FR Wisconsin NT X219.40
— Bonner, Justin D SO Wisconsin NT X221.75
— Hillis, JR R SR Purdue NT X244.15
— Schmidt, John SR Minnesota NT X285.90
— Young, Cole FR Minnesota NT X295.45
— Schultz, Zach R FR Purdue NT X302.35
— Kennedy, Shaun JR Minnesota NT X315.00
— Skeate, Joe SO Minnesota NT X315.95
— Karshen, Josh T SR Purdue NT X322.15
Event 234 Men 500 Yard Freestyle
===============================================================================
Name Year School Seed Finals Points
===============================================================================
— Welton, Erich SO Minnesota NT X4:38.02
25.20 27.27 27.70 27.93 28.22 28.33 28.12 28.40
28.61 28.24
— Abrahamson, Dan SO Minnesota NT X4:51.81
26.34 29.23 29.26 29.79 29.79 30.16 29.87 29.87
29.68 27.82
— Driscoll, Frisk FR Minnesota NT X4:51.88
27.00 28.79 29.34 29.55 29.97 29.95 29.97 30.14
29.47 27.70