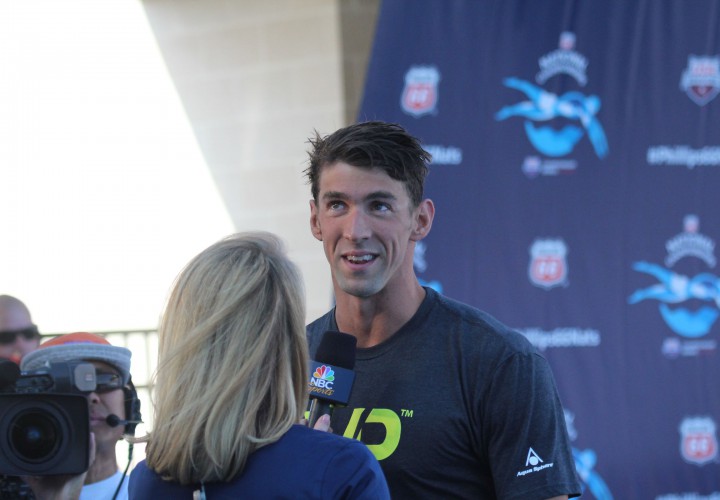 Photo Courtesy: Sue Borst
Michael Phelps has been all the buzz in the swimming and sports universe the past couple of days, and with good reason. The 22-time Olympic medalist has heralded his return to the sport with two world-best times at USA Nationals in San Antonio, Texas this weekend. First on Friday night, he eclipsed his 200-meter fly time from the London Olympics en route to a number-one ranked 1:52.94. Phelps turned around last night and busted out a 50.45 world best in the 100-meter fly, a prompt response to the chirping from Chad le Clos and Laszlo Cseh.
Tonight Phelps returns to USA Nationals in the 200-meter IM, where he is seeded third with a 1:59.63. The world's best butterflyer swam a relaxed race this morning, with just enough juice to put him into a competitive center lane. He sits behind Will Licon and Austin Surhoff, but will likely be chasing Ryan Lochte's time from half a world away. Lochte busted out the world's top time in the 200-meter finals at the FINA World Championships in Kazan with a 1:55.81. It may be worth noting that Phelps's entry time at the meet was a 1:56.04.
The world will yet again be on high alert as Phelps takes the pool in the third event of the evening. The first event, the men's 100-meter free, is currently led by 18-year old sprint sensation Caeleb Dressel. The 50-meter free national champion is looking to add another medal to his list of meet achievements.
Also swimming tonight is one of the nation's top butterflyers, Kelsi Worrell. She'll try to take down Hali Flickinger and Cassidy Bayer it what promises to be an exciting matchup in the women's 200-meter fly.
Scheduled Events
Men's 100-meter Free
Women's 200-meter Fly
Men's 200-meter IM
Women's 200-meter Back
Men's 4 x 200-meter Free Relay
2015 USA Swimming Long Course Summer Nationals Day 4 Finals Heat Sheet – Results