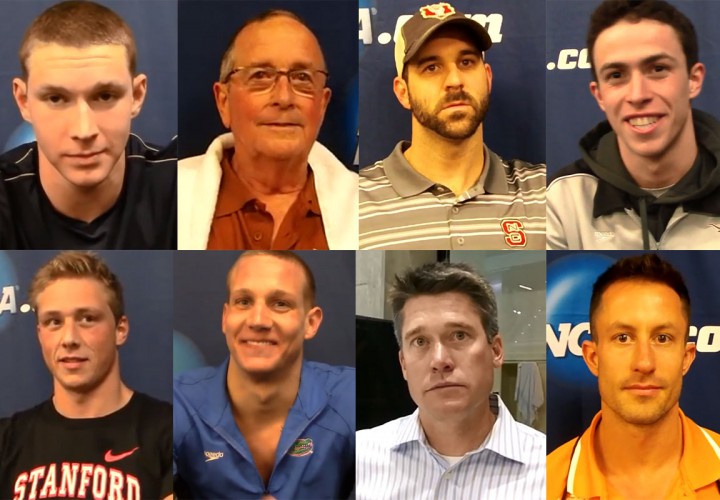 Photo Courtesy: Swimming World.TV
NCAA DI Championship Editorial Coverage is proudly sponsored by Adidas. Visit All-American Swim for more information on our sponsor. For all the latest coverage, check out our event coverage page.
Editorial content for the NCAA Division I Championships is sponsored by Adidas. For full Swimming World coverage, check out our coverage page.
The men's NCAA Division I championships featured a lot of exciting and historic races in Iowa City, and Swimming World was there to capture video interviews with some of the top athletes. Among the 65 interviews captured by staffers Mike Stott and David Rieder are conversations with some of the meet's top coaches, including Texas head coach Eddie Reese, California's Dave Durden and N.C. State's Braden Holloway.
We are pleased to bring these interviews to you in their unedited entirety.
Men's NCAA championships day 1 interviews
Prelims:
Coach Braden Holloway (before day 1 prelims)
Coach Arthur Albiero
Coach Bill Wadley (part 1)
Coach Bill Wadley (part 2)
Coach Dan Colella
Coach Dave Salo
Coach Dennis Pursley
USA Swimming Coach Frank Busch
Coach Gregg Troy
CSCAA Executive Director Joel Shinofield
Coach Rich DeSelm
Coach Tyler Fenwick
Coach Whitney Hite
Coach Braden Holloway (after 200 free relay prelims DQ overturned
Kristian Ipsen
Finals:
Clark Smith, 500 free
Simonas Bilis, 50 free
Caeleb Dressel, 50 free
John Murray, 200 free relay
David Nolan, 200 IM
Matias Koski, 500 free
Will Licon, 200 IM and 400 medley relay
Ryan Murphy, 200 IM and 400 medley relay
Chuck Katis, 400 medley relay
Coach Dave Durden
Coach Eddie Reese
Coach Gregg Troy
Coach Mike Bottom
Steele Johnson, 1-meter diving
Dan Wallace, 500 free
Men's NCAA championships day 2 interviews
Prelims:
Coach Josh White
Coach Harvey Humphries
Coach Jack Bauerle
Coach Bruce Marchionda
Coach Ted Knapp
Michael DiSalle, 200 free
Finals:
Coach Eugene Godsoe
Coach Greg Rhodenbaugh
Coach Rick DeMont
Gunnar Bentz, 400 IM
Joseph Schooling, 100 fly
Kevin Cordes, 100 breast
Nic Fink, 100 breast
Ryan Murphy, 100 back
Will Licon, 400 IM
Reed Malone and Cristian Quintero, 800 free relay
Coach Braden Holloway
Coach Dave Durden
Coach Eddie Reese
Coach Jack Bauerle
Men's NCAA championships day 3 interviews
Prelims:
Coach Anthony Nesty
Coach Augie Busch
Coach Mark Long
Coach Matt Kredich
Paul Powers, 400 free relay
Finals:
Dylan Bosch, 200 fly
Kevin Cordes, 200 breast
Matias Koski, 1650 free
P.J. Ransford, 1650 free
Will Licon, 200 breast
Ryan Murphy, 200 back and 400 free relay
Dylan Carter, 400 free relay
Steele Johnson, 10-meter diving
Coach Dave Durden
Eddie Reese, Joseph Schooling, Kip Darmody