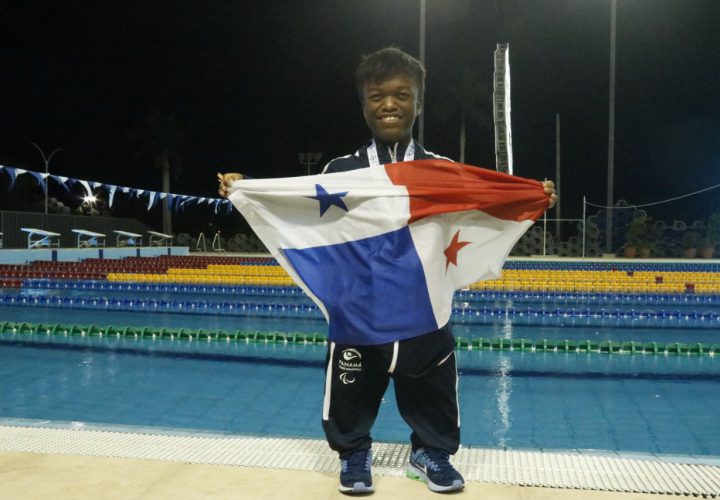 Photo Courtesy: Marlon Perlaza
By Daniela Navarrete, Swimming World College Intern.
Well-known scientist Stephen Hawking once said, "However difficult life may seem, there is always something you can do and succeed at."
Some swimmers are physically talented but lack the guts or confidence to achieve their goals. Others are not naturally gifted and mostly rely on discipline and perseverance rather than genetics to achieve their goals.
And some are born with a rare genetic condition that can pose great athletic challenges. A swimmer's life with dwarfism is tough without high technology and adequate support from athletic institutions. This is the case of Benito Perlaza, a grand little Panamanian Para-swimmer ranked top 16 worldwide in the S6 and SB6 sport class in the 50m butterfly.
At the age of 14, Perlaza is one of the youngest and most successful para-swimmers and para-athletes in Latin America. Despite the lack of resources in his hometown, Perlaza has accomplished great swimming success while balancing academic responsibilities as a straight A tenth grader.
Swimming World had the honor of chatting with Perlaza about his swimming career.
Swimming World: When did you first started to swim and why?
Perlaza: Due to my dwarfism, in addition to lumbar scoliosis and low-back disorders, the doctors recommended my parents to take me to swimming lessons as a sort of physical therapy when I was three. My older brother Marlon started swimming as well because of me. Along with my mom and dad, he has been my number one support since the very beginning of my swimming career.
SW: The Para-Swimming community in Panama is small. How do you manage to practice with a team in which you are the only swimmer with a disability?
Perlaza: I have always practiced on a team with non-disabled kids. Currently, I practice from Monday to Friday with Beldagans Plus Swim Team with head coach Angela Fong – one of the most renowned swimming coaches in the country.
Many people might see it as a disadvantage, because I might not be the fastest in the team. It is not easy to accept the fact that I might get lapped at every single practice. Outside of the pool, I cannot be part of the team because I have to do a different dryland and weight training program due to my physical condition (directed by my brother). However, all this is what pushes and motivates me every day.
SW: How did you turn this challenge into a benefit for your development as an elite athlete?
Perlaza: In Panama, there are no meets specifically for Paralympic swimmers except for the Para-Nationals that are held once a year. So, on a regular basis, I swim against people who are not disabled. I feel it as an inclusion though, for people like me. Otherwise, I would have no other opportunities to compete.
Despite the lack of adequate conditions for para-swimmers, the environment feels welcoming and supportive. Actually, a year ago, the Panamanian Paralympic Committee decided that the National Swimming Team would train together on weekends. My brother Marlon was put in charge, and he is my coach those days in and out of the water. I know that I must work more than the rest, so yes, I also practice on Sundays.
SW: You are now 14 years old and you have already attended several international competitions. Can you share your experiences at the international level?
Perlaza: I made my first international trip in 2016 at the age of 12, when I swam at an unofficial Para-Central American Championship in Nicaragua. I swam the following events: 50m and 100m breast, fly and free as well as the 100m back and the 200 IM. I came in first in the 50m and 100m free, 50m fly, and second in the 200 IM.
When I first got there, I was kind of nervous, because it was going to be the first time I was going to swim against people from other countries. However, I felt confident in my training and tried to keep myself positive throughout the meet. At that age, all I was hoping for was to take medals home. But being unofficial met meant that there were no medals granted.
At the beginning of last year, I qualified for the Junior Para Pan-American Games held in Sao Paulo, Brazil. In this meet, I swam the 50m and 100m free, 100m breast and 50m fly. I was super excited to get the chance to compete at such an important competition. I was not expecting a place on the podium at all! Yet I came in third place in all my events but the 50m fly, in which I finished fourth. Apart from that, I really enjoyed seeing young swimmers like me from all over the continent swimming fast; I even became friends with some of them and we are still in touch!
Later that year, I was selected to represent Panama at the 2017 World Para Swimming Championships in Mexico City to swim the 50m free and fly. It was not a junior meet anymore: I was swimming against the best para-swimmers, several of which were Paralympians. Even though I didn't win a medal, I went home feeling motivated and ready to practice harder because I knew that in my next Worlds I wanted, and want to, win a medal for my country.
SW: What are you looking forward the next few years?
Perlaza: I would like to swim at the World Para Swimming Series, but I'm currently preparing to qualify for the 2019 Para Pan-American Games in Lima, Peru and the World Para Swimming Championships in Malasya. My biggest dream is to go to the 2020 Paralympic Games in Tokyo to represent Panama and win a medal. I know I am young and I can still attend more Para Pan-American and Paralympic Games if I keep on working hard.
SW: What message or advice would you tell children like you that would like to excel in the sport of swimming?
Perlaza: If they like swimming – or any sport – they should do it because they are passionate about it, not because their parents or coaches are forcing them. Not because they want medals, but because they want to improve themselves and become better every day in and out of the pool. If they want to achieve a goal, they must be confident and trust the process. I have done those things; it has not been easy, that's for sure. But if they have faith, sooner or later they will accomplish what they want.
Hard work pays off. There is no doubt we will hear about Benito Perlaza's achievements in the near future.
Commentary: All commentaries are the opinion of the author and do not necessarily reflect the views of Swimming World Magazine nor its staff. All language regarding dwarfism is taken from the AP style guidelines.