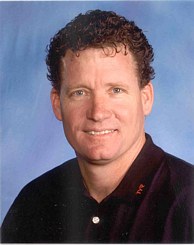 DAPHNE, Alabama, June 10. DAVID Marsh, the coach who helped put Auburn University swimming on the world map, will be honored by the United States Sports Academy with a Distinguished Service Award on June 12 at the James E. Martin Aquatics Center.
In 16 years with Marsh as head coach of men's and women's swimming and diving, Auburn has won six men's national titles, including the last four, and four women's national titles in the last five years. For his efforts, Marsh, a graduate of Auburn, was honored by his alma mater in September with the Walter Gilbert Award, the highest honor given to a former student-athlete from the university.
In the 2004 Summer Olympics, 12 Auburn swimmers competed and won five medals, including a gold, silver and bronze by Kirsty Coventry. The same year, at the NCAA championships, Auburn's men's team set five world records. On the collegiate front, Marsh watched his teams sweep the men's and women's titles for the third time in 2006 (2003, 2004, 2006). Over the course of his 16-year coaching career, Marsh has been named the National Coach of the Year a total of eight times and the SEC Coach of the Year 13 times.
Under Marsh, Auburn swimmers have excelled at the national and international levels of competition and most importantly, in the classroom. In 16 seasons, 198 swimmers (99 men, 99 women) have been chosen to the SEC Academic Honor Roll and 35 have been named Academic All-Americans. The Distinguished Service Award is given annually to those individuals who have made outstanding contributions to national or international sports through instruction, research or service.
The Distinguished Service Award has been presented by the Academy since 1984, and past honorees have included Peter Ueberroth, Chris Evert, Frank DeFord, Dean Smith, Don Shula, Greg LeMond, Dan Gable, Martina Navratilova, Pat Summitt, Eddie Robinson, Tommy Lasorda, George Steinbrenner, Mario Lemieux, Bud Selig, Cal Ripken Jr., and Gary Player.