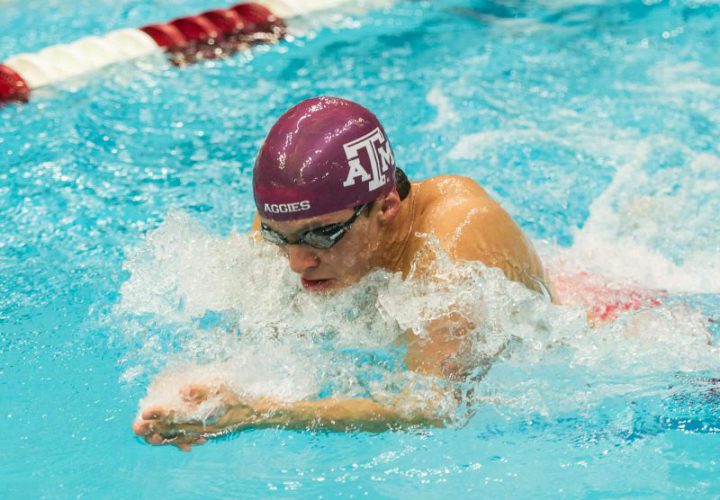 Photo Courtesy: Texas A&M Athletics
This week's Performance Of The Week, sponsored by LumaLanes, goes to senior Mauro Castillo Luna for his standout performance in the 200 breaststroke in Texas A&M's historic dual meet win against the University of Texas.
The senior won the 200 breast in 1:55.93, the only swimmer under 2:00 in the event. That gives Castillo the fastest time in the country this year by almost a second. Castillo is the highest returning finisher in the 200 breast from 2017 NCAA's, where he finished 3rd (1:52.09) after posting a school record of 1:52.01 in prelims. That was the highest finish by a male Texas A&M athlete at NCAA's since 2000.
The senior won a two other events in addition to the 200 breast, also notching individual wins in the 100 breast (53.70) and 200 IM (1:47.54) while splitting 24.29 on the winning 200 Medley Relay.
Congratulations Mauro Castillo on earning Swimming World's Performance of the Week!
Special Thanks to LumaLanes for sponsoring Swimming World's Performance of the Week.
Learn More About LumaLanes