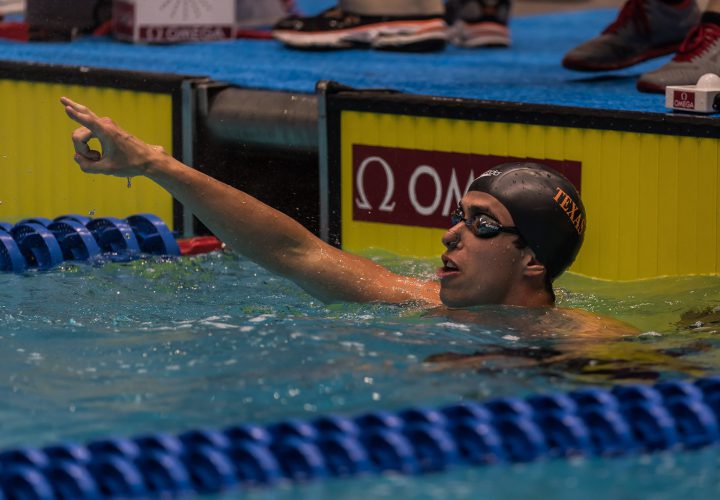 Photo Courtesy: Peter Bick
NCAA DI editorial coverage is proudly sponsored by Adidas. Visit adidasswimming.com for more information on our sponsor. For all the latest coverage, check out our event coverage page.
CLICK HERE FOR LIVE RESULTS
Just five years ago, a sub-1:50 200 breast seemed impossible. Now, it is just another swim. Texas senior Will Licon smashed his American Record with a 1:47.91, breaking the record he set last year at 1:48.12. Licon won his third straight 200 breast NCAA title and was not touched in the race tonight. Alabama's Anton McKee finished second at 1:51.22, good for eighth all-time. Mauro Castillo of Texas A&M finished third at 1:52.09.
Virginia Tech's Brandon Fiala, Louisville's Carlos Claverie, South Carolina's Nils Wich-Glasen, Purdue's Marat Amaltdinov and Notre Dame's Trent Jackson also competed in the A-Final.
Licon is the first to win three straight 200 breast titles since Texas' Brendan Hansen won four straight from 2001-2004. Texas now has nine 200 breast titles. Licon joins himself (2015, 2016), Hansen (2001-2004), Eric Friedland (2011) and Kirk Stackle (1988) as winners for the Longhorns.
 Event 18  Men 200 Yard Breaststroke
=========================================================================
         NCAA: N 1:48.12  3/26/2016 Will Licon, Texas
 Championship: C 1:48.12  3/26/2016 Will Licon, Texas
     American: A 1:48.12  3/26/2016 Will Licon, Texas
   U. S. Open: O 1:48.12  3/26/2016 Will Licon, Texas
         Pool: P 1:48.68            Kevin Cordes, Arizona
    Name                 Year School            Prelims     Finals Points 
=========================================================================
                       === Championship Final ===                        
 
  1 Licon, Will            SR Texas             1:49.80    1:47.91N  20  
    r:+0.67  24.23        51.42 (27.19)
        1:19.41 (27.99)     1:47.91 (28.50)
  2 McKee, Anton           SR Alabama           1:51.99    1:51.22   17  
    r:+0.61  25.06        53.08 (28.02)
        1:21.82 (28.74)     1:51.22 (29.40)
  3 Castillo Luna, Mauro   JR TAMU              1:52.01    1:52.09   16  
    r:+0.60  25.48        53.90 (28.42)
        1:22.49 (28.59)     1:52.09 (29.60)
  4 Fiala, Brandon         SR VT                1:52.52    1:52.71   15  
    r:+0.64  25.12        53.57 (28.45)
        1:22.70 (29.13)     1:52.71 (30.01)
  5 Claverie, Carlos       JR Louisville        1:53.45    1:52.81   14  
    r:+0.70  25.50        54.31 (28.81)
        1:23.31 (29.00)     1:52.81 (29.50)
  6 Wich-Glasen, Nils      JR South Carolina    1:53.04    1:52.87   13  
    r:+0.66  25.22        53.44 (28.22)
        1:22.65 (29.21)     1:52.87 (30.22)
  7 Amaltdinov, Marat      JR Purdue            1:52.79    1:53.04   12  
    r:+0.80  25.60        53.82 (28.22)
        1:22.99 (29.17)     1:53.04 (30.05)
  8 Jackson, Trent         SR Notre Dame        1:53.58    1:55.24   11  
    r:+0.70  26.01        55.04 (29.03)
        1:24.86 (29.82)     1:55.24 (30.38)
                 Men - Team Rankings - Through Event 18                  
 
  1. Texas                             482   2. California                        280
  3. Florida                         253.5   4. NC State                        234.5
  5. Indiana                         200.5   6. Stanford                          198
  7. Southern Cali                     192   8. Missouri                        165.5
  9. Univ of Georgia                   152  10. Louisville                      137.5
 11. Alabama                         135.5  12. Auburn                          114.5
 13. South Carolina                     95  14. Michigan                           82
 15. Arizona State                      74  16. Texas A&M                          73
 17. Purdue                             69  18. Tennessee                          55
 19. Wisconsin                          53  20. Virginia Tech                      48
 21. Ohio St                            33  22. University of Miami                31
 23. Lsu                                28  24. Harvard                            24
 25. Minnesota                          23  25. Notre Dame                         23
 25. Penn St                            23  28. Arizona                          22.5
 29. Denver                             19  29. Northwestern                       19
 31. Duke                               12  32. George Washington                   9
 33. Cornell                             7  33. Florida State                       7
 35. UNC                                 6  36. Kentucky                            4
 37. Penn                                2  37. Missouri State                      2
 37. Hawaii                              2  40. Yale                                1
 40. Pittsburgh                          1