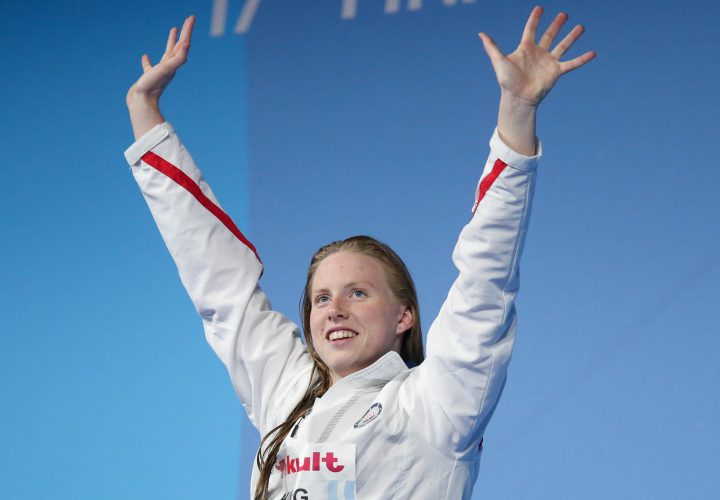 This week's Performance Of The Week, sponsored by LumaLanes, goes to American Lilly King, who fulfilled all the hype surrounding her rematch with Russian rival Yulia Efimova in the 100 breaststroke at this week's 2017 FINA World Championships.
King had the memorable finger wag at the Olympic Games last summer after Efimova's semi-final swim, and the moment that was caught on tape quickly became a lightning rod for media attention that hyped up their showdown in finals.
The American backed up her talk about Efimova by winning gold the next day in the final, but after a year dealing with new expectations and a post-Olympics slump the world was waiting to see if King could hold off Efimova again this summer.
Efimova was on a tear through the beginning of 2017 and looked strong through semi-finals, where she was just .01 off of Ruta Meilutyte's world record. But the Indiana University swimmer proved to be up to the challenge, taking her race out characteristically fast and holding on to smash the world record with an astounding 1:04.13.
Out in 29.80, King led the entire race and didn't look back, turning five tenths ahead of Efimova and coming home four tenths faster to beat the Russian by nearly a second. King's time was about eight tenths of a second faster than what won her Olympic gold last summer, and she was joined on the podium by teammate Katie Meili, who swam a personal best time that landed her in second. Efimova finished back in third in 1:05.05, more than half a second slower than she had been in her semi-final swim.
King would go on to set another world record later in the week, this time in the 50 breaststroke (29.40) on the final day of the meet. Efimova, for her part, took gold in the 200 breaststroke later in the meet, just off the existing world record in the event.
Congratulations Lilly King on earning Swimming World's Performance of the Week!
Special Thanks to LumaLanes for sponsoring Swimming World's Performance of the Week.
Learn More About LumaLanes