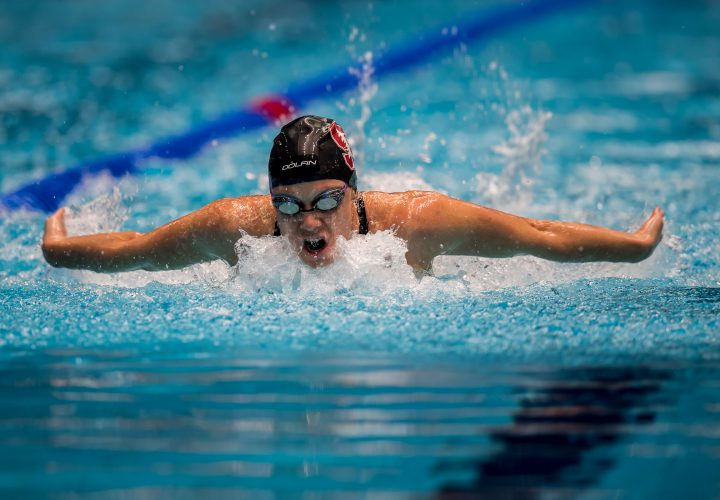 Photo Courtesy: Peter H. Bick
This week's Performance Of The Week, sponsored by LumaLanes, goes to Ella Eastin for her NCAA and American record performance in the 200-yard butterfly at the women's Pac-12 Championships.
Hitting the wall in 1:49.51, Eastin smashed the record and became the first and only woman so far to break 1:50 in a textile suit. The old record of 1:49.92, which was set nine years ago in 2009 by fellow Stanford swimmer Elaine Breeden, was one of the longest standing on the books and one of the few records that still remained from the super suit era.
Eastin actually trailed USC's Louise Hansson at the 100 mark, splitting 53.51 to Hansson's speedy 51.81, but used a strong back half to surge ahead and grab the win and the record. Eastin was remarkably controlled on this swim, splitting 28.24, 27.87, and 28.13 on her last three 50's to split 53.51/56.00. Eastin's best swim before this was a 1:51.04 from NCAA's her freshman year, and right now is the only woman in the NCAA so far to break 1:51 this season.
Congratulations Ella Eastin on earning Swimming World's Performance of the Week!
Special Thanks to LumaLanes for sponsoring Swimming World's Performance of the Week.
Learn More About LumaLanes