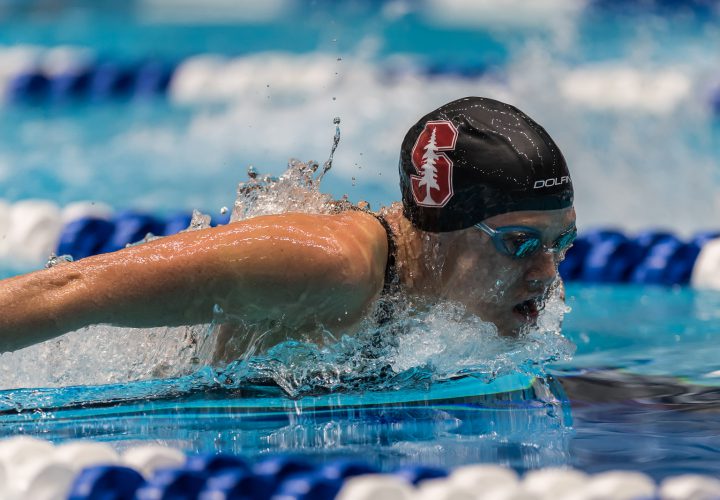 Ella Eastin.
Photo Courtesy: Peter H. Bick
Stanford's Ella Eastin won the 200 butterfly in 1:49.51. She broke the American record set by Elaine Breeden in 2009 (1:49.92). Breeden's record was one of the oldest remaining records in women's swimming.
USC's Louise Hansson was second (1:51.13), followed by Stanford's Katie Drabot (1:52.07), USC's Maddie Wright (1:53.38), Cal's Noemie Thomas (1:53.77), UCLA's Katie Grover (1:54.41), Stanford's Lindsey Engel (1:54.78) and Cal's Katie McLaughlin (1:55.07).
Event 19  Women 200 Yard Butterfly
=========================================================================
         NCAA: N 1:49.92  2/28/2009 Elaine Breeden, STAN
       Pac-12: M 1:49.92  2009      Elaine Breeden, STAN
 Pac-12 Champ: P 1:49.92  2009      Elaine Breeden, STAN
                 1:53.80  A Standard
                 1:59.59  B Standard
    Name           Year School            Prelims     Finals       Points 
=========================================================================
                            === A - Final ===                            
 
  1 Eastin, Ella     JR STAN-PC           1:52.14    1:49.51NA       32  
                 25.27        53.51 (28.24)
        1:21.38 (27.87)     1:49.51 (28.13)
  2 Hansson, Louise  SO USC-CA            1:53.23    1:51.13 A       28  
                 24.27        51.81 (27.54)
        1:20.45 (28.64)     1:51.13 (30.68)
  3 Drabot, Katie    SO STAN-PC           1:51.99    1:52.07 A       27  
                 25.32        53.72 (28.40)
        1:22.39 (28.67)     1:52.07 (29.68)
  4 Wright, Madison  JR USC-CA            1:53.38    1:53.38 A       26  
                 25.52        54.17 (28.65)
        1:23.64 (29.47)     1:53.38 (29.74)
  5 Thomas, Noemie   SR CAL-PC            1:54.34    1:53.77 A       25  
                 25.57        54.23 (28.66)
        1:23.51 (29.28)     1:53.77 (30.26)
  6 Grover, Katie    SR UCLA-CA           1:55.47    1:54.41 B       24  
                 25.63        55.04 (29.41)
        1:24.61 (29.57)     1:54.41 (29.80)
  7 Engel, Lindsey   SR STAN-PC           1:54.81    1:54.78 B       23  
                 25.69        54.70 (29.01)
        1:24.37 (29.67)     1:54.78 (30.41)
  8 McLaughlin, Kat  JR CAL-PC            1:54.97    1:55.07 B       22  
                 25.36        54.13 (28.77)
        1:24.09 (29.96)     1:55.07 (30.98)