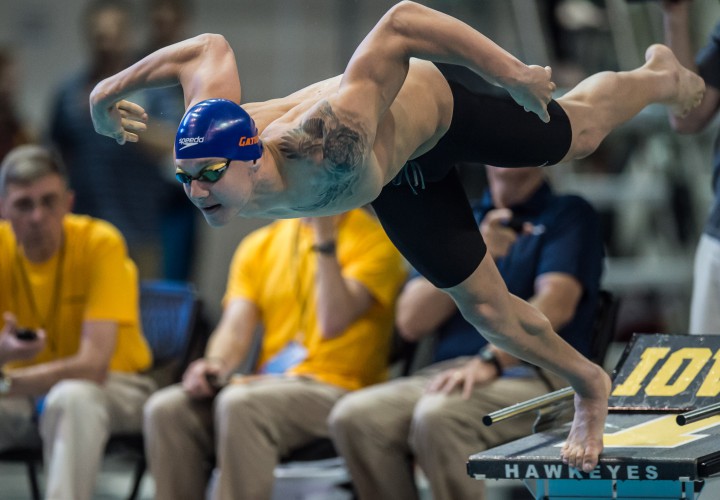 Photo Courtesy: Peter H. Bick
This week's Performance Of The Week, sponsored by LumaLanes, goes to Florida star Caeleb Dressel, who started his senior year off with a fast start with a statement-making 50 freestyle leading off the 200 free relay.
Swimming at home in Gainesville, Dressel led off the Florida 200 free relay in a lightning fast 19.10. Dressel would later go on to win the 50 free later in the session with a 19.21, giving him the only two 50 freestyles under 20.00 so far (albeit during the first week of NCAA competition). The senior would go on to win the 100 free (44.59), 100 fly (46.89), and 100 breast (55.77) throughout the meet. Notably, he also led off the closing 400 free relay in 44.04.
The 21-year-old Olympian is coming off a fantastic summer, where he tied Michael Phelps for the most gold medals won in a single FINA World Championships when he took home seven championship medals. Most recently, he was honored at the USA Swimming Athlete of the Year
The Florida Gators won the invite with 1227.5 points, more than 200 points ahead of runner-up Florida State. This was the swimmer's first race since Worlds ended in Budapest earlier this summer, and while it is still early in the season Dressel looks to be setting himself up for another record-breaking year. You can see full results from the meet here.
Congratulations Caeleb Dressel on earning Swimming World's Performance of the Week!
Special Thanks to LumaLanes for sponsoring Swimming World's Performance of the Week.
Learn More About LumaLanes