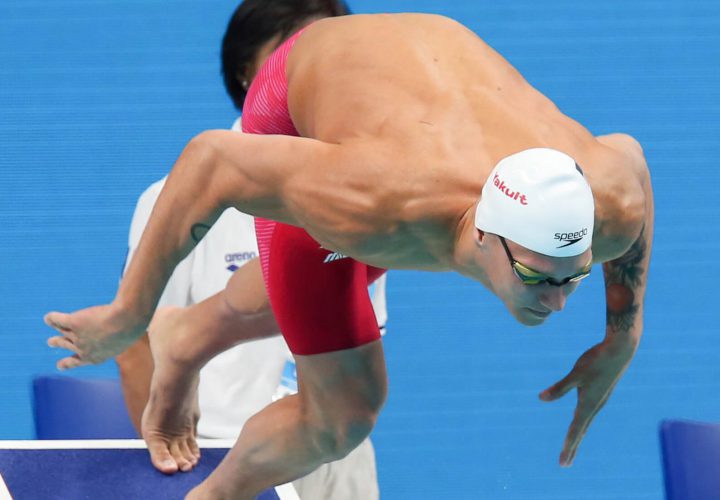 Florida senior Caeleb Dressel picked up another win in the men's 100 free to close out the All-Florida Invitational in Gainesville as his Gators won both the women's and men's team titles.
Dressel won the 100 free in 44.59, just edging out the Florida State Seminole duo of Emir Muratovic (44.75) and Kanoa Kaleoaloha (45.15). Dressel later led Florida to a win in the men's 400 free relay, leading off in 44.04 before teammates Khader Baqlah, Maxime Rooney and Jan Switkowski held on to edge the Seminoles, 2:57.76 to 2:58.11.
Florida's Georgia Darwent touched out FSU's Madeline Cohen to win the women's 200 back, 2:00.72 to 2:00.90, while Florida's Sydney Sell was third in 2:01.73. Rooney cruised to a win in the men's 200 back in 1:46.34, while teammate Clark Beach took second in 1:47.50 over FSU's Griffin Adams (1:47.91).
Florida State's Lexi Smith topped the women's 100 free in 50.59. Miami's Julie Suarez was second in 51.05, three hundredths quicker than Florida's Amelia Maughan (51.08).
The Gator women swept the top three spots in the women's 200 breast, with Savanna Faulconer winning in 2:18.43 over teammates Paige Scheriger (2:18.94) and Hannah Burns (2:19.74). Florida's Ross Palazzo (2:01.75) and Stanley Wu (2:02.18) finished 1-2 in the men's 200 breast, and Seminole Ryan Telford took third in 2:04.70.
Burns improved to a win in the women's 200 fly, as her 2:02.48 easily topped the rest of the field. Teammates Nikki Miller (2:04.78) and Georgia Marris (2:05.40) finished second and third, respectively. Switkowski won the men's 200 fly by almost two seconds in 1:47.55, ahead of Rooney (1:49.50) and Florida State's Max Polianski (1:51.15).
Florida's ladies also swept the women's 1650 free. Taylor Ault won in 16:50.91, while Makayla Sargent (16:57.20) and Kahra Williams (16:58.56) also broke 17 minutes. In the men's mile, Ben Lawless beat out teammate Taylor Delk by three seconds, 15:32.43 to 15:35.25. Baqlah took third in 15:51.12.
Florida State took advantage of a Florida DQ in the women's 400 free relay, with Nika Blank, Elise Olsen, Leila Johnston and Smith winning in 3:25.09. That was not enough to take control in the team competition, as the Gators won with 1068 points, ahead of Florida State (998) and Miami (591).
Led by Dressel, Switkowski and Rooney, the Gator men easily beat out Florida State, 1227.5 to 1021.5.