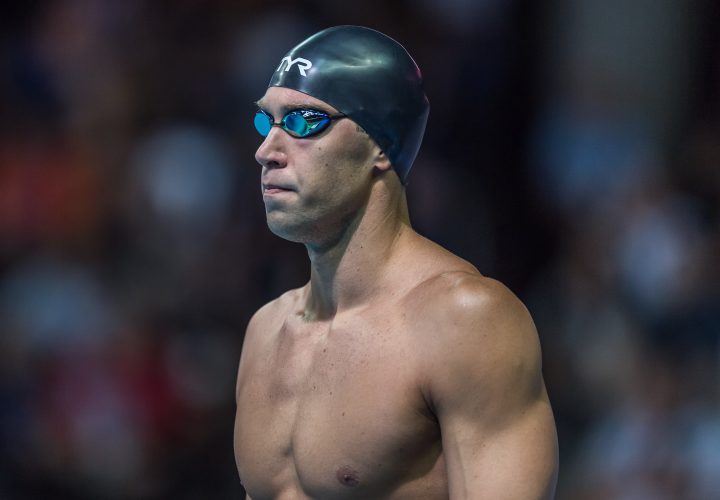 Photo Courtesy: Peter H. Bick
Editorial Coverage provided by

By Annie Grevers, Swimming World Staff Writer
Like many of you, I'm a Matt Grevers fan. I'm going to make the bold claim that I'm a bigger Matt Grevers fan than you are. Over the past 48 hours, I've read heartfelt tributes to my husband that send streams of tears racing down my cheeks.
The U.S. Olympic Trials can be a cruel and unforgiving meet. Most competitors leave Omaha wishing they had been smarter strategically, timed a turn better, or not taken that extra stroke. It's a meet that leaves most athletes hungry, unsatisfied. Many will head back into training with their mistakes fresh in their mind and strive to insure they never goof the simple things again. Some will leave the sport, knowing they made it to a prestigious stage.
A select few will see a '1' or a '2' beside their name on the jumbotron, gasp in disbelief or relief, hug their families and float through the rest of the meet in a state of euphoria, as an Olympian.
We Grevers planned to float through Omaha after Tuesday night, but our plans were derailed. Rather than sitting in the front row behind the pool to rally around our newly minted three-time Olympian, Matt's parents and I stood up with somber expressions and offered hugs and kisses of solace to our forlorn Olympic champion. We watched helplessly as the big man lumbered past fans to exit the gladiatorial arena. Not the scene he had imagined. Nothing like the last two 100 backs he had experienced in Omaha.
At the 2016 U.S. Olympic Trials, Matt's 52.76 earned him the undesirable third place finish. In 2012, American Nick Thoman took home Olympic silver with a 52.92. Yes, the U.S. men's 100 backstroke is as cruel as the men's 200 breaststroke was last night. You've got to be on the verge of the world record to make the Olympic team. And even if you are, someone has to get third.
I've taken fifth at the Olympic Trials twice. I've had visions that didn't unfurl as they were supposed to. It hurts like hell. People you've grown to know and love make the team, you celebrate with them but also wince with pain. I've never held the title "Olympian" or "Olympic champion" though.
I feared the magnitude of the disappointment Matt would feel. Would he indeed be OK, as he had reassured me before the meet? Would his foundations remain intact? Would he be bitter toward the sport? Would he regret investing so much of himself into attaining the one thing left on his swimming bucket list– that elusive long course 100 back world record?
Yes, he's OK. Yes, his foundations are rock solid. No, he is far from bitter. No regrets, he loves the life he's led.
Matt hurt because he never allowed himself to imagine getting third. He hurt because he dared to believe that he could and would get a world record. Matt hurt because he knew how much and by how many his dreams were supported. But he never hurt because he'd lost himself.
He texted me to tell me he'd sign autographs for a while on Tuesday night. "It might make me feel better," he wrote. Matt mentioned that it might be one of the last times people would want his signature or to take a photo with him the next day. I laughed at that. Sorry, dear. I think people may remember you beyond Tuesday, June 28, 2016. And 72 hours later, I can say (as I love to say) that I'm right.
Matt is a behemoth on the pool deck, but his presence extends beyond his seven-foot wingspan. He's touched more lives than I thought someone in our humble swimming community could touch. I've heard the following reviews of Matt: Legend, a champion in life, a class act, an asset to Team USA, a true team player, my favorite national teamer, the kind of person I want my kids to emulate, a leader, the perfect ambassador of our sport, and my personal favorite– Matt Grevers for President.
Momentary glory is magnified at Olympic Trials. Swimmers can begin to feel diminutive after not living up to their own expectations. If you're not first or second (or third through sixth for lucky freestylers), you failed.
Yes, you're right. You failed to make the Olympic team. But you certainly didn't fail to throw everything you had at that goal. You certainly went faster than 99.99 percent of the swimming world if you made top 16 in any event. You certainly made your family and friends puff with pride as they watched from the stands or on NBC.
The test of Trials is oft considered what swimmers can do to make the team. As I witnessed my fourth Trials, I saw the true test to be what swimmers do when they don't make the team. When your video reel is missing its expected climax. When the rug is pulled out from underneath you.
Swimmers either spiral into a free fall or find a way to land with both feet on the ground. My husband landed firmly. He faced pained expressions conveying genuine sympathy from coaches, fellow athletes and fans. He talked to the media, he smiled for photos with kids, he toasted and laughed with us at a family dinner. He remained Matt. He remained joyful. It's not that he didn't suffer, but he did so with grace that comes from a divine place.
To you who came within sniffing distance of an Olympic berth, I hurt for you. The world will say you failed, but anyone who knows you will vehemently defend you against the world's shallow view. You made it through an emotional wringer. You proved yourself to be one of the finest in our nation. You didn't waste thousands of hours in the pool. Most people will never allow themselves to even envision the success you so tangibly pictured. You dared, and you dared greatly.