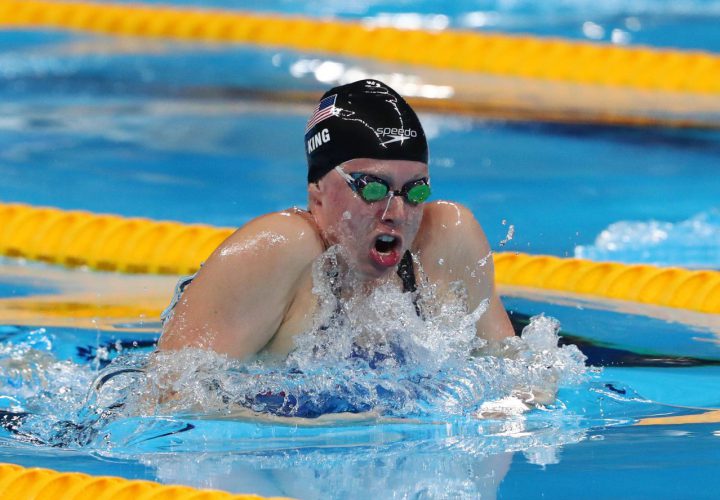 Photo Courtesy: Rob Schumacher-USA TODAY Sports

Editorial Coverage Sponsored By FINIS
Women's 100 Breast FINAL:
Lilly King of the USA continues her dominance over the 100 breaststroke with a final showdown against Russia's Yulia Efimova. Efimova entered the pool among clear booing but did not let it shake her performance, plowing through a tight field to gain on the USA's King and Katie Meili, who led off the turn.
King refused to let Efimova by her as they charged to the wall, stopping the clock at a sizzling 1:04.93. King's time is a new Olympic Record crushing the former Olympic Record of 1:05.17, set in 2008 by Leisel Jones.
Efimova settled for second and a time of 1:05.50, touching just ahead of Meili's 1:05.69.
Shi Jinglin of China delivered a time of 1:06.37 to pick up fourth place overall, just ahead of Canada's Rachel Nicol's 1:06.68.
Iceland's Hrafnhildur Luthersdottir finished sixth with a time of 1:07.18, while reigning Olympic champion Ruta Meilutyte of Lithuania was seventh.
Jamaica's Alia Atkinson rounded out the top eight with a 1:08.10.
Click here to view full results from day three finals.