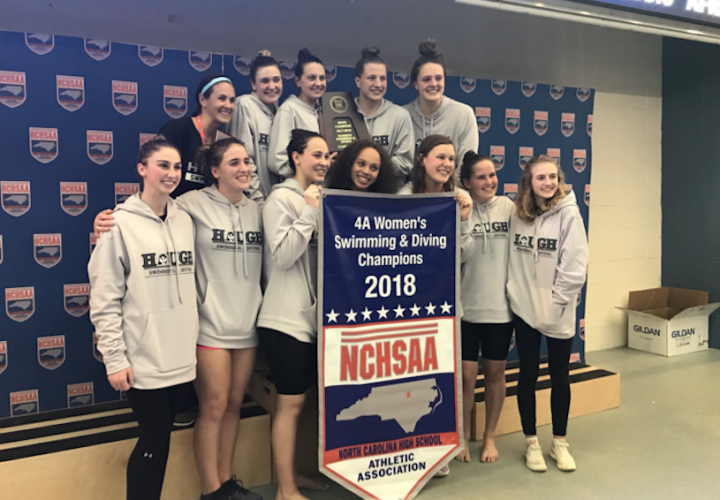 Photo Courtesy: NCHSAA Twitter (@NCHSAA)
Agon is the proud sponsor of all high school coverage (recruiting, results, state championships, etc.) on SwimmingWorld.com. For more information about Agon, visit their website?AgonSwim.com.?National Records for High School Are Pending Application Verification.? Click Here to Learn More
Agon is the proud sponsor of all high school coverage (recruiting, results, state championships, etc.) on SwimmingWorld.com. For more information about Agon, visit their website AgonSwim.com.
By Kevin Donnelly, Swimming World College Intern.
Out at the Triangle Aquatic Center in Cary tonight, a raging competition took place between the 4A high schools of North Carolina took place in the pool. W.A. Hough won the girls' team championship, repeating as champions for the third season in a row. Hough finished with 295 points, just ahead of Leesville Road's 267.  South Mecklenburg took third overall with 197 points.
Leesville Road opened the meet strong, repeating as champions in the 200 medley relay with a new 4A state record of 1:42.20. Notably, Grace Countie swam a 21.78 freestyle leg to pass three teams and win the relay by over a second. Leesville also was spurned on by Amanda Ray, who tied with Myers Park's Janie Smith for the fastest butterfly leg in a 24.58. Myers Park would take second with a 1:43.25, with South Mecklenburg, led by a 25.21 backstroke split from Sinclair Larson, placing in third.
The 200 free featured another return champion, with Sanderson junior Kenna Haney swimming a swift 1:47.90 to win the race by almost a second. Hough's Heidi Lowe, a UNC recruit, placed second, with Apex senior and future Mizzou Tiger Ana Pozder placing third in a 1:49.15.
Apex Friendship freshman Brooke Zettel put her name on the map in the 200 IM, storming home in a 27.44 freestyle split to win the race in a time of 1:58.31. That time broke current NC State freshman Julia Poole's 4A state record of 1:58.77 from 2017. Zettel is only 14 years old, and that time moves her to fifth all-time in the 13-14 age group in USA Swimming history. South Meck senior and future Tennessee Vol Larson also cracked the 2:00 barrier for the first time in a 1:58.83 to take second, while Leesville Road's Ashley McCauley took third in a 2:01.17.
Countie, a North Carolina recruit, returned to the pool in the 50 free to take down her own 4A state record from 2017, swimming a 22.54 to win the event by nearly a second. Green Hope's Maria Baric placed second in a 23.43, with Millbrook's Sophie Clayton-Luce, a future UNC-Wilmington Seahawk (23.61), finishing in third.
Ray added to Leesville's impressive night in the pool with their third event win in five swims, taking the 100 fly by nearly a second with a new best time of 54.28. Cardinal Gibbons's Katie Mitchell took second with a 55.13, also a new personal best, with Hough's Marissa Lassell finishing third in a 55.94.
Countie returned to the pool to repeat as the 100 free champion and take Leesville's fourth event of the night, swimming a 49.69 to narrowly miss the state record of 49.68. Countie's future UNC teammate Lowe picked up her second silver of the night with a 51.03, with Millbrook's Clayton-Luce picking up her second bronze at 51.69.
Sanderson's Haney picked up her second win of the night in the 500 free, dethroning Apex's Pozder, who entered as the reigning champion, with a 4:49.59. Ray took second with a new personal best of 4:52.17, with Pozder taking her second third-place of the evening at 4:52.76.
The 200 free relay featured a duel between the two teams that would end up first and second in the standings, with Hough and Leesville taking each other on. Countie put up her second sub-22 split of the night, this time at 21.86, to lead Leesville (1:34.75) by Hough (1:34.84) on the final leg, outtouching Hough's Merritt by nine hundredths. The Leesville victory marked Countie's fourth of the night, which would earn her meet MVP honors. Myers Park (1:35.18) picked up third overall.
In the 100 back, Larson picked up a win for South Mecklenburg at 53.71, moving up from her fourth place finish in the event in 2017. Merritt took second at 54.45, with Zettel picking up third for Apex Friendship at 54.63.
The 100 breast featured another duel between a Hough swimmer and a Leesville swimmer, with Hough senior and future UNC Tar Heel Lilly Higgs holding off Leesville's McCauley, 1:01.57 to 1:01.78. Higgs's win was the only individual event win for Hough of the night. Apex's Mikaela Fullerton took third in a 1:02.73.
Hough won the final relay of the night to deliver the final blow to Leesville's title chances. Led by Merritt's 50.68, Hough (3:24.43) held off South Mecklenburg (3:24.86), who charged home thanks to Larson's 49.62 anchor leg. Leesville Road, led by Ray's 50.72 third leg, took third.
Full results available here.