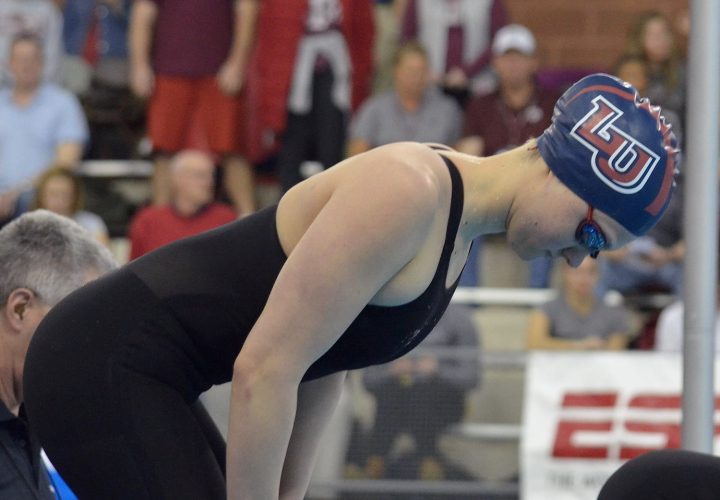 Photo Courtesy: Dan D'Addona
Editorial content for the 2018 NCAA DI Championship coverage is sponsored by TritonWear. Visit TritonWear.com for more information on our sponsor. For full Swimming World coverage, check event coverage page.
Liberty junior swimmer Alicia Finnigan received the prestigious NCAA Elite 90 Award for women's swimming & diving, given out tonight to the student-athlete with the top GPA at the 2018 NCAA Division I Women's Swimming & Diving Championships.
The ELITE 90, an award founded by the NCAA, recognizes the true essence of the student-athlete by honoring the individual who has reached the pinnacle of competition at the national championship level in his or her sport, while also achieving the highest academic standard among his or her peers. The Elite 90 is presented to the student-athlete with the highest cumulative grade point average participating at the finals site for each of the NCAA's 90 championships.
"Alicia embodies the attributes that we seek to develop in a Liberty student-athlete and she sets a very high standard academically, athletically, spiritually and socially," said Director of Athletics Ian McCaw. "We are proud of Alicia and excited to celebrate Liberty's first Elite 90 award."
"What an honor for Alicia, our swimming & diving program, and for Liberty University," Liberty Swimming & Diving Head Coach Jake Shellenberger said. "A leader in the classroom, the pool, and beyond, Alicia excels in all facets of life. She is a model student-athlete, and we are extremely proud of her accomplishments."
Finnigan, a native of Sugar Land, Texas, is the first Liberty student-athlete in any sport to earn the award since its inception during the 2009-10 academic year.
She is the third CCSA student-athlete all-time to be named an Elite 90 Award winner, joining FGCU's Emma Svensson (2013) and Gardner-Webb's Nathan Lile (2016).
In order to be eligible for the award, the student-athlete must be at least a sophomore academically and athletically, and in his or her second year at his or her current institution. The student-athlete needs to be selected and physically able to compete at the finals site. Only undergraduate GPA is applicable, and credits completed shall only consist of those credits accumulated at the current institution. Ties are broken based on number of credits earned.
A junior interdisciplinary studies major, Finnigan has earned a 4.0 GPA every semester of her collegiate career, while also putting together an impressive record in the pool. She will receive her third CSCAA Scholar All-America certificate this year, and will be a first-team selection for the second year in a row.
Finnigan is competing at the NCAA Division I Women's Swimming & Diving Championships this week, her second straight appearance at the national meet. Finnigan is a seven-time CCSA medalist, including wins in the 200 fly as both a sophomore and a junior. She participated in the 2016 U.S. Olympic Team Trials, and also earned a 10th-place finish at the 2017 Phillips 66 Nationals in the 200-meter fly.
Finnigan punched her ticket to Columbus, Ohio, swimming a conference and program-record 1:55.33 in the 200 fly while breaking her own previous record of 1:56.15. Finnigan swam a B cut 53.53 in the 100 fly at the CCSA Championships.
She swam in preliminary heats of the 100 butterfly this morning, and will contest the 200 fly tomorrow morning. Finnigan and her teammate, freshman Payton Keiner (100 back, 200 back) are representing Liberty at this week's national championship meet.
— The information was provided by a press release from Liberty University