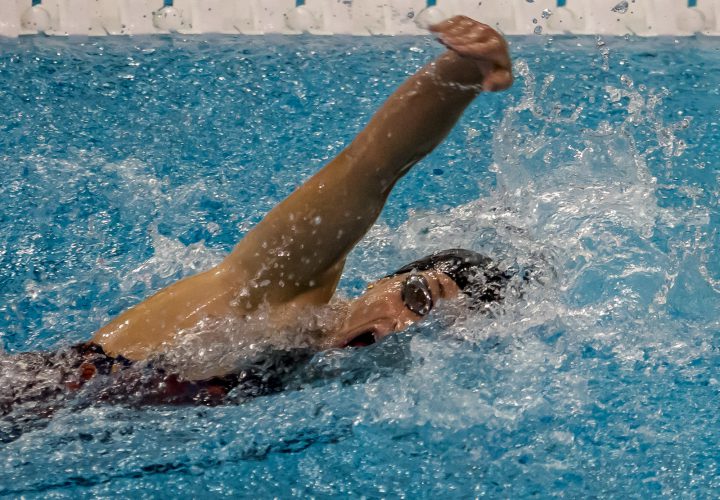 Leah Smith.
Photo Courtesy: Peter H. Bick
Leah Smith coasted to an expected victory in the 800 free. Swimming for Tuscon Ford, she finished in 8:25.05.
It was Smith's third victory of the meet and was the seventh fastest time in the world this year.
Fellow former Olympian Cierra Runge, swimming for Arizona State, finished 8:29.93.
Ally McHugh was third (8:32.21), followed by Boilermaker Aquatic's Kaersten Meitz at 8:34.73.
Event 27  Women 800 LC Meter Freestyle
=========================================================================
        World: W 8:04.79  8/7/2016  Katie Ledecky, USA
     American: A 8:04.79  8/7/2016  Katie Ledecky, USA
    U.S. Open: O 8:06.68  1/17/2016 Katie Ledecky, Nation's Capital
     Jr World: J 8:11.00  8/24/2014 Katie Ledecky, USA
     Pro Swim: P 8:06.68  2016      Katie Ledecky
    Name            Age Team                 Seed     Finals  FINA Points
=========================================================================
  1 Leah Smith       23 Tucson Ford Deal  8:17.22    8:25.05   884  
    r:+0.70  28.88      1:00.22 (31.34)
        1:31.71 (31.49)     2:03.62 (31.91)
        2:35.53 (31.91)     3:07.53 (32.00)
        3:39.54 (32.01)     4:11.63 (32.09)
        4:43.48 (31.85)     5:15.37 (31.89)
        5:46.99 (31.62)     6:18.99 (32.00)
        6:50.83 (31.84)     7:22.93 (32.10)
        7:54.73 (31.80)     8:25.05 (30.32)
  2 Cierra Runge     22 Arizona State Un  8:29.27    8:29.93   859  
    r:+0.81  29.15      1:00.76 (31.61)
        1:32.94 (32.18)     2:05.12 (32.18)
        2:37.23 (32.11)     3:09.62 (32.39)
        3:41.75 (32.13)     4:14.12 (32.37)
        4:46.08 (31.96)     5:18.69 (32.61)
        5:50.92 (32.23)     6:23.30 (32.38)
        6:55.28 (31.98)     7:27.43 (32.15)
        7:59.03 (31.60)     8:29.93 (30.90)
  3 Ally McHugh      21 Unattached        8:35.01    8:32.21   847  
    r:+0.81  30.96      1:03.37 (32.41)
        1:35.96 (32.59)     2:08.41 (32.45)
        2:41.02 (32.61)     3:13.25 (32.23)
        3:45.49 (32.24)     4:17.58 (32.09)
        4:49.76 (32.18)     5:21.67 (31.91)
        5:53.63 (31.96)     6:25.58 (31.95)
        6:57.90 (32.32)     7:29.96 (32.06)
        8:01.75 (31.79)     8:32.21 (30.46)
  4 Kaersten Meitz   22 Boilermaker Aqua  8:34.30    8:34.73   835  
    r:+0.84  30.21      1:02.32 (32.11)
        1:34.48 (32.16)     2:06.69 (32.21)
        2:39.06 (32.37)     3:11.41 (32.35)
        3:43.67 (32.26)     4:16.06 (32.39)
        4:48.56 (32.50)     5:21.15 (32.59)
        5:53.85 (32.70)     6:26.55 (32.70)
        6:58.95 (32.40)     7:31.02 (32.07)
        8:02.99 (31.97)     8:34.73 (31.74)
  5 Becca Mann       20 Una Asu           8:21.77    8:35.63   831  
    r:+0.82  30.71      1:02.84 (32.13)
        1:35.04 (32.20)     2:07.36 (32.32)
        2:39.67 (32.31)     3:11.99 (32.32)
        3:44.28 (32.29)     4:16.73 (32.45)
        4:49.00 (32.27)     5:21.44 (32.44)
        5:53.78 (32.34)     6:26.37 (32.59)
        6:58.82 (32.45)     7:31.36 (32.54)
        8:03.74 (32.38)     8:35.63 (31.89)
  6 Mariah Denigan   15 Northern KY Clip  8:39.84    8:38.64   816  
    r:+0.64  29.64      1:01.61 (31.97)
        1:33.87 (32.26)     2:06.57 (32.70)
        2:39.25 (32.68)     3:11.90 (32.65)
        3:44.24 (32.34)     4:17.03 (32.79)
        4:50.01 (32.98)     5:22.70 (32.69)
        5:55.44 (32.74)     6:28.13 (32.69)
        7:00.77 (32.64)     7:33.65 (32.88)
        8:06.33 (32.68)     8:38.64 (32.31)
  7 Kristel Kobrich  32 Chile             8:33.82    8:39.81   811  
    r:+0.84  30.75      1:02.87 (32.12)
        1:35.21 (32.34)     2:07.70 (32.49)
        2:40.23 (32.53)     3:12.78 (32.55)
        3:45.38 (32.60)     4:18.06 (32.68)
        4:50.86 (32.80)     5:23.65 (32.79)
        5:56.45 (32.80)     6:29.22 (32.77)
        7:02.12 (32.90)     7:34.92 (32.80)
        8:07.90 (32.98)     8:39.81 (31.91)
  8 Cassy Jernberg   20 Schroeder YMCA S  8:40.71    8:39.96   810  
    r:+0.72  30.91      1:03.44 (32.53)
        1:36.45 (33.01)     2:09.22 (32.77)
        2:42.03 (32.81)     3:14.45 (32.42)
        3:47.09 (32.64)     4:19.53 (32.44)
        4:52.31 (32.78)     5:24.80 (32.49)
        5:57.82 (33.02)     6:30.41 (32.59)
        7:03.36 (32.95)     7:36.01 (32.65)
        8:08.71 (32.70)     8:39.96 (31.25)