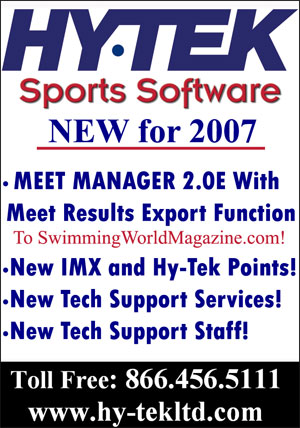 PHOENIX, Arizona, March 19. THIS past week, several meet directors took advantage of the added exposure available with the Hy-Tek/SwimmingWorldMagazine.com meet upload feature in the Hy-Tek Meet Manager 2.0E software.
The following meets that took place this past week were uploaded directly to our server:
∙ YMCA National Qualifying Meet – (03-17-2007 – 03-17-2007)
∙ NHSA 2007 State Championships – (03-16-2007 – 03-18-2007)
∙ PIAA Swimming and Diving Championships – (03-14-2007 – 03-17-2007)
∙ Telkom SA Level 3 National Championships2007 – (03-13-2007 – 03-17-2007)
If you manage a high school, club or age group meet, you can provide us with a short recap of meets that you upload through Hy-Tek to make an even bigger impact on your exposure by e-mailing our newsmaster account. Please make sure to mention all record performances and anyone that wins more than one individual event in your recaps. SwimmingWorldMagazine.com will then attach the Hy-Tek results upload of that meet to your release and post it on the appropriate channel.
Additionally, click here to learn more about posting free real time results at your meets by way of Hy-Tek and SwimmingWorldMagazine.com