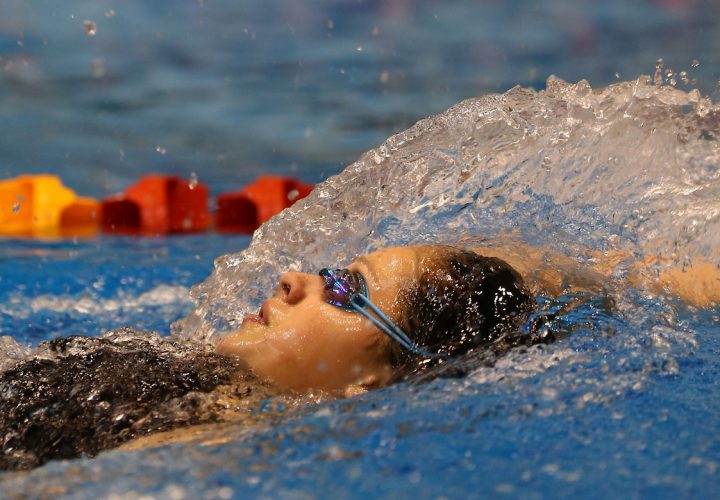 Photo Courtesy: Simon Watts/www.bwmedia.co.nz/Swimming New Zealand
Commentary by Dave Crampton, Swimming World contributor. 
A 16-year-old upset a former world junior backstroke champion on the final night of the New Zealand short course championships in Auckland.
In the 50m final on Saturday, Kyla Alexander won her first national open title, upsetting her United Swimming clubmate Gabrielle Fa'amausili, 17. Both broke respective national age group backstroke records, with Alexander clocking 27.71, 0.02 ahead.
However, Fa'amausili swam 27.04 when aged 15, which remains the New Zealand Open record.
"It's the icing on the cake to go with winning my first open title," Alexander said.  "It feels good to know that I can compete with (Fa'amausili). Looking back at the week, it's been really eye-opening for me. It's shown me what the future could hold if I continue to excel in swimming."
 While both times were top three in the Commonwealth this year, both know they`ll have to do as well at the Commonwealth Games trials in the 50m pool in December.
Fa'amausili also added the open 100m freestyle title and age group record at the championships. At 54.96, it was well outside Commonwealth Games qualifying standards.  
"I'm not satisfied with my performances. There's a lot that needs working on especially heading into trials," Fa'amausili said.
Six swimmers from the United swimming club in Auckland contested the backstroke event, including Yiqong Zhang, 14, who clocked 28.10 for fifth, also inside the 17-year-old record.
United's head coach is Igor Polianski, who won a 200m backstroke gold medal at the Seoul Olympics.  
Michael Pickett, 15 also picked up another national age group title, clocking 50.71 in the 100m freestyle, lowering world championship finalist Corey Main's 51.04 mark in winning the B final.
Bradlee Ashby and Corey Main are the sole New Zealand swimmers to have qualified for next year's Commonwealth Games. Others need to qualify at trials over the New Zealand summer in 12-month personal best times to match time standards. Ashby won his key events in personal best times at last week's championships, clocking 24.29 in his final 50m backstroke event.  
"This was a massive week of racing, but I'm feeling ready for the next stage of training leading up to the Commonwealth Games," Ashby said.
Michael Mincham rounded out the individual events with a win in the men's 1500m freestyle final. He finished in 14:50.61, more than 20 seconds ahead of Zac Reid, 17, who earlier won the 400m in 3:46.11, a national age group record.
"It feels good to get the open title especially since Zac performed well earlier in the week picking up great times with his 400m and 200m free, so I was really happy to get this win," Mincham said.
Swimming New Zealand's president, and short course meet director, Lesley Huckins, said the format of morning age-group finals, and evening finals of the top 40 swimmers in each event over four finals  has worked well over the past three years – and it will continue next year.
"People understand it; we`ve refined the process – I don't see any reason to change," she said.
New Zealand's para-swimmers broke 45 national records during the championships. Paralympics New Zealand swimming programme leader Graeme Maw said it was a good week for the team, who witnessed the most number of world swimming records – in eight events –  set by New Zealanders in a week. Seven of these were set by Sophie Pascoe, who did a full preparation for the postponed world championships which were to be held in Mexico, the other to Mary Fisher.  
"It was surprising really. We hope that inspires (para-swimmer) Jesse Reynolds, but hopefully it inspires (Olympian) Bradlee Ashby," Maw said.
Fisher was encouraged by the results of the para-swimmers. "I was excited to see 20 para swimmers doing speedy races. The week built my confidence in the sustainability of para swimmers in New Zealand."
Both world record-holders want to be an inspiration to other para-swimmers – but on the same basis as any other swimmer.
"It's not about being an inspiration for your disability, it's about being an inspiration through hard work, and that's what drives me," Pascoe said.