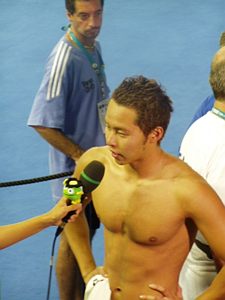 TOKYO, Japan, December 26. AS an Olympic year approaches, the radar of the sports media become more attuned to the traditional Olympic sports such as swimming, judo and track and field.
Given the extra focus, it was not such a surprise that swimming's Kosuke Kitajima's double world-record and gold medal effort at the world championships was voted the top Japan sports story of 2003 by the sports staff of The Daily Yomiuri.
In close voting, the 20-year-old beat out Hideki Matsui and his first-year exploits with the New York Yankees, including becoming the first Japanese to homer in the World Series.
A baseball story also filled the No. 3 slot, although a victory in the Japan Series by the Hanshin Tigers, after winning their first Central League pennant since 1985, might have propelled them to the top.
A month before the world swimming championships in Barcelona, Kosuke Kitajima lost his world record in the men's 200-meter breaststroke to Russian Dimitry Kormonikov. He got it back, and then some.
Kitajima broke the world records in both the 100 and 200 breaststroke events to become the first Japanese to win two gold medals at a world championships, and only the third swimmer in history to complete the breaststroke double.
On July 21, Kitajima was sixth at the halfway turn in the 100 breaststroke before storming home in 59.78 seconds, eclipsing the previous record of 59.94 held by Russia's Roman Sloudnov. Three days later, his time of 2:09.42 in the 200 shaved .10 off the mark Kormonikov had set in the same Barcelona pool a month earlier, breaking Kitajima's 2002 record. "I swam like I never have before," Kitajima said in a bit of an understatement.
To top things off, he also picked up a bronze medal in the 4×100 medley relay before returning to Japan and a hero's welcome.
–Ken Marantz
Courtesy Yomiuri Shimbun