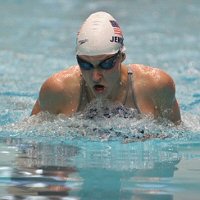 By Nathan Jendrick
FEDERAL WAY, Wash., USA, July 14. IT was a busy night of racing at the King County Aquatic Center to end the second day of the Speedo West Sectional Championships.
Highlights of the night included a sweep of the women's events for the host team, King Aquatic Club. The King women, many walking the pool deck clad in bright pink t-shirts reading, "Queens of King," kept a strong winning tradition going which they started by winning the 200-meter freestyle relay Tuesday night.
The start of the second night saw King's Emily Kukors destroy the 100-meter freestyle field in 56.99. On the men's side of the event, it was a Tacoma Swim Club duo finding the top two steps of the podium. World University Games team member Ryan Verlatti beat his TSC teammate Nathan Adrian with a time of 51.53. Adrian finished close behind in 51.67. Asked if he was ready for the World University Games in Izmir, Turkey, where he will contest the 100-meter freestyle, Verlatti smiled and replied, "Bring it on."
Another WUG member won the next event, as Sydney Olympic champion in the 100-meter breaststroke, Megan Jendrick (King), took first in the women's 200-meter breaststroke in 2:29.71. Jendrick won convincingly over 14-year-old Christine Olson (SDA), who touched the wall in 2:34.75, just keeping Jessica Embick (MHST) off her heels. Embick finished in 2:34.95.
Jendrick will represent the United States in Turkey in a trio of breaststroke events (50, 100, 200) and has the potential to win as many as four gold medals by also contributing to the Team USA 400 medley relay. The World University Games will directly follow U.S. Nationals, with the swimming portion being held from August 12-17.
Another King win was secured in the 200-meter backstroke by Arianna Kukors, a former national champion in the 400 individual medley. The 16-year-old Kukors touched in 2:15.18, outpacing Carley Beaudreau (2:17.17). An Athens Olympian and a member of this summer's World Championship team, Kristen Caverly was the third seed going into the 200 back final before scratching the event. Caverly cruised to a 2:20.22 morning swim.
Following up King's second victory was its third, by way of Caverly's lesser half and another former national champion, Trent Staley, who took the men's 200 back in 2:03.11. Other winners included Andre Blyth (Tiger Sharks) in the 200-meter butterfly in 2:04.11. On the women's side, Emily Kukors took the four-lap fly in a tight four-way race. Kukors trailed Issaquah's Leann Toomey going into the final stretch, but came out on top in 2:17.23, barely outstretching Christina Kinney (MHST) at 2:17.34, Jordan King (Thunderbolts) at 2:17.45 and Toomey at 2:17.94.
The 200-meter medley relay produced a pair of wins for King. Starting off the A Final was a 30.37 backstroke split for Tacoma Swim Club, just ahead of King's 30.41. But diving in to take over for her team, Jendrick split a 31.37 breaststroke leg to touch halfway at 1:01.74, putting adequate distance in front of TSC's 1:03.66. At the wall, King's foursome of Arianna Kukors, Jendrick, Emily Kukors and Emilee Jennings set a meet record of 1:56.02. As an aside, a third Kukors, 14-year-old Mattie, is swimming in this Sectionals and competed in the C Final of the Women's 200-meter breaststroke.
Capping the evening in strong fashion was the King 200 medley men's team of Staley, Joon Youm, Scott Rice and Matt Diotte. The quartet led from the start by splitting 57.66 at the 100-meter mark and touching for a final mark of 1:46.79, just ahead of Team Starbucks in 1:46.97.
Going into day three, the top-ten team standings are as follows:
1. King Aquatic Club 389
2. Mt. Hood Swim Team 203
3. Tacoma Swim Club 164
4. Loveland Swim Club 149
5. Sun Devil Aquatics 129
5. Arizona Desert Fox 129
7. Tualatin Hills Thunderbolts 115
8. Corvallis Aquatic Team 113
9. Tucson Ford Dealers Aquatics 107
10. Hillsboro Heat Swim Team 104
Results
Note: A touchpad malfunction skewed the A Final results of the women's 100 freestyle
Event 6 Men 100 LC Meter Freestyle
=========================================================================
Name Age Team
Prelims Finals Points
=========================================================================
=== A – Final ===
1 Verlatti, Ryan J 18 Tacoma-PN 53.35
51.53 20
2 Adrian, Nathan G
16 Tacoma-PN 53.75 51.67 17
3 Larsen, Jonathan R 21 Chat-UT 52.01
51.97 16
4 Turner, Buddy V
16 Afox-AZ 53.11 52.39 15
5 Svendsen, Tyler G 17 FAST-CO 53.67
53.08 14
6 Byers, Johnny L
19 WSU-IE 53.56 53.27 13
7 Barnard, Matt A 18 Ford Aquatics-AZ 53.78
53.31 12
8 McCallen, John R
18 Bellingham Bay-P 53.72 53.50 11
=== B – Final ===
9 Spriggs, Chris F
18 MHST-OR 53.83 53.05 9
10 Maese, Kyle O 17 MHST-OR 53.79 53.44
7
11 Storie, Logan W
16 Cat-OR 54.30 55.04 6
12 Good, Chris E 18 DU Hilltoppers-C 53.90 55.65
5
13 Kirkpatrick, Adrian W
16 Ford Aquatics-AZ 53.92 55.75 4
14 Bell, Eli S 18 LOVE-CO 54.33 56.40
3
15 Maasberg, David W
20 Chat-UT 54.22 56.50 2
16 Kruger, Richard A 24 MTSC-PN 54.08 56.88
1
=== C – Final ===
17 Evans, George M 17 Eat-UT 54.52 53.39
18 Richardson, Ryan K 18 SDA-AZ
54.49 54.38
19 Westby, Nelson O
18 MSC-OR 54.38 54.57
20 Osborne, Jared R 21 STAR!-PN 54.34 54.88
21 Diotte, Matt B 19 King-PN 54.51
56.49
22 Bai, David 16 King-PN
54.53 56.50
23 Bailey, Matt C
24 Chat-UT 54.50 56.82
24 Smith, Danny H 18 King-PN 54.52 57.91
Event 7 Women 200 LC Meter Breaststroke
=========================================================================
Name Age Team Prelims
Finals Points
=========================================================================
=== A – Final ===
1 Jendrick, Megan M 21 King-PN 2:35.60 2:29.79
20
2 Olson, Christine A 14 SDA-AZ
2:39.89 2:34.75 17
3 Embick, Jessica S 18 MHST-OR 2:36.05
2:34.95 16
4 Brooks, Libby E
17 MHST-OR 2:39.97 2:39.56 15
5 Maxwell, Samantha A 16 Rio-AZ 2:40.21
2:39.83 14
6 Bush, Meredith L
16 BC-PN 2:42.27 2:41.16 13
7 Larson, Signe S 17 HEAT-OR 2:42.55
2:41.56 12
8 Freeman, Ellie S
16 DU Hilltoppers-C 2:42.84 2:41.78 11
=== B – Final ===
9 Gonzales, Danielle N
17 DU Hilltoppers-C 2:43.44 2:41.53 9
10 Embertson, Mari K 22 Cat-OR 2:43.11 2:42.18
7
11 Ernst, Alexandra C
15 SBAY-PN 2:44.95 2:43.49 6
12 Kuestermeyer, Bailey 18 Vast-PN 2:45.54
2:43.86 5
13 Nelson, Kate N
15 KAC-NM 2:44.27 2:43.89 4
14 Warman, Marisa A 15 MHST-OR 2:44.39
2:44.22 3
15 Vasquez, Camille M
17 MHST-OR 2:45.39 2:44.97 2
16 Myhre, Lindsay M 19 STAR-CO 2:45.02
2:47.16 1
=== C – Final ===
17 Points, Hannah K 15 TTSC-OR 2:46.10 2:43.18
18 Bunting, Joy C 16 LOVE-CO
2:46.65 2:43.39
19 Ripley, Rachel A 14 SDA-AZ 2:45.80 2:44.43
20 Kukors, Mattie A 14 King-PN 2:46.07
2:44.46
21 Alexander, Kate A 17 TTSC-OR
2:46.82 2:44.84
22 Nicponski, Sara R
16 Eat-UT 2:45.65 2:44.99
23 Averill, Trisha F 14 King-PN 2:46.61 2:45.68
24 Jennings, Leona S 14 King-PN 2:46.06
2:46.86
Event 8 Men 200 LC Meter Breaststroke
=========================================================================
Name
Age Team Prelims Finals Points
=========================================================================
=== A – Final ===
1 Vietti, William J 19 UW-WY
2:23.98 2:21.30 20
2 Salaz, Jake S 19 MHST-OR 2:23.77 2:21.50
17
3 Jones, Daniel P
20 LOVE-CO 2:23.72 2:23.20 16
4 Youm, Joon J 20 King-PN 2:27.75 2:24.05
15
5 Kim, Jayhan
15 STAR-CO 2:27.28 2:25.29 14
6 Johnson, Bernard H 18 CAAT-PN 2:27.91 2:25.80
13
7 Nuess, CJ J
19 SAS-IE 2:28.03 2:28.91 12
8 Penoyar, Pat J 19 STAR!-PN 2:28.09 2:30.09
11
=== B – Final ===
9 Titus, Marcus J 19 Ford Aquatics-AZ 2:29.66 2:25.47
9
10 Yung, Cejih J
20 STAR!-PN 2:29.48 2:27.07 7
11 Hiett, Jon C 17 King-PN 2:28.78
2:27.15 6
12 Weeks, William F
19 Ford Aquatics-AZ 2:28.43 2:28.14 5
13 Christian, Armstrong 23 HAST-UT 2:28.76
2:28.48 4
14 McKee, Ben N
24 Tacoma-PN 2:29.06 2:28.72 3
15 Baque, John L 17 Tacoma-PN 2:28.59
2:29.15 2
16 Dilworth, Marshall K
15 Gauchos-AZ 2:29.62 2:29.21 1
=== C – Final ===
17 Bell, Levi W
20 LOVE-CO 2:30.67 2:28.26
18 Djang, Doug R 20 King-PN 2:30.67 2:28.56
19 Calcara, David A 19 ESC-PN 2:29.99
2:28.98
20 Johnson, Eric C 18 King-PN
2:31.91 2:30.13
21 McCallister, Hunter J 21 UN1-PN 2:33.39 2:30.88
22 Hansen, Zach H 17 AFAF-CO 2:31.74
2:31.56
23 Benoit, Matt J 17 King-PN
2:30.22 2:32.12
24 Beasley, Patrick O
16 TCCC-IE 2:33.33 2:34.01
Event 9 Women 200 LC Meter Backstroke
=========================================================================
Name Age Team
Prelims Finals Points
=========================================================================
=== A – Final ===
1 Kukors, Ariana J 16 King-PN 2:19.97 2:15.18
20
2 Beaudreau, Carley A
16 LOVE-CO 2:20.50 2:17.17 17
3 Scroggy, Morgan L 16 Thunderbolts-OR 2:19.02 2:17.25
16
4 Diener, Kelsy M
15 AZM-AZ 2:22.26 2:19.84 15
5 Thompson, Kathryn A 18 RST-OR 2:21.08
2:20.00 14
6 Chura, Hannah K
15 BOZ-MT 2:22.45 2:21.91 13
7 Turner, Anna L 18 FAST-CO 2:22.58
2:23.97 12
8 Dole, Jenni P
15 SAS-IE 2:23.59 2:26.31 11
=== B – Final ===
9 King, Lindsey R
17 Thunderbolts-OR 2:24.08 2:20.57 9
10 Wabeke, Cassie D 16 LOVE-CO 2:24.96
2:21.33 7
11 Smith, Candice D
14 HAST-UT 2:23.96 2:22.52 6
12 Kavalec, Brandie J 16 LOVE-CO 2:23.69
2:23.12 5
13 Crandall, Anna E
17 Eat-UT 2:24.49 2:24.95 4
14 Gunderson, Beth A 17 HEAT-OR 2:24.87
2:25.55 3
15 Campbell, Erin R
17 DTAC-AZ 2:25.67 2:26.15 2
16 Holmes, Erin D 16 TCCC-IE 2:23.77
2:26.92 1
=== C – Final ===
17 Ross, Hannah M 15 STP-SR 2:25.78 2:20.95
18 Sutton, Stef 16 Tacoma-PN
2:25.87 2:22.33
19 Elbert, Skye S
17 Afox-AZ 2:26.55 2:24.12
20 Roberson, Leslie A 16 BC-PN 2:26.28 2:25.49
21 Bradley, Ellen S 16 TTSC-OR 2:26.67
2:25.64
22 Judy, Frankie F 18 Ford Aquatics-AZ
2:26.87 2:25.72
23 Tippett, Kellie M
16 BEND-OR 2:26.41 2:27.91
24 Alexander, Maggie R 15 TTSC-OR 2:26.83 2:28.11
Event 10 Men 200 LC Meter Backstroke
=========================================================================
Name Age Team
Prelims Finals Points
=========================================================================
=== A – Final ===
1 Staley, Trent M 23 King-PN 2:09.02 2:03.11
20
2 Good, Chris E
18 DU Hilltoppers-C 2:05.21 2:04.57 17
3 Kisler, Blaine A 17 Cat-OR 2:08.34 2:07.53
16
4 Morrell, Nolan K
18 BEND-OR 2:08.99 2:07.98 15
5 McCallen, John R 18 Bellingham Bay-P 2:10.07 2:08.20
14
6 Schuyleman, James D
17 Sockeyes-PN 2:08.96 2:08.78 13
7 Hardesty, Kurt T 21 STAR!-PN 2:10.56 2:09.01
12
8 O'Connor, Bryan W
16 Ford Aquatics-AZ 2:09.73 2:09.69 11
=== B – Final ===
9 Nuess, CJ J 19 SAS-IE
2:12.01 2:09.18 9
10 Bruce, Ben E 19 King-PN 2:10.74 2:09.79
7
11 McCaffrey, Garrett W
22 King-PN 2:12.36 2:10.73 6
12 Wahle, Martin R 18 LOVE-CO 2:13.62 2:12.21
5
13 Ekstrom, Thomas R
16 Eat-UT 2:14.53 2:13.14 4
14 Bell, Eli S 18 LOVE-CO 2:14.73 2:14.63
3
15 Page, Tamon R
19 C-PN 2:14.27 2:14.85 2
16 Thompson, Sam K 17 SAS-IE 2:14.53 2:17.24
1
=== C – Final ===
17 Richardson, Ryan K 18 SDA-AZ 2:15.20
2:12.78
18 Shook, Sam J 18 LOVE-CO
2:15.21 2:13.08
19 Angell, David S
16 Tiger Sharks-CO 2:16.04 2:13.28
20 Totura, Gannon K 17 Tiger Sharks-CO 2:16.14 2:14.72
21 Scarbrough, Cole R R 15 Tacoma-PN 2:15.48
2:14.97
22 Ostreim, Nick W 16 AZM-AZ
2:16.13 2:15.40
23 Maris, Max K
18 STAR-CO 2:16.07 2:16.92
24 Shaw, Kevin A 17 Tiger Sharks-CO 2:16.39
2:18.84
Event 11 Women 200 LC Meter Butterfly
=========================================================================
Name
Age Team Prelims Finals Points
=========================================================================
=== A – Final ===
1 Kukors, Emily N 20 King-PN
2:19.34 2:17.23 20
2 Kinney, Christina D 21 MHST-OR 2:16.82 2:17.34
17
3 King, Jordan G 15 Thunderbolts-OR
2:20.14 2:17.45 16
4 Toomey, Leann E 19 Sockeyes-PN 2:19.51 2:17.94
15
5 Changstrom, Kayli L 20 LOVE-CO
2:20.06 2:19.82 14
6 Eronemo, Courtney A 17 King-PN 2:21.35 2:20.12
13
7 Thompson, Kathryn A 18 RST-OR
2:20.54 2:21.34 12
8 DeVinney, Katie M 18 Afox-AZ 2:21.27 2:21.50
11
=== B – Final ===
9 Lopus, Whitney E 15 SDA-AZ 2:22.83 2:18.09
9
10 Doran, Ellie L 16 Ford Aquatics-AZ
2:22.02 2:20.74 7
11 Points, Hannah K 15 TTSC-OR 2:23.43 2:21.34
6
12 Nelson, Kara S 17 Thunderbolts-OR
2:22.58 2:21.56 5
13 Wilson, Ele T 15 HEAT-OR 2:21.47 2:22.02
4
14 Pickard, Katherine E 16 AZM-AZ
2:22.55 2:22.19 3
15 Houlton, Molly A 17 UN-FA-AZ 2:21.91 2:22.68
2
16 Kripps, Kim A 18 SBAY-PN
2:21.93 2:23.13 1
=== C – Final ===
17 Okazaki, Kristin K 19 King-PN
2:24.05 2:20.87
18 Taylor, Andie M
13 Sockeyes-PN 2:23.51 2:21.73
19 Woodruff, Kelly M 19 CSC-PN 2:23.93
2:22.38
20 Miesfeld, Noelle C 16 Ford Aquatics-AZ
2:24.27 2:23.60
21 Summers, Caitlin L
18 HEAT-OR 2:24.73 2:24.76
22 Mangan, Natascha R 16 Bearcats-OR 2:24.85
2:24.86
23 Cyphers, Franny A 16 Thunderbolts-OR
2:24.56 2:27.56
24 Campbell, Erin R
17 DTAC-AZ 2:24.78 2:29.80
Event 12 Men 200 LC Meter Butterfly
=========================================================================
Name Age Team
Prelims Finals Points
=========================================================================
=== A – Final ===
1 Blyth, Andre J 16 Tiger Sharks-CO 2:06.35
2:04.11 20
2 Dylla, Mark J
16 Aces-CO 2:06.03 2:05.74 17
3 Storie, Tyler W 21 Cat-OR 2:05.97
2:06.05 16
4 Rice, Scott D
19 King-PN 2:08.63 2:06.12 15
5 Summers, Garth K 16 HEAT-OR 2:07.84
2:06.65 14
6 Maese, Kyle O
17 MHST-OR 2:08.06 2:07.88 13
7 Alger, Seamus C 16 King-PN 2:09.63
2:08.68 12
8 Schuyleman, James D
17 Sockeyes-PN 2:09.96 2:09.32 11
=== B – Final ===
9 Nagle, Brett E
15 Parkrose-OR 2:10.12 2:08.89 9
10 Andrews, Joe M 19 LAC-OR 2:11.62 2:09.79
7
11 O'Keefe, Sean D
17 Thunderbolts-OR 2:11.20 2:10.94 6
12 Madson, Logan T 18 BEND-OR 2:10.31 2:11.10
5
13 McHugh, Jim M
16 SDA-AZ 2:11.88 2:11.50 4
14 Lewkowitz, Blake T 16 AZM-AZ 2:12.54 2:12.78
3
15 Turner, Buddy V
16 Afox-AZ 2:10.71 2:13.47 2
16 Golaszewski, Kenny P 19 Race-CO 2:12.53 2:13.79
1
=== C – Final ===
17 Son, Michael R 18 CSC-PN 2:14.85 2:11.29
18 Guttmann, Marcus N 15 Duke-NM
2:13.27 2:11.39
19 Jones, Carl L
16 TCCC-IE 2:14.13 2:11.41
20 Maricle, Jared W 16 CRST-OR 2:14.98 2:13.53
21 Wang, Eric T 18 Sockeyes-PN 2:14.00
2:14.24
22 Hart-Cooper, Geoff D 18 STAR-CO
2:14.74 2:15.74
23 Worden, Daniel K
16 Cat-OR 2:14.67 2:15.98
24 Dennis, Tony J 18 CSC-PN 2:14.68 2:19.15
Event 13 Women 200 LC Meter Medley Relay
================================================================================
Team Seed Finals Points
================================================================================
1 King-PN
'A' 1:58.01 1:56.02 40
1) Kukors, Ariana J 16 2) Jendrick, Megan M 21
3) Kukors, Emily N 20 4) Jennings, Emilee K 16
2 Tacoma-PN 'A' 1:59.32
1:58.68 34
1) Sutton, Stef 16
2) Jackson, Summer M 18
3) Rains, Megan E 19
4) Hougan, Karlyn R 16
3 MHST-OR 'A'
2:04.89 2:01.40 32
1) Liu, Liya W 21 2) Castaneda, Felicia A 18
3) Kinney, Christina D 21 4) Stacy, Jessica L 15
4 STAR!-PN 'A' 2:04.20 2:01.96
30
1) Olson, Sharon A 20 2) Shortt, Caitlyn A 19
3) Halsell, Shanna M 21 4) Epperson, Brittany C 19
5 King-PN 'B' 2:03.10
2:02.00 28
1) Lindblad, Brianne N 15
2) Caverly, Kristen J 20
3) Eronemo, Courtney A 17
4) Jennings, Leona S 14
6 HEAT-OR 'A'
2:03.19 2:02.16 26
1) Gunderson, Beth A 17 2) Larson, Signe S 17
3) Wilson, Ele T 15 4) Thies, Lauren M 25
7 Rio-AZ 'A' 2:03.10 2:02.30
24
1) Lynch, Nicole M 16 2) Maxwell, Samantha A 16
3) Mozdzen, Laura C 17 4) Davis, Jessica E 15
8 Thunderbolts-OR 'A' 2:02.49
2:02.36 22
1) King, Lindsey R 17
2) Nixt, Jeli R 16
3) Nelson, Kara S 17
4) Scroggy, Morgan L 16
Event 14 Men 200 LC Meter Medley Relay
================================================================================
Team
Seed Finals Points
================================================================================
1 King-PN 'A' 1:48.38
1:46.79 40
1) Staley, Trent M 23
2) Youm, Joon J 20
3) Rice, Scott D 19
4) Diotte, Matt B 19
2 STAR!-PN
'A' 1:48.23 1:46.97 34
1) Hardesty, Kurt T 21 2) Penoyar, Pat J 19
3) Osborne, Jared R 21 4) Dowdy, Brenton T 19
3 Ford Aquatics-AZ 'A' 1:48.37
1:47.70 32
1) O'Connor, Bryan W 16
2) Titus, Marcus J 19
3) Weeks, William F 19
4) Barnard, Matt A 18
4 Tacoma-PN 'A'
1:51.18 1:47.86 30
1) Law, Adrian L 20 2) McKee, Ben N 24
3) Adrian, Nathan G 16 4) Verlatti, Ryan J 18
5 BEND-OR 'A' 1:47.47 1:48.95
28
1) Morrell, Nolan K 18 2) Larkin, Alex S 18
3) Madson, Logan T 18 4) Holmberg, Henry A 20
6 King-PN 'B'
1:50.11 1:48.98 26
1) McCaffrey, Garrett W 22 2) Johnson, Eric C 18
3) Alger, Seamus C 16
4) Smith, Danny H 18
7 MHST-OR
'A' 1:52.99 1:49.36 24
1) Peterson, Zack T 23 2) Salaz, Jake S 19
3) Maese, Kyle O 17 4) Spriggs, Chris F 18
8 Race-CO 'A' 1:51.10
1:50.34 22
1) Braun, Greg C 18
2) Holicky, Grant J 32
3) Carruthers, Nathaniel J 17
4) Golaszewski, Kenny P 19