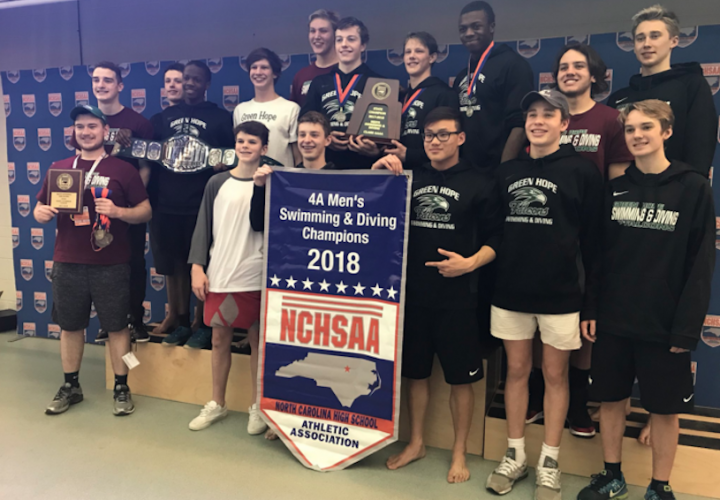 Photo Courtesy: NCHSAA Twitter (@NCHSAA)
Agon is the proud sponsor of all high school coverage (recruiting, results, state championships, etc.) on SwimmingWorld.com. For more information about Agon, visit their website?AgonSwim.com.?National Records for High School Are Pending Application Verification.? Click Here to Learn More
Agon is the proud sponsor of all high school coverage (recruiting, results, state championships, etc.) on SwimmingWorld.com. For more information about Agon, visit their website AgonSwim.com.
By Kevin Donnelly, Swimming World College Intern.
At the Triangle Aquatic Center in Cary, North Carolina today, the men's 4A high school swimming state championships took place. Despite only winning one relay on the day, Green Hope won the men's title, outscoring their closest competitors by over 80 points. Green Hope finished with 272 points, dethroning 2017's champions South Mecklenburg, who took second with 186 points. Athens Drive and Myers Park finished tied for third overall, at 141 points.
Green Hope started the day with a win in the 200 medley relay. Michael Ivy anchored the team in a 20.61, the fastest split in the field, to finish at a 1:33.27, just ahead of South Mecklenburg's 1:33.63. South Meck's Jacob Rauch, a UNC recruit, led the way with a 25.19 breaststroke split, the fastest in the field. Ardrey Kell (1:35.28) took third.
Myers Park's Jack Walker repeated as 200 free champion, winning in a 4A state record of 1:37.75. The previous state record, a 1:37.95, was held by 2012 Olympic gold medalist Charlie Houchin. North Mecklenburg's Avery Gambill, a UNC-Wilmington recruit, placed second at 1:40.33. Myers Park added another podium placer in Hugh Svendsen, who took third with a 1:41.14.
The 200 IM featured another repeat champion, with Athens Drive's Zach Brown, an NC State recruit, taking the event with a 1:48.47. Brown was the only man under 1:50 on the day, as South Meck's Rauch placed second at 1:50.42. Pinecrest's Brent Hoshall, who is headed to UNC-Wilmington in the fall, took third at 1:51.26.
Graham Hertweck of Grimsley, a future William & Mary student-athlete, won a close race with Reagan's Max Edwards in the 50 free, 20.84 to 20.88. They were the only boys under 21 seconds, as Middle Creek's Kevin Plewniak, a Gardner-Webb recruit, took third at 21.03.
Brown would return to the top of the podium in the 100 fly, repeating as champion again with a new personal best of 47.70. Edwards took his second silver of the night at 49.07, while Green Hope's John Healy, who will join Brown at NC State in the fall, was third at 50.19.
Tucker Burhans of West Forsyth, a future UNC Tar Heel, won a close race with Grimsley's Hertweck in the 100 free, 45.33 to 45.35. Plewniak took his second bronze of the night with his 45.85.
In the 500 free, Gambill of North Meck and Josh Legge of Millbrook, a future George Washington Colonial, dueled through the grueling 20-length race, with Gambill taking the title at 4:31.51 to Legge's 4:32.49. Olympic's Jamison Rzepecki took third at 4:34.77.
The men's 200 free relay featured a close battle between a number of teams, but Myers Park ended up victorious thanks in large part to Walker's anchor leg of 20.37. They finished at 1:25.28, ahead of Millbrook's 1:25.73 which netted them second overall. Millbrook was led by Hunter Pigg, a future ECU Pirate, who anchored them in 20.95. Grimsley took third with a 1:25.82, with Hertweck having the fastest split in the field at 20.30.
In the 100 back, Burhans ran away with his second title of the night for West Forsyth, blowing away the field with a 48.78 and setting a new 4A state record in the process. Pinecrest's Hoshall took the silver at 50.43, narrowly outtouching Green Hope's Healy, who settled for third at 50.44.
Rauch took home his first-ever state title in his senior year in the 100 breast, swimming a 55.70 as the only man under 56 seconds. Green Hope's Connor Dalbo, an SMU recruit, took second with a 56.67, with Hopewell junior Markus Wennborg placing third at 56.95.
Myers Park returned to the top of the podium in the 400 free relay, led by Walker's field-leading split of 44.71, taking first in a 3:06.69. Green Hope took silver at 3:08.19, with Providence, led by Thomas Svane-From's anchor leg of 45.97, finishing third, at 3:08.67.
Full results available here.