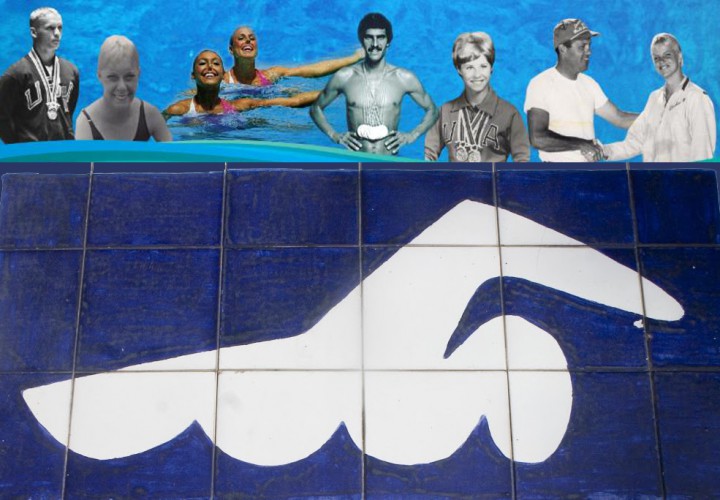 Dr. Sammy Lee
Passes Away At Age 96
Dr. Sammy Lee, the first diver to win
back-to-back Olympic titles (1948 & 1952)
and the first Asian-American male to win
an Olympic gold medal for the USA, has passed away.
The cause of death was attributed to pneumonia.
He was 96 years old. Dr. Lee was just 5'1 and 3/4 inches tall, but was a giant in the worlds of the Olympics and International Aquatics and an American Hero.
and visited Fort Lauderdale many times.
Dr. Sammy Lee interviewed by Ted Keller at the Hall of Fame in 1980 tells about his trip to China, which was like "Marco Polo visiting China for the first time" In 6 years, the Chinese had caught up to the rest of the world in Diving and predicted they would be a nation to contend with in the future. His prediction proved accurate, since after the retirement of Greg Louganis in 1988, the Chinese have been the world super-power in the sport.
Dr. Sammy Lee interviewed by Ted Keller
USC Diving Coach Hongping Lee and KCAL 9 Remember Dr. Sammy Lee:
| | |
| --- | --- |
| | |
| | 1953, first non-caucasian to win the James E. Sullivan Award as the Nations outstanding amateur athlete. |
| | |
| --- | --- |
| | |
| 1848 US Olympic Swimming & Diving Team | |
1993, Sammy photographed by
local photographer George Olsen,
with Dr. Ron O'Brien and Greg Louganis.
| | |
| --- | --- |
| | |
| 2012, Sammy reuniting with Sir Peter Heatly at the London Olympic Games. | |
| | |
| --- | --- |
| | |
| Award-winning children's book about Sammy's inspiring story, "Sixteen Years in Sixteen Seconds: The Sammy Lee Story" by publisher Yoo & Lee. | |
| | |
| --- | --- |
| | |
| | "Not Without Honor, The story of Sammy Lee" by Molly Frick Wampler |
| | |
| --- | --- |
| | |
| 1992, with Esther Williams and Ambassador Andrew Young at ISHOF Induction. | |
| | |
| --- | --- |
| | |
| | 2013, Sammy and wife Roz during their last visit to Fort Lauderdale for a reunion with Chinese swimmers & divers and the "5 little swans" |
| | |
| --- | --- |
| | |
| | 1968, pressing his hand in cement during his Induction into the ISHOF. |
| | |
| --- | --- |
| | |
| The Dr. Sammy Lee Award established by the Kalos Kagathos Foundation is on display at the Hall of Fame. | |
International Swimming Hall of Fame | 954.462.6536 | www.ishof.org