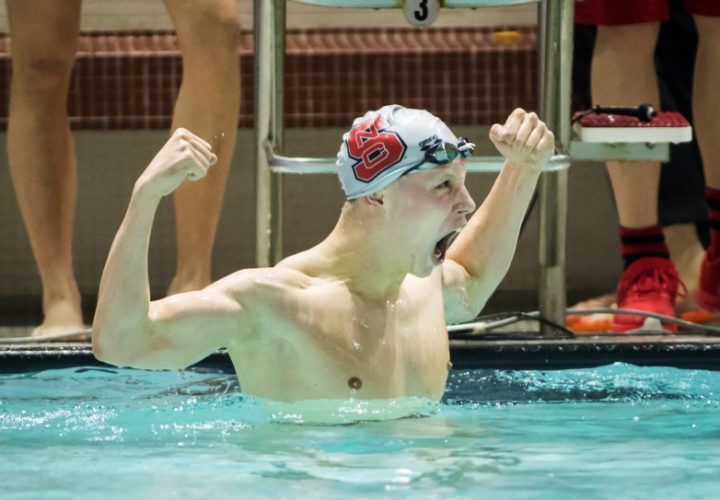 Photo Courtesy: Kenneth Martin
Some of the nation's fastest swimmers gathered in Columbus, Ohio for the final session of competition at the 2017 Ohio State Invitational.
Overall team scores:
Women:
Kentucky, 733
N.C. State, 669.5
Notre Dame, 656
Ohio State, 642
Yale, 293.5
University of Pittsburgh, 255
Penn State, 175
Washington State, 160
South Carolina, 139
Florida Gulf Coast University, 128
West Virginia University, 80
Unattached, 72
Kenyon College, 27
Men:
N.C. State, 1118.5
Ohio State, 780.5
Notre Dame, 676.5
Kentucky, 400.5
Yale, 311
University of Pittsburgh, 260
Penn State, 240
West Virginia University, 184
Unattached, 39
Kenyon College, 20
Tonight's action in Columbus got underway with the top seeded heat in the women's and men' 1,650 freestyle. The lady's distance race was won by senior Hannah Moore out of N.C. State in a time of 15:54.42. Penn State's Ally Mchugh was the only other woman under 16:00 in a time of 15:59.03, good enough for second place. In third was Pitt's Amanda Richey in a 16:01.45.
The men took their turn in the tank with N.C. State's Anton Ipsen cruising to a 12 second win over Notre Dame's Zach Yeadon in 14:39.05 to Yeadon's 14:47.18. That time puts Ipsen at the top of the rankings for all NCAA swimmers so far this season. Kentucky's Isaac Jones swam a 14:48.61 for third place.
Moving on to the 200 backstroke events, Asia Seidt, a sophomore out of Kentucky, won the event for the lady Wildcats in a time of 1:50.67. Fellow Wildcat Bridgette Alexander was about a second and half behind in 1:52.16. Completing the Kentucky sweep of the event, sophomore Ali Galyer posted a 1:53.16 for third.
N.C. State's Stuart Hennessey and Coleman Stewart gave the Wolfpack a 1-2 finish in the men's race by posting times of 1:40.47 and 1:41.78, respectively. Hennessey's time ranks him second nationally, behind USC's Patrick Mulcare. Third place went to Notre Dame's Robby Whitacre with his 1:41.79.
The sprinters dove in next for the women's and men's 100 freestyle. Winning the women's event was OSU freshman standout Freya Rayner with a 48.43. Aliena Schnidtke earned second with her time of 48.64 while N.C. State's Ky-lee Perry took third in 49.07.
The Wolfpack produced a 1-2-3 sweep in the men's race with Ryan Held leading the charge with a 42.45. Behind Held was Justin Ress in a 42.51 while Jacob Molacek touched third in 42.71.
Into the water next went the 200 breaststrokers for both the men and women. Kentucky freshman Bailey Bonnett blew away the rest of the field with her time of 2:07.83. Lina Rathsack touched second for Pitt in a 2:09.14 while third place was awarded to Kentucky sophomore Madison Winstead in a time of 2:09.35.
After winning the 100 yesterday, Penn State sophomore Kaelan Freund took the win in the 200 distance with a 1:56.96. Yale's Jonathan Rutter took the second spot in a 1:57.61 over N.C. State's Daniel Graber who turned in a 1:57.72.
OSU Junior Meg Bailey took the win in the lady's 200 butterfly with her time of 1:55.67. Notre Dame's Nikki Smith was a 1:57.01 for second while West Virginia's Morgan Carr earned third with her time of 1:57.23.
The men's race featured N.C. State's Andreas Vazaios produce the nation's fastest time so far this year with a 1:41.07. OSU junior Michael Salazar was second in 1:44.91 while David Dixon out of WVU took third in 1:45.45.
It was relay time in Columbus as the we wrapped up the final night of competition with the 400 freestyle relay. The Notre Dame women edged N.C. State with a 3:16.50 to the Wolfpack's 3:17.27. OSU put together a 3:17.48 to earn third place.
The N.C. State men proved they might be have the deepest sprint freestyle roster in the nation by going 1-2 in the men's 400 freestyle relay. No man on either relay swam above a 43.8 and Molacek threw down a 41.86 on the A relay to help the Wolfpack produce a 2:48.75 while their B relay swam to a 2:53.99. Notre Dame was right behind in 2:54.33 for third place.
For complete results, click here.