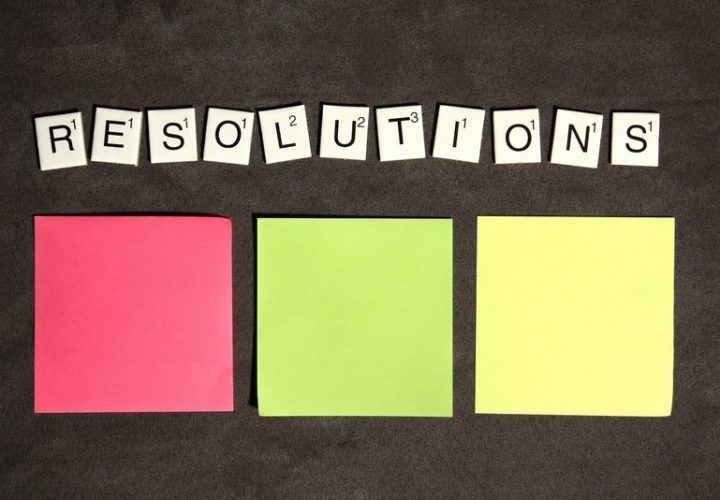 Photo Courtesy: pexels.com
By Ashley Illenye, Swimming World College Intern. 
Early January means gyms full of people trying to make good on their New Year's Resolutions. In the swimming world, early January means practices populated with swimmers trying their best to live up to their own resolutions.
It's easy to let yourself slip up on your resolution when the novelty of the New Year begins to fade away. It takes the right resolution and a lot of resilience to keep your promise to yourself past the first few weeks—or even days, of the New Year. Here are a few ways that can help you make sure that you start off this year with a resolution that sticks.
1. Make Sure Your Resolution is Maintainable.
One of the most important things to remember when making your New Year's Resolution is to make it realistic. While it's good advice to always shoot for the stars, a resolution shouldn't be about changing yourself entirely. If your goal for the end of the year to make a certain time, then make sure it's something that reflects the training that you put in at practice.
2. Treat Your Resolution Like a Stepping Stone.
As a swimmer in a sport all about dropping time, it's reasonable that would be your resolution going into the New Year. There are two issues that come about with a resolution that goes along the lines of dropping time. The first is that the meet that your season depends on for dropping time is two-to-four months after New Year's.
The second is that while dropping time might be realistic, it's a big jump to say that because it's a New Year, that you're going to drop time. Any resolution that a swimmer has should be backed up by tweaking some part of your training. Whether it's turns, fixing your stroke, or training on a harder interval, these are all stepping stones to a greater goal of dropping time.
3. Let Your Coach Know What Your Resolution Is.
Your coach should encourage New Year's Resolutions and encourage you to be the best version of yourself that you can be. As great as coaches are, they aren't mind-readers. You can't expect them to be supportive of your goals if you don't let them know what they are. Your coach is your greatest asset in the swimming world.
Your coach can help make sure that you're working towards your goal every day, even on the days when you don't want to. They can also help fine-tune your resolutions to make sure you're as productive as you can be with the incoming New Year.
4. Visualize Your Resolution.
Writing down your resolution is a way of making sure that it sticks. If there's any place at practice where you can put your resolution down, whether on the white board on deck or in the locker room, that would be the best place to write down your resolution because you can see it in the setting where you will be trying to accomplish your goals every day.
Making a vision board or a similar representation of your goal could be another way to make sure that you are able to visualize and metabolize your goal every day. Worst comes to worst, you can write it down on a piece of paper and use that as a reminder every day.
5. Keep Track of Your Progress.
Your resolution should be taken step-by-step to maximize the potential of being accomplished. That step-by-step process can be used as a type of rewards system to help motivate you to continue to make progress with your New Year's Resolution.
The most common way to keep track of your progress would be through a journal. Keep track of the way that some days, you're able to hit your goal more often than other days. Take away the triumphs of your good days and learn from the days that you think you could do better. There's something to learn from every practice, and that's much easier to keep track of when written down.
6. Don't Be Afraid to Fail, or to Succeed.
Winston Churchill once said, "Success is not final, failure is not fatal, it is the courage to continue that counts." There are so many things that can get in the way of a goal. One of those things is attaining your resolution sooner than you thought. This doesn't mean you throw in the towel on all your hard work because you got what you wanted. If you want to be the most successful version of yourself you can be in 2018—you continue with your resolution even after you've succeeded.
A setback is another instance that may happen in the span of the first few weeks or months after you've set a goal. It's easy to give up after you've had a bad practice or a bad dual meet that diminishes your hope for the rest of the season. That's when, more than any other point in your career, you have to pick yourself up and remember that on the first day of 2018 you made yourself a promise to be the best that you can be. You owe it to yourself to have the courage to continue.