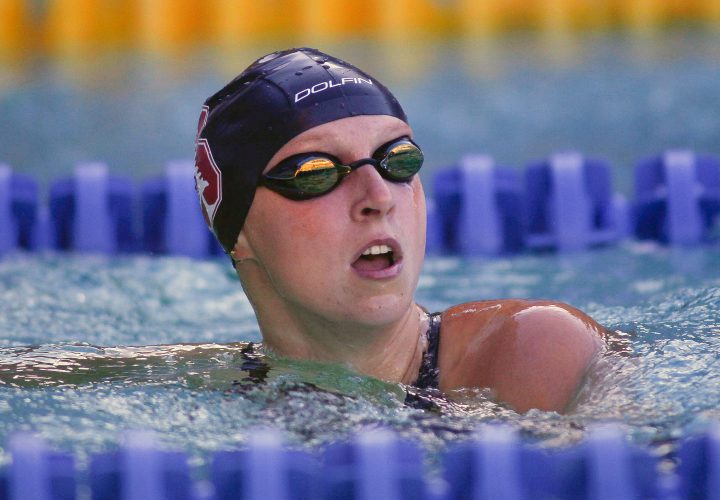 Photo Courtesy: Stan Szeto-USA TODAY Sports
By Ashley Illenye, Swimming World College Intern.
Like most sports, men tend to dominate the field of discussion in swimming, but Katie Ledecky has derailed the discussion and given it a whole new light. Michael Phelps, Ryan Lochte, Nathan Adrian and other men, in the past, monopolized the conversation while equally talented swimmers like Missy Franklin, Natalie Coughlin, and Alison Schmitt took the backburner. Since 2012, one woman has aided in changing the narrative of swimming.
In large part due to the number of women who have exceeded expectations, attention towards the Olympic Team become more balanced. Female swimmers are starting to receive just as much attention and praise for their accomplishments as their male counterparts.
To be clear, Feminism is defined by Webster's as the "theory the political, economic and social equality of the sexes." While biologically, males and females cannot ensure that there can be equal physical performance, Ledecky has shattered the glass ceiling in the number of times that women have produced times comparable to men's.
With her performance, Ledecky proves that gender should not be a limitation on what women can accomplish. She challenges the norm that women can't aim for elite male times. Ledecky started out as a head-turner in the London Olympics with a remarkable breakthrough at the start of her international career. From 2016 to 2017 is when she made leaps and bounds, further impacting the gender discussion surrounding swimming.
Ledecky's best 400 meter freestyle time, set in 2016, is faster than the men's Olympic Trials cut. Though not an Olympic event for women, her 1,500 is also twenty seconds under the men's Trials time. Olympic Trials is the most prestigious long course meet in the US. Only 936 men in the United States qualified for the meet in 2016 which places Ledecky in the top percentage of male swimmers. On the yards end, Ledecky's 15:03 in the 1,650-yard freestyle this past year was a mere seven seconds away from being invited to NCAA's, which invited the top 30 men in the country for that event.
Swimming and Social Equality
Gender equality in sports is not only a recent issue; Women have struggled to receive the same coverage as men the last 120 years they were allowed to compete. In 2016, men still overcame women in participation at the Olympics 55 percent to 45 percent.
Studies continue to reveal a gender bias, even in the last 10 years. In the 2010 Winter Olympics, men received 23 hours of primetime coverage while women received 13. In addition to this, the equestrian events in the summer Olympics are the only ones that allow women and men to compete head to head.
On top of less coverage, three-quarters of the amount of airtime women do receive is devoted to the most "scantily clad" sports. Gymnastics, swimming, diving, and volleyball receive that chunk of airtime.
Despite only making up 45 percent of athletes, women received 59 percent of coverage at the 2016 Olympic games. While Ledecky alone cannot be accredited the honor of making this happen, she was a part of the 2012 women's Olympic team that brought home more medals than the men for the first time. Women in other sports, including Keri Walsh Jennings (Volleyball), Simon Biles (Gymnastics), and Hope Solo (Soccer) can also be attributed the honor of being incredibly dominant in their sport to the point of equal coverage.
Ledecky and the Media
Even with an athlete as dominant as Katie Ledecky, there is still gender bias that hangs like a cloud over her career. She is referred to as "The Female Michael Phelps." While to be compared to the greatest swimmer of all time is of high esteem, she isn't the "Female Michael Phelps." She is her own, independently dominant woman and should be nicknamed by her unique accomplishments, not attributed to a male.
So how is one woman fixing the gender gap issue? On a conscious level, she may not be even thinking about it. Statistics may not show the intense effect she's had as a role model for young women. But, as swimming establishments in the media will rave: we are living in the Ledecky era. One where one of the most spoken about athletes is a female. One where women's NCAAs is just as highly discussed as men's. One where a little girl can look up at the television screen and see herself represented.
Katie Ledecky did not do all of this alone, but she pushed closer to the equality threshold than women have ever been. Feminism is, as recorded, the equality of the sexes, which Ledecky has shown can be more possible than ever before conceived in sports. For that, swimmers, athletes, and women everywhere should be grateful to live in the Ledecky era.
All commentaries are the opinion of the author and do not necessarily reflect the views of Swimming World Magazine nor its staff.