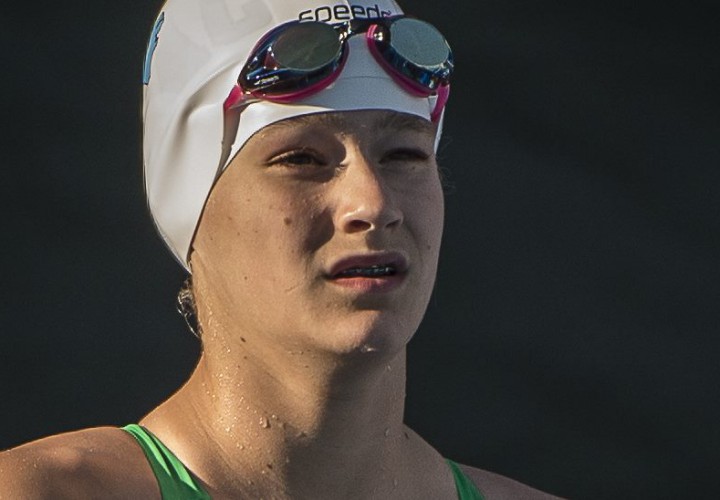 CARY, North Carolina, February 9. MARVIN Ridge (girls) and Chapel Hill (boys) emerged as champions at the North Carolina 3A High School Swimming and Diving Championships Feb. 8 at the Triangle Aquatic Center.
Girls
Marvin Ridge easily won with 366.5 points, with Chapel Hill finishing second (291.5), Cardinal Gibbons third (244), Cox Mill fourth (130) and Northwood fifth (125).
Chapel Hill sophomore Claire DeSelm was the girls' Most Outstanding Swimmer. She was one of two double-event champions among the girls with her 2:02.59 in the 200 IM and 54.77 in the 100 fly. DeSelm led off Chapel Hill's winning 200 medley relay (1:49.37) with seniors Kaitlin Jones and Rachel Samuelson, plus sophomore Paige Jones.
Also claiming first in two events was Chapel Hill junior Anabelle Durham. She finished just ahead of Lexie White, a Marvin Ridge junior, in the 100 free (53.47 to 53.58); in another close race, she posted a winning 57.56 in the 100 back, ahead of Marvin Ridge freshman Caroline Hauder's 57.80.
Emmaline Peterson, a Hickory freshman, earned the only division record among the girls with her 4:54.42 in the 500 free. The Naval Academy will have the services next year of Lauren Greenberg, a senior at Marvin Ridge, who captured the 200 free in 1:53.02, just ahead of Cardinal Gibbons sophomore Emiliy Dykstra (1:52.12).
Other individual event champions included Corinth-Holders junior Michaela Carter (50 free, 24.90); Becca Churchill, a junior at Cedar Ridge (100 breast, 1:06.32) and South Point senior Mary Torgonski (diving, 447.30 points).
Marvin Ridge's team of junior Lexie White, freshman Ashley Baum, Hauder and Greenberg collected a victory with their 1:39.42. Marvin Ridge also won the 400 free relay in 3:34.02.
Boys
The Chapel Hill Tigers earned their sixth straight team title, four of which have been earned in Division 3A. They scored 297 points, ahead of Cardinal Gibbons (267), Marvin Ridge (190.5), Concord (169) and Northern Guilford (161).
Male Outstanding Swimmer honors went to Cardinal Gibbons junior Noah Cairns. He swept the distance freestyle races with times of 1:43.77 in the 200 free and 4:33.91 in the 500 free.
Tucker Wall, a Concord junior, easily won the 50 free in 21.05. Teammate Justus Cochran, a senior, picked up the 100 free title with his 47.79. The duo combined with junior Wade Bestler and sophomore Sam Jones for the 200 free relay victory (1:28.74).
Seniors earned victories in the rest of the individual races: Crest's Garrett Simpson (100 back, 50.94), Kings Mountain's Austin Toney (100 breast, 59.25), Terry Sanford's Connor Johnson (100 fly, 50.75), Asheville's Luke Lechner (200 IM, 1:52.51) and C.B. Aycock's Devin Hall (diving, 374.05 points).
Junior Luke Humphrey led off Northern Guilford's 200 medley relay of sophomores Jacques Bene and Jordan Reed with senior Cole Quinn anchoring to a 1:39.83 win. Chapel Hill's 3:16.72 was good for first in the 400 free relay.
Results For: High School State Championships: North Carolina 3A