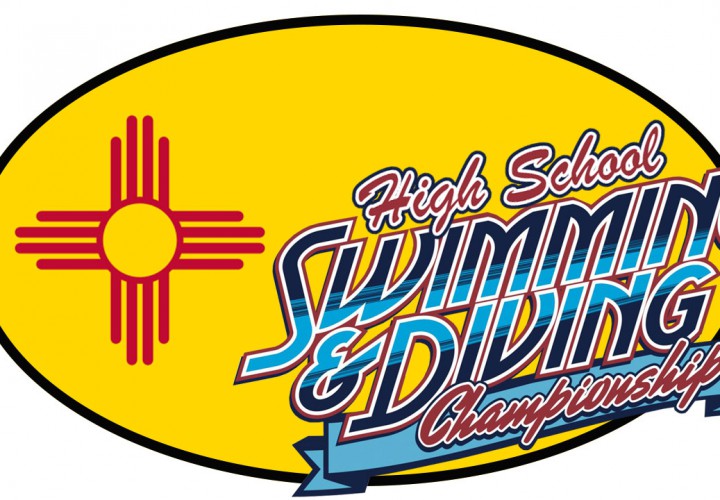 ALBUQUERQUE, New Mexico, February 23. SEVEN state records–three girls and four boys–were lowered during the New Mexico State High School Swimming and Diving Championships. The meet was held February 21-22 in Albuquerque. Eldorado claimed its second straight girls title, and Cibola's boys squad earned its first-ever championship banner.
Girls
The Eldorado Eagles swept the relays, including a state record-setting 1:46.22 in the 200 medley relay with the quartet of Tyler Wickesberg (junior), Olivia Heflin (freshman), Ellie Rivenbark and Kelsey Robison (sophomores). The 200 free relay of Mikelle O'Donnell (freshman), Heflin, Sydney Hanks (sophomore) and Rivenbark combined for a 1:38.61; Wickesberg, Robison, Hanks and O'Donnell finished the sweep with a 3:38.01 for the 400 free relay victory. Heflin earned an individual triumph in teh 100 breast (1:04.97).
Albuquerque junior Cassaundra Pino became a three-time state champion in the 100 fly with her 56.14, lowering the mark she set in 2012 of 56.62. She also topped the field in the 200 free in 1:52.64. St. Pius X sophomore improved on her third-place finish last year in setting the diving record at 494.00 with this year's win.
Nika Fellows, a La Cueva senior who is headed to the University of Kansas in the fall, repeated as champion of the 500 free with this year's 4:58.10. Other seniors claiming titles were Lauren Atkins of St. Piux X in the 200 IM (2:05.07), who will move on to the University of the Pacific, and Alamagordo's Madison Burns in the 50 free (23.48). Burns missed out on a second victory by just 1-tenth in the 100 free to Los Alamos sophomore Sarah Lott (52.07 to 52.17).
Sandia sophomore Amanda Key touched first in the 100 back (56.37), just ahead of Atkins (56.49).
Eldorado earned its repeat victory with 332.5 points, with La Cueva second (262), Los Alamos (218.5), Las Cuevas (189.5) and Sandia (184).
Boys
Cibola's 200 medley relay of Tameryn Huffman (junior), Edgar Melchor (senior), Ramsey Holler (senior) and John Holler (junior) erased the state mark of 1:36.41 set by Albuquerque Academy in 2008 of 1:36.41 with their 1:34.87. John Holler earned an individual state standard in the 200 free (1:40.43), taking down Jack Feely's 2012 time of 1:40.84.Melchior repeated as champion in the 100 breast with this year's effort of 57.56.
Anthony Kim, a Albuquerque Academy sophomore, claimed the state record in the 100 fly (48.66), eclipsing Marcus Guttmann's 2009 time of 48.93. Kim set a second state mark in the 100 back of 50.08, bettering Jacke Mortensen's 50.69 from 2010.
Eldorado sophomore Hank Gullick doubled in the sprint free events with his 50 free clocking of 20.91 and his 100 free time of 46.65. Luis Conejo, a Rio Rancho junior, earned his second first-place ranking in the 500 free (4:41.61). Also taking home his second consecutive win was La Cueva senior Stephen Klein, who repeated his 200 IM win with his 1:54.57. Isaac Morris, a Valley junior who finished third last year, climbed up to the top of the podium in the diving competition with 484.45 points.
Gullick led Eldorado's 200 free relay with seniors Brad Kenning, Jackson Powers and Angus Gullick to a 1:26.72 triumph; Kim led off Albuquerque Academy's 400 free relay with juniors Jason Hou and Scott Theiler plus senior Christian Cho (3:10.17).
Cibola finished in dominating fashion, scoring 292 points to Albuquerque Academy's 231. Rio Rancho claimed third (2050, followed by La Cueva (196) and Eldorado (181).
Results For: High School State Championships: New Mexico