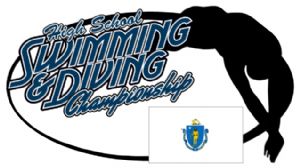 CAMBRIDGE, Massachusetts, November 20. THREE swimmers nabbed two titles apiece in both divisions of the Massachusetts Girls Fall High School Swimming and Diving Championships. The meet was held at Harvard University Nov. 18.
Division 1
Haverford's Sarah Broderick successfully defended her championship in the 50 yard free (23.71) and also was first in the 100 back (57.58). Andover's Margaret D'Innocenzo posted a wining 1:05.67 in the 100 breast to win for the second straight year, and added a 200 free victory to her resume (1:51.66). Caitlin Sheridan of Chelmsford took charge in both the 100 fly (56.02) and 200 IM (2:02.97).
Virginia Burns from Brockton lowered the only division record of the meet with her 51.43 in the 100 free, erasing Connie Brown's 2000 mark of 51.52. Chelmsford's Jennifer Day posted a 5:07.64 to capture the 500 free title. Framingham's Maura Sticco-Ivins put together a final score of 483.60 points, just ahead of Deborah Daly's 479.60 for Andover, to win the diving competition.
The Andover 200 medley relay of Maeve Awiszus, D'Innocenzo, Alexa Korsberg and Emma Cammann combined for a 1:49.66 victory. Ashlee Korsberg came on board with Awiszus, Alexa Korsberg and D'Innocenzo to claim the 400 free relay in 3:33.16. Chelmsford's 200 free relay of Katherine Su, Julia Sementelli, Day and Caitlin Sheridan placed first with their 1:38.76.
Andover's 428 points gave them the Division 1 team title, ahead of Chelmsford (282.5), Acton-Boxborough (253), Framingham (225.5) and Needham (185).
Division 2
Reading's Erin Daly went 2-for-2 in the sprint freestyle with her 24.37 in the 50 yard free and 24.67 in the 100 free. Maddie Myers of Bishop Feehan took care of the distance events, placing first in both the 200 and 500 free (1:55.60 and 5:05.23). The third double-event champion was Notre Dame-Worcester's MacKenzie Niness, who posted winning times of 59.38 in the 100 back and 58.10 in the 100 fly.
Emily Medeiros from Wakefield won the 100 breast in 1:06.78, and Bishop Feehan's Marisa Reidemeister came in first in the 200 IM for the second straight year (2:09.02). Irina Chiulli from Westwood easily defended her diving victory with her score of 497.65 points.
Bishop Stang's 200 medley relay of Olivia Decas, Sienna Lapalme, Maria Lopez, and Kaya Flanagan tied with Bishop Feehan's squad of Jennifer O'Brien, Reidemeister, Myers and Nikki Steiner, both clocking 1:52.90. Reading's Christina Tzianabos, Amanda Adreani, Amelia Panek and Katherine Smith combined for a 1:42.03 win in the 200 free relay; Alexa Bosley, Adreani, Kasey Lamb and Daly gave Reading a second relay victory with their 3:39.51 in the 400 free relay.
First place in Division 2 went to Bishop Feehan, which scored 336.5 points. Reading came in second (313), followed by Belmont (232), Notre Dame-Hingham (208) and Bishop Stang (195).