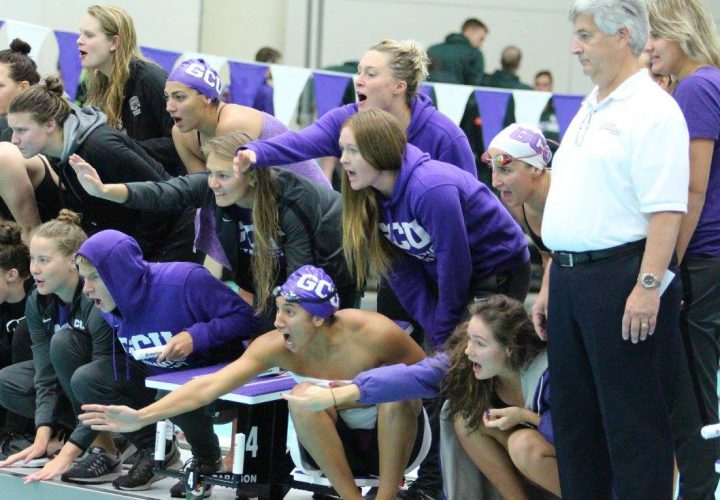 Photo Courtesy: Deb Schaffer
By David Rieder.
Entering conference championship season, only one swimmer in the country has broken 45 seconds in the men's 100 back: Mark Nikolaev. He's a native of Russia native currently in his third year training in the United States—but he's never swum in a championship final at the NCAA championships or even been at the national championships.
This March, though, he will be in Minneapolis for the NCAAs along with his teammates from Grand Canyon University. Located in Phoenix, GCU is in its first season as a full-fledged NCAA Division I program after transferring from Division II. For the past four years, the school was not allowed to participate in an NCAA championship in any sport.
This year, though, the Antelopes will be well-represented at the national meet. At the Northwestern Invitational in November, Nikolaev and teammates Youssef El Kamash, Daniil Antipov and Mazen El Kamash combined to swim a time of 1:24.46 in the 200 medley relay, an automatic qualifying mark for NCAAs.
As soon as he saw the time, GCU head coach Steve Schaffer was overcome with excitement and emotion. After waiting so long for its opportunity, qualifying the team's first relay for the Division I NCAA meet was a watershed moment.
"When the 200 medley relay hit, it was four years of waiting and emotion and anticipation," Schaffer said. "There's a picture my wife took of us all with our arms up. The emotion of that was exhilaration, relief, everything. You wanted this for the program. You wanted this for the kids."
The Lopes now rank fifth in the nation in that relay, and their time from the fall would have been quick enough to score at last year's NCAA championships. But Schaffer doesn't hope to simply score at his first Division I NCAAs—he expects his men to finish in the top-25.
"It took 29 points to be 25th last year, so that's a possibility," Schaffer said. "I hedged somewhere along the way and said, 'Okay, I'll settle for 30.' That's what we're going for."
Big goals given unlikely odds? Maybe, but that's been the story of GCU's swim program for its entire history—a brief history during which the team has never even had its own pool.
Taking on Division II
Schaffer has lived in the Phoenix area his whole life, but before he was approached about taking over the Grand Canyon swimming program in 2008, he had never even seen the school's campus. On his first visit, he was not impressed.
"I know what colleges and universities are supposed to look like. GCU didn't look like a good high school or junior college," Schaffer said. "It was a dump. I just kind of looked around and said, 'Umm, okay.'"
Schaffer went through with the interview, and school officials laid out their plans: Growing the campus and devoting resources to athletic programs—including the nascent swim team, only in its second year of existence. Schaffer thought it through and decided to buy in. He accepted the job, and within two years, his program had a full complement of athletic scholarships at its disposal.
Schaffer began his first season with a total of 13 swimmers, eight men and five women—only to dismiss two of the swimmers for behavioral issues right away. In recruiting, he found it difficult to attract swimmers to a Division II school that swam their practices 20 minutes away from campus. The team has bounced around different Phoenix-area facilities but remains without its own pool.
But soon enough, he began to bring in talent. After a few years, talented foreign swimmers started filling out GCU's roster, and the team picked up its first major American commitment from Michael Branning, a sprinter who chose to stay home in Phoenix. He won the Division II national championship in the 50 free in 2013, and he still owns the school record in that event.
"When I first sat down in my office, I wrote on my big whiteboard, 'NCAA championships in five years,'" Schaffer said. "I gave myself five years (to finish top-five). Well, we did it in three. We had a girl in our first year (2009) qualify (for the NCAA championships). Next year, we took guys and women."
In five years at the Division II National Championships, GCU's men finished as high as fourth place and the women as high as fifth. Branning, Mychala Lynch and Eetu Karvonen all won national titles, and the Lopes' 400 medley relay also picked up a title at the 2013 championships.
But by the end of the 2012-2013 season, the GCU team knew that its run of success at the D2 meet was over. That fall, Schaffer had informed his team that the school was moving into Division I. The teams would be able to compete immediately in the Western Athletic Conference, but they would be barred from attending the national championships for four seasons.
After Schaffer announced the decision to his team and incoming recruits, he expected some backlash, with the opportunity to compete for national championships taken away, but to his surprise. none of the swimmers wanted out.
"I said, 'Look, this isn't what you signed on for. You can stay, and we'll honor your scholarships as we go through the transition, and you can help us build a D1 program, and you'll never go to another national championship meet,'" Schaffer recalls telling his team. "'Or you can go, and we'll help you find something somewhere. We'll do whatever we can to help you. It's entirely up to you guys.'
"And every one of them stayed. Not one of them chose to leave. They liked the idea that they were going to be D1. D2 is full of kids who were told that they were not good enough by somebody, and that was the biggest thing I had to teach kids: 'You're listening to the wrong things. You're good enough—you just need to swim fast.' They liked that idea."
The Moment of Truth
Each year during GCU's four-year waiting period, the Lopes would have qualified at least one swimmer for the Division I NCAA meet, if they were eligible. But none of that mattered by the time their first real chance at making Nationals came around in November 2017.
During the previous season, several of GCU's top swimmers, including twins Youssef and Mazen El Kamash, redshirted what would have been their senior year—essentially putting the rest of their lives on hold to give themselves a shot at a national championship meet.
On night one of the Northwestern Invite, Nikolaev led off the 400 medley relay in 44.99, securing an "A" cut and ensuring that at least one swimmer would represent the team at the national meet in March. But Schaffer and his team wanted that relay to make it, too.
Ten seconds ahead of any other team in the race, the race against the clock came down to the length of a fingernail. 3:07.48, two hundredths off the "A" cut.
"Freestyler came in just a bit off," Schaffer said. "I let them feel bad for about 20 minutes, and I said, 'Okay, 200 medley relay tomorrow. That should be easier. Let's nail it.'"
Then came the waiting—24 hours of waiting for Nikolaev, Antipov and the El Kamash twins, the foursome for both GCU medley relays, and for their teammates and coaches. Years of anxiety and doubt had time to fester.
And then, when the Lopes finally secured their automatic qualifying time in the men's 200 medley relay the next day, it became the signature moment in the program's still-brief history.
"I'm an emotional guy. I can't talk about it without getting choked up." Schaffer paused and took a breath. "It was important. It was the kids realizing that they're good enough. Everybody just did the work, but you never know for sure. You feel good about it, but you never know for sure."
Now, Schaffer knew. His team was good enough.
"Swimming's Version of Moneyball"
The term "Moneyball" originated in baseball, when the cash-strapped Oakland Athletics of the early 2000s pursued and signed players that other teams undervalued. The GCU swimming program, on the other hand, is fully funded, but it still operates under a distinct disadvantage.
"We're not (a great academic university like) Harvard or some well-known athletic program," Schaffer said. "We don't have a great swimming tradition."
They also still don't have a pool. The team now swims at Brophy Preparatory School, about a 15-minute drive from campus, but the facility is still not their home.
How to compensate? That's where Schaffer's version of Moneyball comes in.
"We made an intentional decision with our scholarship money, especially the smaller amount on the men's side, just to give them money to get here," he said. "If they were good, we'd pay for it, and we wouldn't try to nickel-and-dime kids and try to build a deep program—we'd try to build an NCAA program, something that can make noise at the NCAA level right away."
In other words, given the NCAA full scholarship caps of 14 for women's swimming and diving and 9.9 for men's, GCU chooses to offer full or nearly full scholarships to its main recruiting targets instead of splitting up the money to build a team with as much depth as possible.
And given GCU's stated goal of getting into the top-25 at the NCAA championships, that makes sense. The format of the end-of-year meet—where only 16 swimmers or relay teams score per event—favors teams with star talent, not deep squads.
On the other hand, the approach hurts GCU's chances of winning or being competitive within the WAC. In four years, the Antelopes have never finished higher than third in the conference, although Schaffer believes that at least his men could finish as high as second this year.
"If you talk to (coach) Rob Clayton at Air Force, he'd probably tell you we're going to win the meet," Schaffer said. "If you talk to me, I'd tell you he's going to win the meet."
But come March, Nikolaev and three relays (the 200 medley, plus two others with "B" cuts) will accompany Schaffer to Minneapolis, and the coach thinks Antipov and Youssef El Kamash could qualify individually as well. Four GCU women currently have "B" cuts, but all would have to post lifetime bests to be selected for the NCAA championships.
Even if the men's team just gets Nikolaev plus one relay into an A-final, that's a minimum of 33 point and likely enough to finish in the top-25. And when GCU announced it was joining Division I all the way back in the fall of 2012, the school's expectation was teams that rank among the top-25 nationally in as many sports as possible.
Now, more than five years later, the men's swim team could be the first to reach that lofty goal.