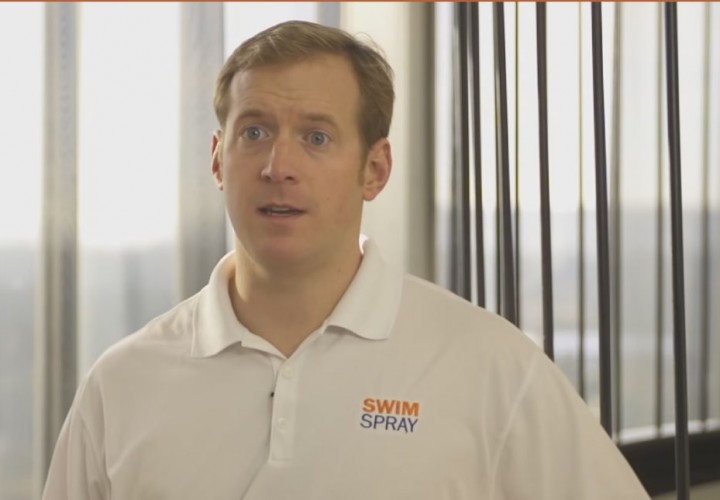 An interview with Dr. Andrew Chadeayne–owner/inventor of SwimSpray
The sport of swimming offers many opportunities for success both in and out of the water.  Many of our sport's great athletes have gone on to contribute to the sport of swimming long after they have hung up their racing suit through swimming related businesses.  This month Swimming World had a chance to catch up with Andrew Chadeayne, PhD., and learn about his path from the competition pool to the manufacturing floor–and his efforts to raise awareness of how to eliminate chlorine from your hair and skin after you get out the pool.
——————————————————————————————————————-
SW: Andrew, when did you first start swimming?
AC:  I started swim lessons at the Boys' and Girls Club of Northern Westchester when I was three, and as I grew,  I swam year round for their club team–the Marlins.  Later, I  swam for Princeton all 4 years.
SW:  What was your event?
AC:   At the time, I was a pretty good backstroker.  I made Olympic Trials in 2000 and was the top back stroker at Princeton for pretty much my whole time there.
SW:  Did you like swimming?
AC:   I loved swimming.  Of course, I went through periods of frustration with the sport, even "hating it," here and there.  But, even then, I think I always understood that I loved swimming so much that I couldn't live without it.
SW: Tell us some of your favorite memories of club/age group swimming?
AC: I always liked Boys' and Girl Club Nationals because the team went to Florida in the winter.  My best memories are just hanging out with my friends from swimming—pranks, team cheers, card games–really simple stuff.
SW: Describe yourself as a student, both socially and academically in HS?
AC: I didn't always get good grades in high school. I was really focused on swimming excellence.  And nothing I could do in school came close to that level of performance for me.  It wasn't until Princeton that I recognized that I could do bigger things than swimming fast.
Watch Video

SW: When did you decide you wanted to swim in college?
AC: I wanted to swim in college since I knew that college swimming existed.  Most of that time, I wanted to go to Stanford.  But, once I visited Princeton, I knew that was where I wanted to go.
SW:  How did you feel the first day walking on the deck to Princeton's practice?
AC:  So happy.  DeNunzio pool was my favorite pool growing up.  I remember feeling genuinely grateful for that pool pretty much every day during college.  I still think that it's one of the fastest pools in the country–at least for short course.  Also, when I moved to Princeton, I had been training in the worst pool I've ever trained in—an 86 degree 4-lane pool with no gutters.  So, the upgrade was pretty dramatic.
SW: Who were the first people you remember meeting?
AC: When I got to Princeton, I immediately connected with the swim team.  And, it was sort of assumed that swimmers and divers hung out all of the time.  So, in many ways, I made most of my best friends (and my future wife) in about a 3-day period.  That's probably the best thing that's ever happened to me.
SW: What was your major?
AC: Chemistry. Super fundamental organic chemistry.
SW: When did you decide to focus on chemistry?
AC:  My sophomore year at Princeton.  At the time, I was really into neuropsychology. I was studying reward and addiction. I was studying chemical changes in rats' brains.  That got me thinking about those chemicals.  I viewed the chemical level as extremely important—sort of the key to understanding what was happening all the way up.  So, I decided to major in chemistry.  After college, I even went and did a PhD in chemistry.
SW: What was your thesis on?
AC:  At Princeton, my thesis was about understanding a very unusual chemical reaction between two very sensitive molecules.  I had a lot of explosions.  My group at Cornell focused mainly on solving problems by reducing them to first principles. I don't think I ever worked on a project that went according to plan.  We'd start out in one direction until we saw something interesting.  Then, we would study it until we'd left no stone unturned.
SW: Why didn't you get a job in the field of chemistry?
AC:  Do you mean in a lab?  Honestly, at the time, I was having some confidence issues as to whether I had enough talent to excel as a chemist.  As sort of a safety net, I tried a few classes at Cornell Law School.  And, I found that law school came pretty easy to me.  And, a friend of mine suggested that I think about patent law.  The work seemed interesting enough and I had never seen a real paycheck before.  So, I started working as a technical specialist for a patent law firm.
SW: Did you plan to start a business?
AC:  No. At first, I just wanted to get the chlorine off of my body.  I just wanted to figure out how to solve the problem.  It was more my friends that said "hey, you should sell this."
SW:  Did you continue swimming after college?
AC:  Yes. For a while, I got really into bicycle racing.  And these days, hiking with my dog is probably my primary source of exercise. But, I never stopped swimming.  I go less often.  And, I'm not as fast.  But, I still swim.  And, I still love the feeling of moving through the water.
SW:  What prompted you to revisit your chemistry roots?
AC:  I guess I never stopped with chemistry.  After I got my PhD, I went straight to Finnegan, a big patent law firm, where I worked as a chemistry expert.
SW:  When did you and your college teammates decide to start a company?
AC:  We were swimming together a few times a week.  I had just figured out how to get the chlorine off my body.  I had everyone try it.  It was so much better than other stuff we'd tried, that we figured it would have a real competitive advantage.
SW:  When did you know you were on to something unique in the sport? 
AC:  Right away.  The first time I tested SwimSpray, I could tell that the chlorine was gone from my body.  I could easily notice the difference by smell alone.  And, then, over time, my hair and skin felt much healthier.  Plus, at the time, I was swimming in a pool with lots of chlorine.  So, it was easy to notice the difference.
SW:  Were you worried your idea would be stolen?
AC:  No.  By the time I figured out SwimSpray, I was working 2,500 hours a year at a patent law firm and studying patent law at night.  I had become a serious chemical patent law geek.  I mean obsessing over chemical patent law.  So, you could say that I paid attention to the patent from day one.
SW:  Were you worried people wouldn't "get it?"  
AC:  Not at the time.  I figured that the effectiveness would just speak for itself—that people would understand the data and just run out to buy it.  Now, I worry that some people don't get it—it's amazing some of the questions we get.
SW: What has been the best part about starting a company?
AC: Learning how to take an idea from start to finish. Specifically–identify a problem, solve it, make a commercial product, patent it, and grow a company that manufactures and distributes it.  I feel like we've made the whole world better in this one small way.  And, I'm really happy that we were able to benefit swimmers because I'm so grateful for having swimming in my life.
SW:  What is your vision for the company?
AC:   I think SwimSpray should become a standard practice for anyone who uses a pool or hot tub.  People would be better off getting the residual pool chemicals off their bodies.  I think that SwimSpray should be the next sunscreen.  Just like sunscreen allows people to enjoy the sun without unnecessary side-effects, SwimSpray should allow people to enjoy the pool without unnecessary side-effects.
SW:  What is your proudest moment?
AC:  Probably getting into Princeton. Even at the time, I knew that was a huge deal.
SW:  What does it mean to have a patent? 
AC:  It means that the United States Government recognizes that SwimSpray is a new and better vitamin C formulation.  It means that we can control how the technology gets developed for the next 15 years to make sure we get it right.  It also means that we can offer our partners some assurance that copycats won't enter the market with inferior products and ruin the whole idea.
SW:  How do you judge success?
AC:  Lots of ways.  It depends what I'm doing.  Overall, I like to feel happy and productive every day.  Otherwise, I try to write down a list of goals and work towards crossing things off.  In that sense, success is accomplishing a goal.  Recently, I accomplished a big goal: "Get patent."
SW:  What is the most important thing you have accomplished so far?
AC:  Being with the right person in a place we both love living, where we can both find work that we enjoy doing.  I feel sort of funny calling my marriage a "thing" or "accomplishment" but it's a huge priority for me and I feel like we've nailed it.  I guess I always think about how short life is and I hate the idea of wasting it.
SW:  What advice would you give to young entrepreneurs today? 
AC:  Make sure you really love your business.  The only way to do great work is to love what you're doing along the way.  Going into business strictly for the money is probably a bad idea.
For more information about SwimSpray see www.swimspray.com.  Swimming World is proud to be Partners with SwimSpray and it is now available for you to order in the Swimming World Swim Shop, order yours TODAY!