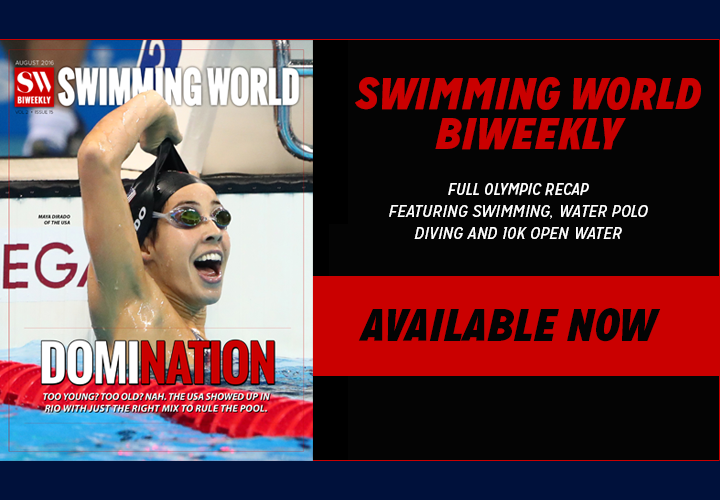 Editorial Coverage Sponsored By FINIS
With the 2016 Rio Olympic Games officially over it is time to sit back and revel in the glory of the Games. What better way to do so than with a Swimming World Review of the Rio Olympic Games!  In this Swimming World Biweekly edition, readers can find complete recaps of all eight days of swimming competition, plus recaps from Water Polo, Diving, and the 10K Open Water events.  All of the coverage was sponsored by FINIS Inc.
This edition, the fifteenth Swimming World Biweekly for 2016, also boasts a complete photo gallery spread with photos courtesy of USA Today.
Current subscribers can visit the Swimming World Vault to download the issue now! Non-Subscribers can download for FREE by Clicking Here
Save 25% on a 1 year subscription and download more issues from the Swimming World Vault and get the following:
Use Coupon Code: Rio2016 and save 25%
A monthly print copy of Swimming World Magazine in the mail for 1 year!
Free download of the next 12 issues and the past 12 issues of Swimming World Magazine!
Free download of next 24 issues and the past 24 issues of Swimming World Biweekly!
Free download of next 4 issues and the past 4 issues of Swimming Technique Magazine!
FEATURES:
006 2016 RIO OLYMPIC GAMES FULL SWIMMING RECAP
by Cathleen Pruden & Taylor Brien
All the action from the pool in Rio as we go in-depth event by event and show you who ended up on the medal podium.
006- Night 1 Finals Recap
008- Night 2 Finals Recap
010- Night 3 Finals Recap
012- Night 4 Finals Recap
014- Night 5 Finals Recap
016- Night 6 Finals Recap
018- Night 7 Finals Recap
020- Night 8 Finals Recap
022 PHOTO GALLERY: OLYMPIC AQUATIC SPORTS
Photos provided by USA TODAY
Relive the sights and sounds from Rio with our huge photo gallery featuring swimming, water polo, and diving.
040 MEN'S WATER POLO: SERBIA WINS 1ST OLYMPIC GOLD
by Dan D'Addona
After winning the European and world championships, Serbia's men's water polo team finally etched itself into Olympic history, winning the country's first gold medal.
041 WOMEN'S WATER POLO: USA REPEATS AS OLYMPIC CHAMPIONS
by Dan D'Addona
The U.S. women's water polo team completed an undefeated, dominating Olympic run that looked to put a stamp on the beginning of a dynasty.
042 RIO OLYMPIC GAMES: DIVING RECAP
by Erin Keaveny
All the action from the Diving Tank in Rio as China continued their dominance on the boards.
042- Men's 10m Platform
043- Women's 10m Platform
044- Men's 3m Springboard
045- Women's 3m Springboard
046- Men's 10m Synchronized
047- Women's 10m Synchronized
048 MEN'S 10K OPEN WATER: A STUNNING PHOTO FINISH!
by David Rieder
The Netherlands' Ferry Weertman won Olympic gold in the men's 10K open water after touching out Greece's Spiros Gianniotis.
049 WOMEN'S 10K OPEN WATER: VAN ROUWENDAAL DOMINATES 10K
by David Rieder
Sharon Van Rouwendaal won the race by more than 16 seconds as The Netherlands sweeps the gold medals in the 10K.