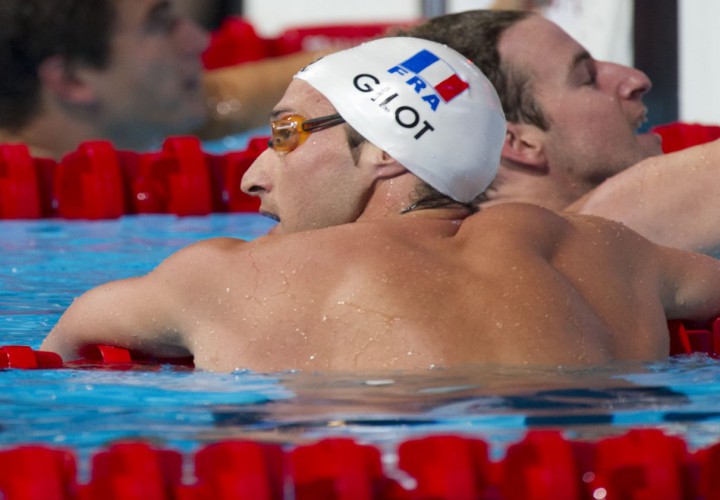 Photo Courtesy: Joao Marc Bosch
Coverage of the 2015 FINA World Championships is sponsored by Wylas Timing. Visit our coverage page for more.
France managed to hold off a hard-charging home team of Russia to win the men's 400-meter free relay and defend its 2013 title at the 2015 FINA World Championships.
France's Mehdy Metella (48.37), Florent Manaudou (47.93), Fabien Gilot (47.08) and Jeremy Stravius (47.36) had too much in the tank for Russia, winning in 3:10.74.
Russia's Andrey Grechin (48.60), Nikita Lobintsev (47.98), Vlad Morozov (46.95!) and Alexander Sukhorukov (47.66) put up a second-place time of 3:11.19 as Morozov powered the Russia into silver-contention.
Italy's Luca Dotto (48.75), Marco Orsi (47.75), Michele Santucci (48.48) and Filippo Magnini (47.55) earned bronze in 3:13.53.
Brazil (3:13.22), Poland (3:14.12), Japan (3:15.04), China (3:15.41) and Canada (3:15.94) also swam for the title in the finale.
Noticeably absent from finals were Australia and the United States. Â For the first time since USA won the first world title in the event in 1973, neither Australia nor the United States made finals after both failed to make the top eight in prelims.
Listen to USA Men on Swimming World Radio talk about their prelim swim.
2015 FINA World Championships, Swimming: Day 1 Finals – Results
SCHEDULED EVENTS
Women's 100 fly semis
Men's 400 free finals
Women's 200 IM semis
Men's 50 fly semis
Women's 400 free finals
Men's 100 breast semis
Women's 400 free relay finals
Men's 400 free relay finals