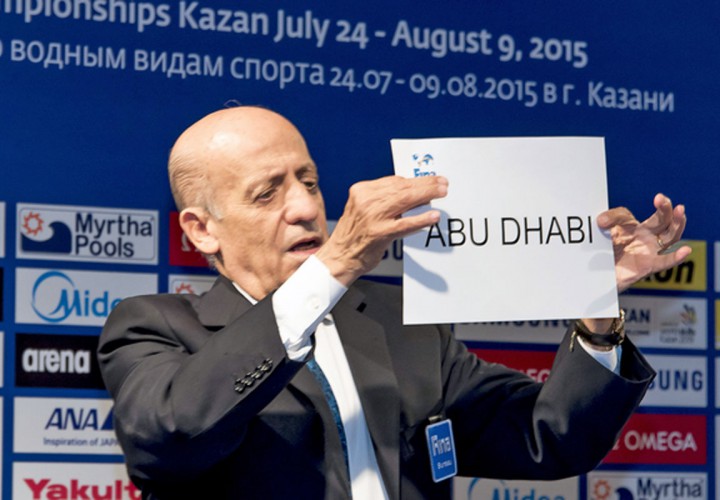 Photo Courtesy: Giorgio Scala / Deepbluemedia / Insidefoto
Coverage of the 2015 FINA World Championships is sponsored by Wylas Timing. Visit our coverage page for more.
The short course world championships will return to the Middle East in 2020, as the FINA Bureau has picked Abu Dhabi to host the meet in December of that year.
The meet will mark the fourth time that FINA will bring some of the best swimmers in the world to that region for the world championships. Dubai (2010), Istanbul (2012) and Doha (2014) hosted the meets previously. Canada will serve as host in 2016, while China will run the meet in 2018.
"We are very happy to return to the UAE, where the 2010 edition of these Championships took place in Dubai, with an outstanding success," FINA President Julio Maglione said after the announcement. "I am sure that Abu Dhabi will be also a memorable milestone for the FINA family."
Abu Dhabi, the second-largest city in the United Arab Emirates, beat out bids from Kazakhstan and Peru for hosting duties. If Peru had won, it would be the second short course world championships in South America. Brazil hosted the short course worlds in 1995.
The world short course championships has grown in size and stature since the debut in 1993. The number of participants exceeded 1,000 for the first time at last year's edition in Doha with 1,300 swimmers. Seven world records fell at that meet, including two by Spain's Mireia Belmonte. The meet is held about a month after the conclusion of the FINA World Cup, a series of meets that take athletes across Europe and Asia for the opportunity to earn cash prizes for top-three finishes.
The 2020 edition could bring a lot of clout, as it will take place about four months after Tokyo hosts the Olympic Games. A few Olympic champions have attended the short course worlds that immediately followed the Olympics. Ryan Lochte won eight medals and set two world records in the 2012 edition, while Aaron Peirsol, Brendan Hansen, Libby Lenton, Kaitlin Sandeno and more attended the 2004 version after strong showings at the Athens Olympics.
The United Arab Emirates is currently a stop on the World Cup circuit, and it is unknown if the country will relinquish its World Cup duties in 2020 to devote full attention to the world championships.