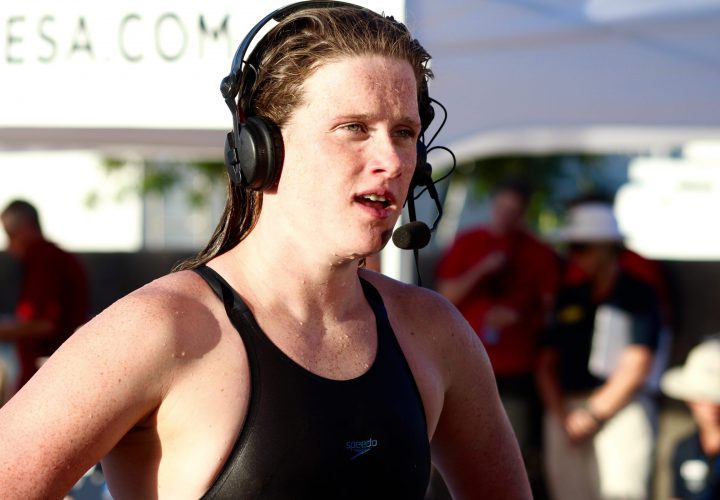 Photo Courtesy: Taylor Brien
Agon is the proud sponsor of all high school coverage (recruiting, results, state championships, etc.) on SwimmingWorld.com. For more information about Agon, visit their website?AgonSwim.com.?National Records for High School Are Pending Application Verification.? Click Here to Learn More
Agon is the proud sponsor of all high school coverage (recruiting, results, state championships, etc.) on SwimmingWorld.com. For more information about Agon, visit their website AgonSwim.com.
With six meet records falling in prelims, the 2017 CIF Southern Section Division 2 finals session was primed for fast swimming and it delivered just that.
Women
The Crean Lutheran team of Eva Merrell, Jimena Martinez, Mandy Brenner, and Elise Garcia chopped a second and a half off the 200 medley relay meet record they set in prelims. The quartet touched in 1:40.77 after posting a 1:42.22 yesterday.
The team wasn't done yet as Merrell, Brenner, Journey Werner, and Garcia took another quarter second off their own 200 freestyle relay record, touching in 1:34.60.
Merrell returned to the top of the podium in the 100 butterfly, lowering her own meet record with a 52.51. The junior is now under a second from Katie McLaughlin's National High school record of 51.53. Alexis Margett of Glendora earned her second runner up honors of the day in 53.15. Margett also touched second in the 200 IM (2:00.68) behind Mikki Thompson (1:59.63) of Ayala.
Garcia shaved another .05 from the meet record in the 50 freestyle with her 22.66. She then finished second (49.52) in the 100 free behind Alexandra Crisera. The Mira Costa sophomore again lowered the meet record, this time touching in 48.87.
Merrell added an exclamation point to the meet with a meet record in the 100 backstroke. She touched in 53.12, faster than the 53.65 Crisera posted yesterday to claim the record. Crisera was also under her old mark, earning silver in 53.54.
Sonora's Taylor Ault dominated the 200 freestyle in 1:46.83. Chaparral's Liberty Gilbert (1:48.59) out touched Foothill's Samantha Pearson (1:48.64) and King's Lauren Vitort (1:48.83). Ault also raced to victory in the 500, posting a final time of 4:43.09. The senior was followed by Courtney Tseng (4:46.34) of Sunny Hills.
Diamond Bar junior Kelsey Lloyd touched in 1:02.21 to earn 100 breaststroke gold. Glendora's Jackie Basham edged Martinez 1:03.43 to 1:03.52 for silver.
Chaparral's Megan Kelley, Caroline Katzmann, Liberty Gilbert, and Madison Frederick won the 400 freestyle relay in 3:27.70.
Crean Lutheran took home the team title with 247 points. Redlands East Valley was not far behind with 233 and Glendora finished third with a total of 221.
Men
Daniel Pry, Sofiane Dissem, Sean Edwards, and Jack Topoleski won the men's 200 medley relay for the Redlands in 1:34.61.
Arcadia senior Tenny Chong stopped the clock in 20.22 in the men's 50 freestyle, finishing just .05 from the meet record. Foothill junior Zane Scott was second (20.94). The two held their places in the 100 freestyle, touching in 44.67 and 45.10.
Calvary Chapel's Andrew Koustik (1:38.02) and Foothill's Hunter Ingram (1:39.31) both cleared 1:40 in the 200 free. Glendale's Trenton Julian (1:47.35) won the 200 IM.
South Pasadena's Jacob Mullin clocked a 47.79 to win the 100 butterfly. Julian (48.13) took home silver. Mullin picked up his second victory of the day with a 48.47 in the 100 backstroke.
Diamond Bar's David Wang (4:27.60) and Chao Kevin of Crean Lutheran (4:29.29) both cracked 4:30 in the 500 free.
The men's 200 medley relay was a closer battle. Foothill's Colin Stovner, Ingram, Ryan Griswold, and Zane Scott edged Damien's Ryan Terlip, James Luci, Chris Hogan, and Chase Travisano 1:25.35 to 1:25.85.
Dash Farr of Villa Park swam well ahead of the field in the 100 breaststroke, touching in 55.24.
Redlands entered the final relay 1.5 points ahead of Damien and 3.5 ahead of Foothill.
Foothill got to the wall first as the team of Ingram, Christopher Mykkanen, Samuel Harrison, and Scott posted a 3:04.25. Damien's Preston Planells, Cody Liske, Ryan Terlip, and Chase Travisano were second in 3:06.10. Redlands touched eighth.
Foothill claimed the team title with 213 points. Damien was second with 209 points. With 198.5 points Redlands touched third.
Full results available here.