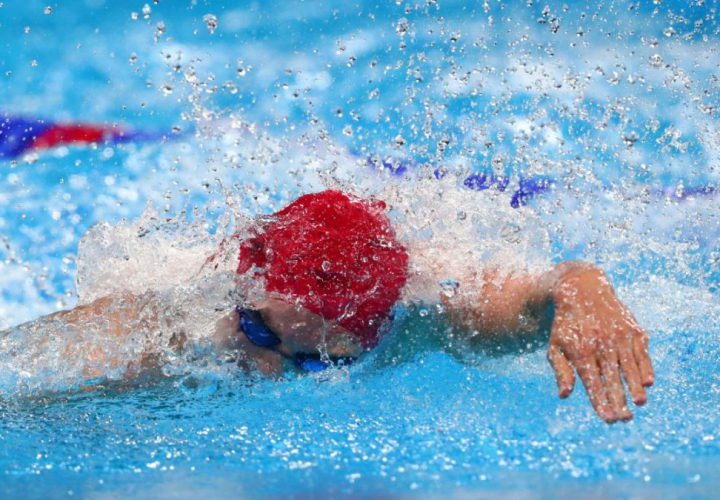 Photo Courtesy: Rob Schumacher-USA TODAY Sports
British Swimming announced its 43-swimmer roster for the 2018 European Championships on April 11. The meet will run from August 3-9 in Glasgow, Scotland.
A young, 20-year-old Duncan Scott leads the team's roster after earning six medals at the 2018 Commonwealth Games in Gold Coast. While he competed against the swimmers from England and Wales, he will now join forces with them in August.
Scott earned gold in the 100 freestyle in Gold Coast, and will be joined by fellow Commonwealth Champions James Wilby, Adam Peaty, Sarah Vasey, Ben Proud, Aimee Wilmott, Alys Thomas and Siobhan Marie O'Connor.
The three teams combined for 38 medals at the games: England – 24, Scotland – 9 and Wales – 5. After such success, Chris Spice, National Performance Director for British Swimming, said the team is ready to move forward.
"There have been some excellent performances on the Gold Coast over the last six days. But now our focus in on our benchmark meet of the year, the European Championships. We are looking at this as a great opportunity to compete on a huge stage, and is an important part of our planning towards Tokyo 2020," he said.
Lizzie Simmonds and Camilla Hattersley both met selection criteria, but were announced unable to compete in Glasgow.
Full European Championships Team:
Freya Anderson (England)
Charlotte Atkinson (Isle of Man)
Imogen Clarke (England)
David Cumberlidge (England)
Georgia Davies (Wales)
Kathleen Dawson (Scotland)
Tom Dean (England)
Tom Derbyshire (England)
Ellie Faulkner (England)
Jessica Fullalove (England)
Luke Greenbank (England)
Kat Greenslade (Wales)
James Guy (England)
Holly Hibbott (England)
Lucy Hope (Scotland)
Anna Hopkin (England)
Calum Jarvis (Wales)
Dan Jervis (Wales)
Cameron Kurle (England)
Emily Large (England)
Jay Lelliott (England)
Max Litchfield (England)
Craig McNally (Scotland)
Craig McLean (Scotland)
Hannah Miley (Scotland)
Stephen Milne (Scotland)
Ross Murdoch (Scotland)
Siobhan-Marie O'Connor (England)
Adam Peaty (England)
Jacob Peters (England)
Ben Proud (England)
Nick Pyle (England)
Molly Renshaw (England)
Duncan Scott (Scotland)
Mark Szaranek (Scotland)
Alys Thomas (Wales)
Chloe Tutton (Wales)
Sarah Vasey (England)
James Wilby (England)
Cassie Wild (Scotland)
Brodie Williams (England)
Aimee Willmott (England)
Abbie Wood (England)