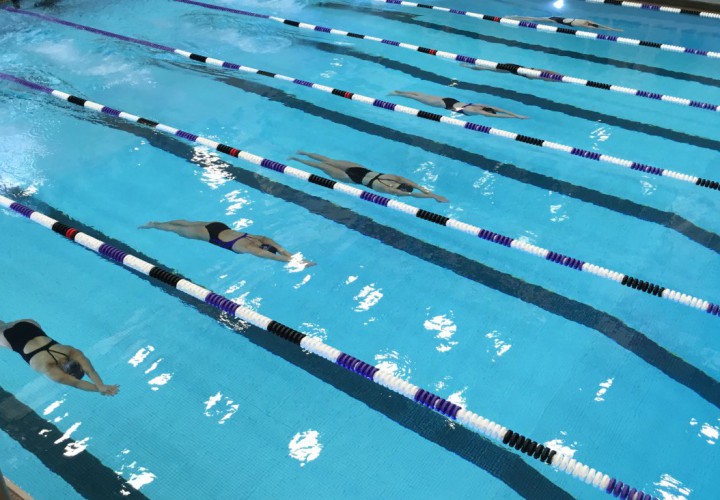 Photo Courtesy: Shannon Edelbrock
Editorial content for the 2018 NCAA DIII Championship coverage is sponsored by TritonWear. Visit TritonWear.com for more information on our sponsor.
It was a heated weekend in Division III swimming with a lot of teams facing off against some of their big rivals. There were upsets and there were fast swims this weekend as we move close to eight weeks away from the NCAA Championships in Indianapolis.
One of the big tri-meets on the weekend was (#17/6) Williams, (#4/8) MIT and (#6/5) NYU as host Williams swept both teams. Williams got off to a slow start after they were pre-season #9 and 2, but they got two solid wins over the weekend over MIT and NYU. The Williams women were second last year so they have the swimmers to score big at NCAA's and they put themselves back in the picture for a top five finish at NCAA's.
The team had big swims from Caroline White, Gwyneth Maloy and Emma Waddell on the weekend. Maloy is in her freshman year and has been performing better than Alison McNamara as Maloy adds to the depth that Williams has. The team did not swim a suited rest meet last semester so they underperformed compared to the other Division III teams that did wear suits at the fall invites.
Waddell is one of the best swimmers in Division III and picked up wins in the 50 free (24.11) and the 100 fly (56.60) as she could be quietly one of the favorites now in those events where she is the defending champion in both. The 100 fly has been a relatively weak event this year and Waddell could sneak up on everybody if they are not careful when she suits up.
White is one of the best breaststrokers in Division III and she is swimming better than she was last year at this point in the 200 breast. She could challenge Denison's Katie Kustritz and Kenyon's Julia Wilson for the national title in the 200 this season. White ranks eighth this season in the 200 breast with her in-season time (2:18.49). Kustritz managed a 2:17.61 over the weekend against Johns Hopkins and Carnegie Mellon.
The Williams men also had good swims out of their star sophomore Andrew Trunsky in the distance events. Trunsky barely broke 16 minutes in the 1650 with a 15:59.93. He was a 15:31 last year at NCAA's and he has never broken 16 minutes in-season, so he is on the right track to improve on his fifth place finish last year.
(#1/3) Denison swept (#5/4) Johns Hopkins and (#12/11) Carnegie Mellon as the top ranked men picked up two more wins in their run for an NCAA title. The Denison men don't have the stars at the top, but they have tremendous depth and they have a lot of guys that could score individually at the meet that could propel them to win. They have a lot of freestylers including Matt Hedman and Stuart Hohm and good stroke swimmers Bebe Wang and Tiernan Foster-Smith.
The defending NCAA champions on the men's side Emory lost at the hands of Division II Delta State. The Emory women have won eight straight NCAA titles and are one of the favorites this year. Emory beat Delta State over the weekend and could use their depth to win a ninth straight national title in March.
Some of the other events that happened over rivalry week
#7 Chicago men defeated Division I Wisconsin-Milwaukee 152-146
Unranked Rose-Hulman men upset #25 Calvin on the last relay
Unranked Bowdoin swept (NR/22) Bates College in an upset
(#13/14) Tufts dropped both matches to Division I Boston College
(#19/NR) Carthage swept unranked Wheaton
(#21/23) Trinity (TX) swept in-state rival Southwestern
(NR/12) Washington & Lee swept Randolph
(#8/7) Wash U swept Division II Truman State
December 6 recap
November 21 recap
November 13 recap
November 6 recap
October 30 recap
October 23 recap