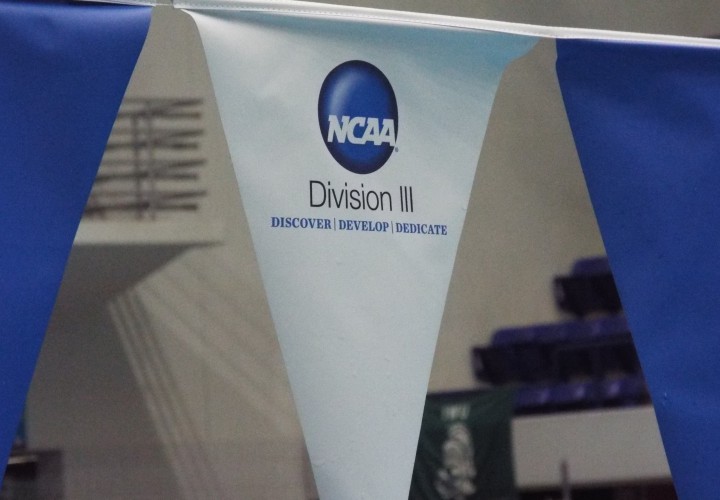 Photo Courtesy: Hayley Good
Editorial content for the 2018 NCAA DIII Championship coverage is sponsored by TritonWear. Visit TritonWear.com for more information on our sponsor.
October is officially over for Division III as the teams move towards their respective November invitationals. (#1/3) Kenyon dropped both duel meets this weekend to Ohio State and Michigan State as the men and women both fought to the last relay against the Big Ten Spartans.
The women lost 151-149 to Michigan State and 217-79 to Ohio State while the men 159.5-137.5 to Michigan State and 221-75 to Ohio State.
The number one ranked Kenyon men had good performances from Connor Rumpit in the 500 (4:37.27) and 1000 (9:33.07), Ben Baturka in the 100 back (51.10), Jon Zimdars in the 200 (1:52.74) and 100 fly (50.78) and Brooks McCoy in the 400 IM (4:09.89) on the weekend despite the losses.
Zimdars (200 fly), Baturka and McCoy all lead the nation in their respective events as Kenyon will face conference rival Denison November 11. Kenyon also had strong relays as their 200 free relay swam a 1:23.94 to sit just behind Emory (1:23.93) in the Division III rankings. Their 400 medley relay was also a 3:26.29 against Michigan State, which would lead Division III by five seconds, but it was listed as exhibition in the meet results, so not sure what happened there.
Their 200 medley relay (1:32.64) against Ohio State also leads Division III ahead of Denison (1:32.69). Kenyon and Denison are again national title favorites as their meet in two weeks will be a huge test to see where both teams are at before we hit the November invitationals and conference and NCAA meets.
The Kenyon women were oh-so-close to knocking off Michigan State on Saturday but it wasn't to be, but the Lords had good performances across the board. Hannah Orbach-Mandel swam the fastest 200 free in Division III so far this season with a 1:51.16. Her time would also lead Division II. Orbach-Mandel also swam a 23.76 in the 50 and a 50.85 in the 100 on Friday against Ohio State to lead Division III in both events as well as a 5:03.07 in the 500 where she ranks third.
Kenyon also had a big weekend out of freshman Crile Hart who swam a 57.03 100 back, a 2:03.16 200 back, a 2:08.40 in the 200 IM and a 56.71 100 fly. She leads all Division III swimmers in the 200 back, 200 IM and 100 fly as she has turned into a huge contributor to this Kenyon team as they drive to end Emory's reign and win their first national title since 2009.
But staying in the present, the Lords have also seen good senior leadership in the pool from breaststroker Julia Wilson. Wilson swam a 1:04.31 and a 2:21.95 in the breaststroke events to rank second and third in those events this year in Division III.
The other freshman from Kenyon who has been impressing early has been Sydney Matteson who swam a 4:34.81 400 IM on Saturday to rank second so far this year in Division III.
One of the teams who had a good meet this past weekend was (#14) Carnegie Mellon women. The Tartans had big swims out of Jessica Chau in the 400 IM (4:35.57) and 200 back (2:05.36), Jessica Li in the 100 fly (57.03) and Kim Hochstedler in the 200 breast (2:23.12). The Tartans were 23rd at NCAA's last year and have improved dramatically thanks to freshmen Li and Chau. Hochstedler is in her senior season and has also come up big for them this season as she has also had a good 100 breast (1:06.83). They are a team on the rise and should not be taken lightly.
Other top times came from Chicago's Nicole Lin in the 50 free (24.22), California Lutheran's Mardell Ramirez in the 200 free (1:54.33), Lawrence's Emmi Zheng and Ripon's Allison Roetz in the 100 breast (1:05.20, 1:05.52).
Other good times from the men came from Swarthmore's Jeffrey Tse in the 50 free (21.16), Chicago's Albert Litschgi in the 100 and 200 back (51.51, 1:54.23), Carnegie Mellon's Winston Chu in the 100 breast (57.33), CMS's Henry Limm in the 200 breast (2:04.12), Nebraska Wesleyan's Garrett Cadotte in the 100 fly (51.06) and Wheaton's Will Rinne in the 200 IM (1:55.98).
Limm is now leading Division III in the 200 breast while Chu and Rinne are second in their respective events.
Last week's recap