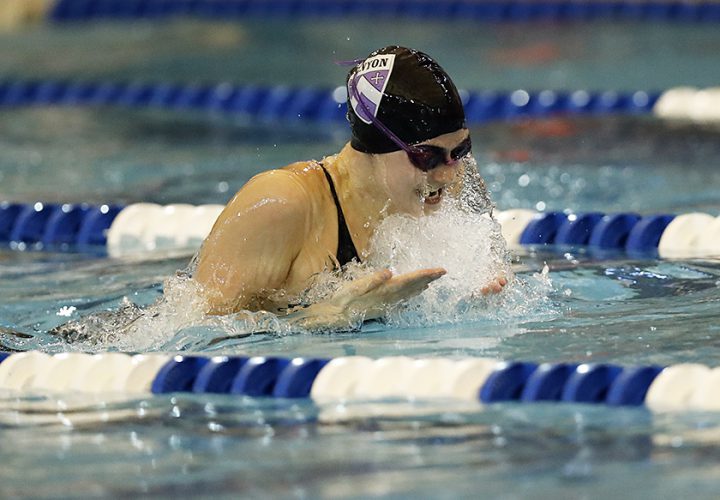 Photo Courtesy: Aaron M. Sprecher, Kenyon Athletics
Editorial content for the 2018 NCAA DIII Championship coverage is sponsored by TritonWear. Visit TritonWear.com for more information on our sponsor.
Two bitter rivals from the state of Ohio faced off this past weekend as the Denison men and Kenyon women put themselves in the driver's seat as national title favorites moving forward in the Division III season. We are heading into invite season so once December hits, we will have a better indication of where everyone is at with their training.
Denison used its depth to beat the Lords from Kenyon 186-111 as they won every single pool event except two. Junior Matt Hedman got things started with a come from behind win in the 1000 over Kenyon's Connor Rumpit as Hedman won with a 9:30.68 to Rumpit's 9:30.73. Denison continued that momentum with a win in the 200 free from senior Stuart Hohm as he swam a 1:40.45 for the fastest time in Division III. The Big Red never looked back after that.
Most of the winning times on the men's side were at or near the top of the Division III rankings, really showing how these two teams get amped up to swim each other.
Sophomore Bebe Wang posted the fastest 200 back in Division III this year with a 1:49.56 to lead now over three seconds. Wang also won the 200 IM against Kenyon and is now third in that event (1:54.08). Junior Kenny Fox also put himself at number two in the 100 fly (49.54).
Kenyon also had good swims from Ben Baturka in the 100 back (50.78) and Tim Hagemeister in the 500 (4:34.08).
Denison's relays are also number one (200 medley) and two (400 free) in the country respectively. The medley team of Carson Clear (23.90), Tiernan Foster-Smith (25.76), Fox (21.85) and Zachary Wagner (20.34) put up a 1:31.85 to lead Division III. The free relay of Hohm (46.19), Fox (45.26), Kymani Senior (46.71) and Wagner (45.20) swam a 3:03.36, just three one-hundredths off of top ranked Emory, who also swam that time this past weekend at their own invite.
In fact, all three of the fastest 400 free relays came out of this weekend from Emory, Denison and MIT. The Engineers from MIT had a big win over Cornell over the weekend by one point. The MIT freestylers were the stars of the weekend as Jeremy Bogle, David Morejon, Emilio Sison and Joshua Tomazin won the final 400 free relay at 3:03.64 to ensure the win for the Engineers over Division I Cornell. Brandon McKenzie had a good 200 breast (2:06.09) for MIT as well.
Other note worthy swims from the weekend came from SUNY New Paltz' Cooper Knapp in the 200 IM (1:52.96), Whittier's Zuhayr Pigot in the 100 fly (49.09), Emory's Sage Ono in the 100 back (50.76), Trey Kolleck (20.88), 45.86) and Oliver Smith in the 50 and 100 free (20.38, 45.94) and Tom Gordon in the 1000 and 500 (9:36.72, 4:35.96).
The Kenyon women won a closer meet with Denison 154-146. The meet was capped off with Kenyon's 400 free relay winning at 3:29.15 as the fastest time in the nation this year. Denison was second at 3:30.02.
The Lady Lords had big swims from Crile Hart and Hannah Orbach-Mandel as they protected home turf against their arch rival Denison. Hart won the 100 back (56.40), 100 fly (56.23) and 200 IM (2:07.68) as Orbach-Mandel won the 100 free (51.72) and 50 (24.08). Orbach-Mandel also came up big as she anchored the winning 400 free relay with a 50.35 ahead of Denison stud breaststroker Katie Kustritz.
Kustritz came up big for Denison with a win in both breaststrokes (1:02.15, 2:17.48). Denison also had good swims from Casey Kirby in the 200 back (2:04.35) and Halli Garza in the 200 fly (2:05.78).
Kenyon's X-factor in the meet was Kendall Vanderhoof in the 200 free (1:54.88) and 500 (5:07.82).
Other good swims on the weekend came from CMS' Jocelyn Crawford in the 50 (24.09), New Paltz' Megan Joseph in the 100 (51.31), Emory's Cindy Cheng in the 200 back (2:02.83) and Ming Ong in the 200 IM (2:07.82), Washington and Lee's Emily Hageboeck and Carnegie Mellon's Kim Hochstedler in the 200 breast (2:21.73, 2:21.93), and MIT's Kailey Allen in the 200 fly (2:03.68).
Last week's recap
Last fortnight's recap
Week before that recap