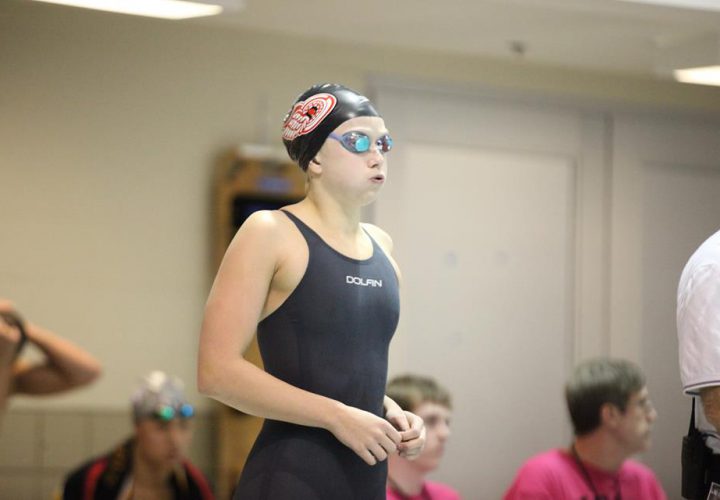 Photo Courtesy: Allen Rich
Editorial content for the 2018 NCAA DIII Championship coverage is sponsored by TritonWear. Visit TritonWear.com for more information on our sponsor.
In the middle of October, many of the Division III teams decided to test the waters with Division I or II teams to get a chance at some strong early season racing. (#3/4) Denison posed a threat to Division I Eastern Michigan but ultimately fell short 187-111 on the men's side and 184-115 on the women's side.
Denison's best performances came from Matt Hedman in the 1000 (9:34.45) and the 500 (4:37.18) to put him second in both events in the national rankings. Stuart Hohm also had a win in the 200 free for Denison with a 1:41.08, to also put him second in Division III so far this season. Hohm also leads a strong group of 200 freestylers at Denison that could repeat in the 800 free relay at NCAA's in Indianapolis later in the year. Walt Dauksher (1:41.71) and Ryan Stevenson (1:42.04) are ranked third and fourth in the national rankings while Drake Horton (1:44.27) is ninth. Denison is already looking tough to beat in that relay moving forward as only the College of New Jersey has more than one person ranked in the top ten nationally and they have two.
Denison also got some work done in the strokes with Bebe Wang leading Division III so far with a 1:51.61 in the 200 back and a 1:54.74 in the 200 IM, along with a pair of second ranked times from Kenny Fox in the 100 fly (50.52) and Francis Biagioli in the 400 IM (4:13.70). Biagioli did that swim in a time trial.
Other top times from the weekend came from Emory's Oliver Smith in the 50 free with a 20.47 in their win over Birmingham Southern, Pomona-Pitzer's Lukas Ming Menkhoff in the 100 free (46.03) in the Malibu Invitational and Johns Hopkin's Brandon Fabian in the 200 free (1:40.76) in their loss to Navy and Towson.
The Denison women had good swims from breaststroker Katherine Kustritz who leads the nation by a whopping margin in both the 100 (1:02.17) and the 200 (2:18.17). Kustritz was a runner-up last season in the 100 at NCAA's and finished seventh in the 200.
Denison also had a nation leading time from Halli Garza in the 200 fly (2:06.04) as well as a second ranked time from Casey Kirby in the 100 back (57.95).
Looking across the nation, strong swims came from Johns Hopkins' Anna Wisniewski in the 50 free (24.06) and 100 fly (56.73) in their loss to Navy and Towson, and Emory's Cindy Cheng in the 200 back (2:04.71) and 200 free (1:54.16) in their win over Birmingham Southern.
A lot of the top ten ranked teams were off today but other highlights on the weekend included:
Unranked Grand Valley women upset (#24) Calvin
(#22) Carthage's Mitchell Mages won the 100 breast at the Wisconsin College Showcase with the second fastest 100 breast of 57.82
Unranked Rose-Hulman men finished ahead of (#18) Wabash and (#13) DePauw at the Indiana Intercollegiates meet for a minor upset. Rose-Hulman begins its first season in the new Heartland Conference.