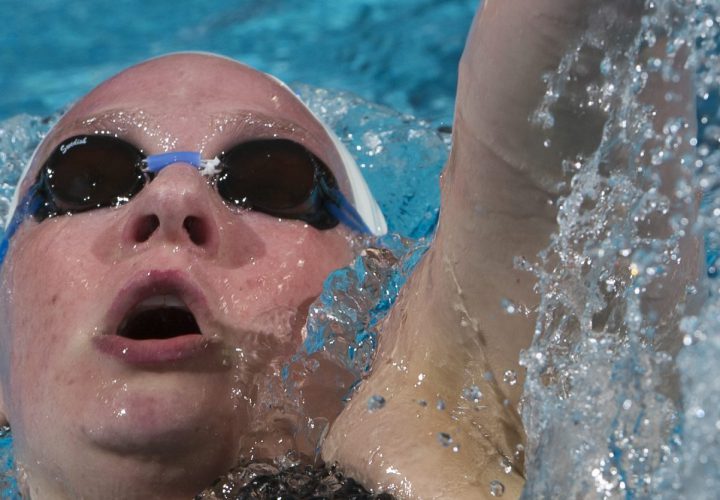 Photo Courtesy: Peter H.Bick


Welcome to Swimming World's Set of the Week sponsored by Commit Swimming.com! This week's set is a 3,000 yard aerobic set that is great for your IM or mid-distance stroke group. Take a look at the set below and the description that follows:
3 Rounds:
4 x 125's IM with a floating 50 of stroke drill
4 x 75's IMO or main stroke as 50 kick / 25 sprint
1 x 200 IM or stroke fast


Each round starts with 4 x 125's IM with a "floating" 50 of stroke (#1 = 50 FL/25 BK/25 BR/25 FR, #2 = 25 FL/50 BK/25 BR/25 FR, etc.). You can keep this just general aerobic work to get your athletes in to the set, with the floating 50 of stroke as drill to help your athletes find their strokes.
Next are 4 x 75's either IM order or main stroke as 50 kick / 25 sprint. You may want to take :05 or :10 seconds between the 50 kick and 25 sprint to help your athletes really get going fast on on the 25 sprint. Each round ends with a 200 fast, either IM or stroke.
The advantage of this set is that you can mix up the strokes and the focus between rounds based on the groups you are working with. Depending on the intervals you choose, you can even have different athletes doing different variations of the set in the same lane, making this a good set for teams that may not have the space to spread out and specialize. Happy swimming!
LEARN MORE ABOUT WORKOUTS FROM COMMITSWIMMING.COM
Commit Swimming's Mission
Commit Swimming builds innovative software for our sport, bringing 21st-century tech to swimming.
Every dang day Commit strives to improve technology in swimming, pushing the boundaries of what has been done before. For far too long swimming software has lacked creativity and simplicity. It is our goal to change that by delivering products that dazzle you with their simplicity and elegance.

All swimming and dryland training and instruction should be performed under the supervision of a qualified coach or instructor, and in circumstances that ensure the safety of participants.