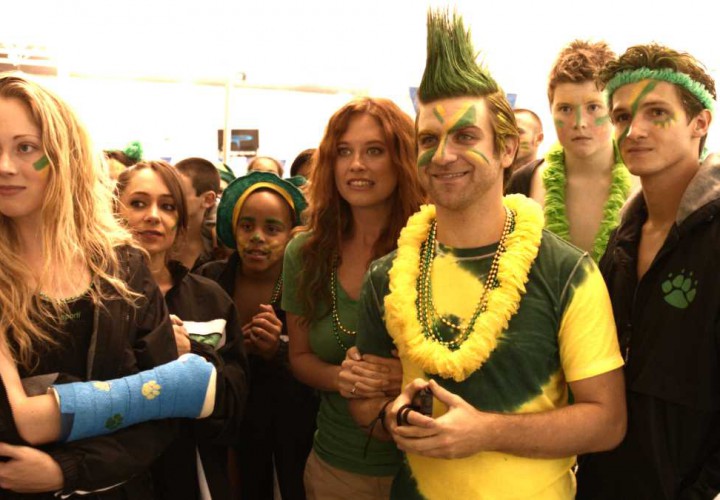 Photo Courtesy: Coach of the Year
Movie Review by Michael J. Stott
Make no mistake, Coach of the Year is comedic film in the best way. Think Bad News Bears or Goonies. Experience good and evil and some remarkable acting. Most of the leads are performers you've never heard of before. Harris Doran stars as quirky coach Jack Wright of mythical Virginia Trinity High School who is cajoled by his father into taking the job as swim coach of a team without a pool in which to practice. His father, the foil in the film, just happens to be his chief rival and head coach of nine-time defending state champions. Chris Ceraso is masterful as a maddening, despicable jerk of a father bent on embarrassing his son, making him a man, but intent on winning a tenth straight title.  Swimming World gives the movie 4 stars!
For David Stott (Son of the author of this movie review), the world premiere of his swimming film Coach of the Year represented a homecoming of sorts. Filmed in Richmond, Va., where he was born, raised and coached, Stott's celluloid masterpiece marks the culmination of three years of blood, toil, sweat and tears.
Opening credits promise a story based on true events. Billed as film about swimmers by swimmers Stott draws upon his 20 years of coaching high school, club and summer league experience to produce an entertaining comedy about behaviors all too familiar in the aquatic world.
Coach of the Year Trailer
Coach of the Year Teaser from David Stott on Vimeo.
The female leads are skilled professionals and easy on the eyes. Virginia Trinity assistant head coach is Melissa Archer (One Life to Live, Days of Our Lives). She helps Jack navigate the rough waters of his own uncertainty about the job and his life while helping him manage the ill will proffered by his father. The movie's high profile swimmers, i.e. Hunter Gomez as Matt, Paten Hughes as Blake and Montana Marks as Lauren move expertly through the water and on land helping the movie and the nascent Virginia Trinity team progress from nonentities to legitimate contenders by the film's end.
Audience turnout for the movie (nearly 1,000 patrons) broke all previous attendance figures for an independent film debut at Richmond's storied Byrd Theater. Swimmers and swim parents by the boatload turned out for the red carpet event amidst a tuxedoed cast and local dignitaries. Prior to opening credits, Stott took the stage to thank patrons and explain the reason for the film.
Before, after and during matriculation at the University of North Carolina and Virginia Commonwealth University where he earned degrees in English, Film and a Master of Fine Arts Stott coached with a creative flair endearing himself to his charges and parents. It was at Richmond's Collegiate School that he came face-to-face with the team with no pool. Making do with as many as three different pools a week he created a community of dedicated athletes, trained them to believe in one another and in short order led the team to a state championship.
Technically the photography, camera work, editing and music are very well done given the limited budget for the film. Stott did a terrific job of making the most of what he had, shooting the film during 19 days in 2012 using various Richmond pools and Collegiate Schools Aquatics Center 50 meter tank (2008 Olympic Trial pool) for the final state meet segments.
The film embodies cinema verite at its best. Are there flaws? Yes, a few. Meet sequencing and the introduction of mixed relays will seem out of place, but it is at that point the director asks you to suspend reality and gives you the emotion and gravitas to transcend any obvious non sequiturs or niggling details.
One moviegoer commented "I liked how he mixed fact and fiction." It was in that melding that much of the film succeeds. Such comments as "excellent," "fun," "really enjoyable," "great story," "gave me goose pimples," "upbeat finish," "outstanding," were representative of movergoer appraisals.
And on a stifling summer evening where art can imitate life, especially in air-conditioned comfort, the aquatic audience that welcomed Coach of the Year left feeling uplifted and fulfilled.
Match Productions, maker of Coach of the Year, will be partnering with Paladin and Gathr Films Theatrical on Demand to distribute the film nationally. Gathr makes it possible for anyone to book Coach of the Year into their local theater by becoming a "movie captain," spreading the word to their community and preselling tickets to the show. Gathr screenings can be used as fundraisers and team building events for swim teams and other organizations. For more information visit www.coachoftheyearmovie.com.
DVDs and digital downloads will be available in time for the holidays. An encore theatrical presentation of Coach of the Year will be held at Richmond's historic Byrd Theatre on July 28 at 7:00 pm.