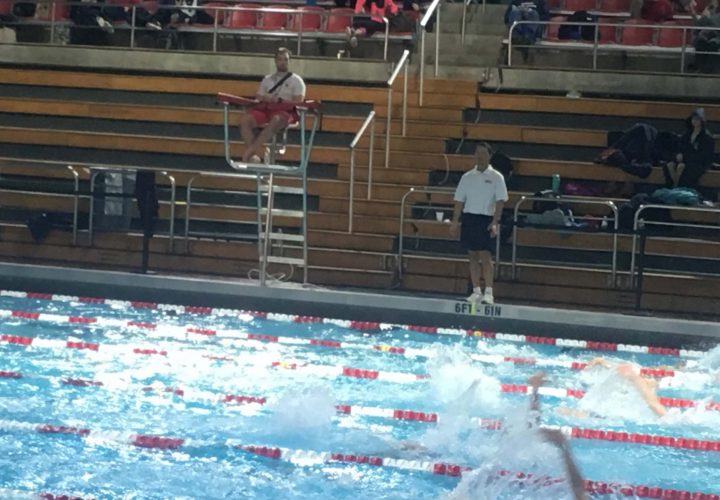 Photo Courtesy: Luke Bernstein
By Luke Bernstein, Swimming World Intern.
There is one critical element of a swim meet that oftentimes blends right into the background. It's easy to notice the swimmers, the timers, the officials, the marshals, the coaches and even the parents, but don't forget about the lifeguards, the young men and women dressed in red and white who are crucial to the success and safety of any swim meet.
Since the meet happens Rutgers University, the BAC Winter Invitational is guarded by Rutgers students who gave up their weekends to ensure the swimmers' safety. One of these employees took a few moments during a break to answer a few questions about how they succeed during the meet.
Current Rutgers University student Matt Grecko explained what role the lifeguards play at such a large meet. He has been a lifeguard at the Sonny Werblin Aquatic Center for three years and worked many of these events. Because of his experience, Grecko has figured out what areas of the meet are the easiest to watch and when it is the most difficult.
"Besides warm up, there is never more than eight people in the Olympic pool," he said, so this area is the easiest for the lifeguards to handle.  But at the same time, the patio pool (warmdown pool) can "have 80 to 100 kids in it at a time" making it more of a challenge for the one guard tasked with watching this area. These lifesavers do have the benefit of most athletes being able to stand in the Patio Pool, somewhat reducing the risk factor.
For these all-day meets, Rutgers University guards are usually given one of three five-hour shifts. However, some employees can be at the Aquatic Center for much longer, with one person sometimes scheduled for the whole meet. Matt Grecko was lucky, drawing the 12-5 shift on Sunday for his only shift of the meet. During these shifts, lifeguards are on stand for prolonged periods of time but are usually able to walk around and change stands so that they are not sitting in the same place for too long.
The guards do get breaks, Greco explained, so that they can rest and reset before returning to their pivotal roles on deck. Even if lifeguards rarely have to jump into the pool to save someone during a swim meet, better safe than sorry.