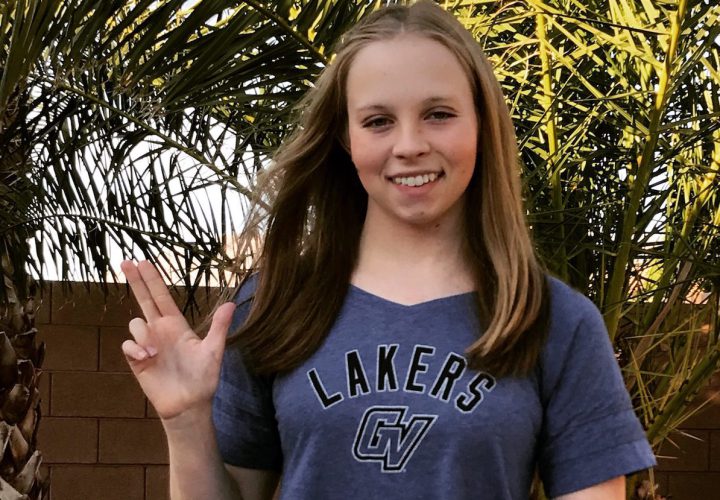 Photo Courtesy: Michael Kinross
Agon is the proud sponsor of all high school coverage (recruiting, results, state championships, etc.) on SwimmingWorld.com. For more information about Agon, visit their website AgonSwim.com.
To report a college commitment, email HS@swimmingworld.com. Join Swimming World's Watch List
NEW COMMIT: Las Vegas' Charlotte Brereton has verbally committed to swim for Grand Valley State University beginning in the fall of 2018.
Brereton is a senior at Shadow Ridge High School and does her club swimming with the Sandpipers of Nevada. At the 2017 Nevada High School swimming state championships Brereton was a finalist in the 500 freestyle, touching fifth. She was also sixth at the Sunset Regional Championship in the 100 fly. She is also a Sectionals finalist and a Senior Zone finalist in the 200 fly and 400 IM.
Her top times include:
200 Free 1:58.93
500 Free 5:07.43
1650 Free: 17:58.97
100 Fly: 1:01.20
200 Fly: 2:11.51
400 IM: 4:40.30
Brereton said of her decision,
"I chose Grand Valley because it is an all around great school. Grand Valley is both academically and athletically strong. I can't wait to be part of the team and swim with my sister. Go Lakers!"
Brereton's sister Caroline is a junior at the school this year. Primarily a distance freestyler, Caroline is a multiple time GLIAC finalist, with times just quicker than her younger sister's. The two will have a year to train together.
Other Sandpipers seniors committed to continue swimming for college programs include Grace Siebmann, Erica Sullivan, and Allie Emery.