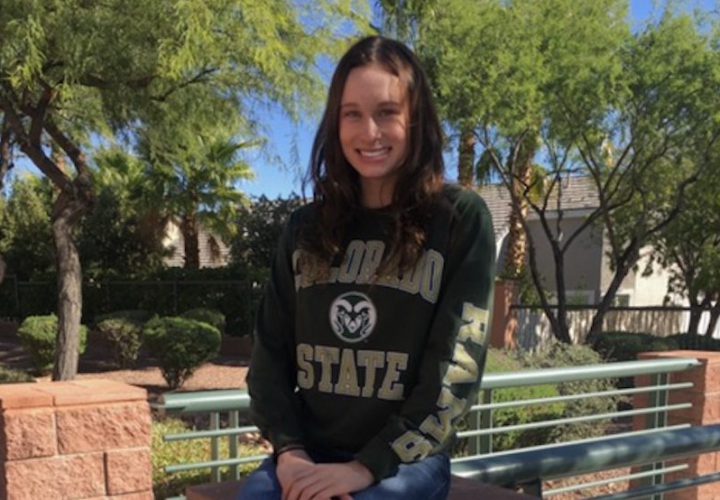 Photo Courtesy: Ron Aitken
Agon is the proud sponsor of all high school coverage (recruiting, results, state championships, etc.) on SwimmingWorld.com. For more information about Agon, visit their website AgonSwim.com.
To report a college commitment, email HS@swimmingworld.com. Join Swimming World's Watch List
NEW COMMIT: Grace Siebmann, a senior at Palo Verde High School, gave her verbal commitment to swim for Colorado State University beginning next fall. Siebmann swims for Sandpipers of Nevada where she's fairly versatile. Her best times are:
200 Breast 2:18.47
100 Breast 1:05.77
400 IM 4:21.49
200 IM 2:05.23
100 Fly 56.94
The Rams finished fifth at last season's Mountain West Championships. Siebmann should be a welcomed addition to the Championship efforts. Her 200 breaststroke best time would have made her a B finalist at last year's meet. Colorado State had two seniors score, but not a single underclassman in the event. In the 400 IM Siebmann would have found herself at the top of the B final at last year's meet. In that event she'll join a training group that will include last year's conference runner up Haley Rowley (4:14.15) and 10th and 11th place finishers Marie Goodwyn (4:19.93) and Ida Donohue (4:23.76).
She told Swimming World,
"I picked the team because I new it was a program that could help me continue to better myself both in and out of the pool while being surrounded with goal oriented and supportive teammates and coaching staff. And it's somewhere I know I'll be happy"