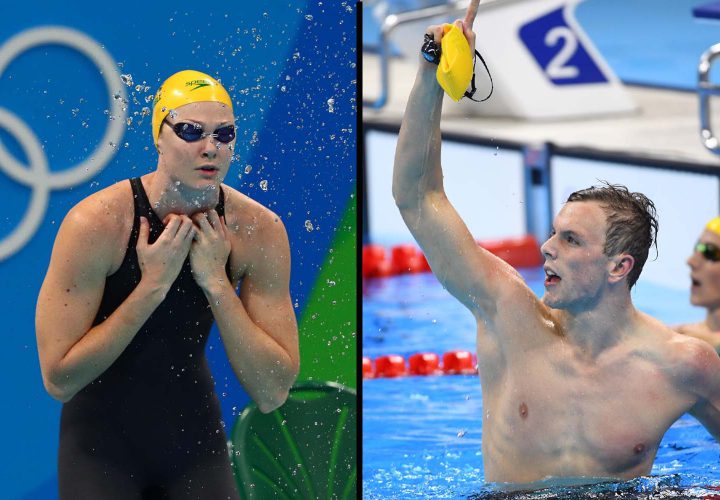 Photos Courtesy: Rob Schumacher-USA TODAY Sports
By David Rieder.
Last summer at the FINA World Championships in Budapest, the Australian team won only one gold medal, and it came on day seven of eight when Emily Seebohm pulled off a victory in the 200 back. With many of the country's top Olympic swimmers sitting out the World Champs for one reason or another, the team was the thinnest Australia has taken to a major competition in years.
Well now, Cate Campbell is back. So is Kyle Chalmers. Madeline Groves? We'll see. Seebohm and Emma McKeon never went anywhere, and neither did Mack Horton. The Australian men's relays, on the other hand, took a bit of a beating last summer in Budapest, with none making the podium.
So where is this once-mighty swimming nation that has struggled to put it all together when it counts since a flop at the 2012 Olympics in London? We'll find out some answers this week as Swimming Australia selects its roster for the Commonwealth Games, scheduled for April 4-9 at the same Optus Aquatics Centre on the Gold Coast.
Check out the psych sheet for the Australian Trials.
Here's a bit of what we're paying especially close attention to this week:
Cate Campbell and Kyle Chalmers return.
Both Campbell and Chalmers missed last summer's World Championships but for very different reasons: Campbell needed a mental reset after a massive flop at the Rio Olympics, while Chalmers was recovering from heart surgery.
And already this year, Campbell has posted some impressive efforts. At the New South Wales Championships in January, she swam a 52.37 in the 100 free, a time only three other women have ever surpassed and not far off her own national record of 52.06 from 2016.
Campbell, of course, has a history of throwing down lightning-quick times and then faltering in the big moments—like after she swam that 52.06, then a world record, one month before the Rio Olympics. No one came close to that time in Rio, and Campbell finished sixth in the 100 free final and then fifth in the 50 free.
And then, in Campbell's absence, Sarah Sjostrom smashed that 100 free world record in Budapest. Campbell won't have a chance to race against the 24-year-old Swede in a major competition this year, but inching closer to that world record is undoubtedly her priority.
As for Chalmers, his heart issues are fully resolved after surgery, but he has not raced much in the lead-up to Trials, and he dealt with a back injury that put his status for the 200 free in question. But anyone who watched the Olympics knows what Chalmers is capable of when he is fully healthy.
Sure, his 47.58 from Rio doesn't quite measure up to the insane 47.17 that Caeleb Dressel posted for gold at the World Championships, but it's faster than anyone else has swum in the last five years. And Chalmers, still 19, is a full two years younger than Dressel.
Ariarne Titmus and Kaylee McKeown with star potential?
Two of the bright spots for Australia's women in Budapest were a pair of 16-year-olds, Ariarne Titmus and Kaylee McKeown, each of whom finished fourth in an individual event.
Titmus, who has since turned 17, was fourth behind Katie Ledecky, Leah Smith and Li Bingjie in the 400 free, and a few days later, she anchored Australia to bronze in the 4×200 free relay. In December, Titmus broke Australia's national record in the 400 free, recording a time of 4:02.86, and she is also seeded first in the 800 free (8:23.08) and second in the 200 free (1:56.34) this week.
McKeown, meanwhile, stormed home in the 200 back final to finish fourth behind her countrywoman Seebohm as well as Katinka Hosszu and Kathleen Baker. She posted a world junior record of 2:06.76 in the process. The next day, she swam the backstroke leg of Australia's 4×100 medley relay in prelims, and she would end up with a silver medal. McKeown broke 1:00 for the first time in a 100 back in January.
While there's still plenty of room for both of these young ladies to grow, Australian fans already have big hopes.
Where art thou, Aussie men's relays?
In Budapest, the 4×100 free team was disqualified, the 4×200 finished fourth and the 4×100 medley squad missed the final in ninth. Sprinter Cameron McEvoy and backstroker Mitch Larkin both dealt with disappointing meets all around, but most of the other relay pieces were international rookies.
Well, not anymore. The likes of Alexander Graham, Jack Cartwright, Clyde Lewis and Zac Incerti all have one major championships under their belts, and while Elijah Winnington was not in Budapest, he did win a bronze in the 200 free at last year's World Junior Championships.
What can those teenagers do? Well, Cartwright was a finalist in the 100 free in Budapest, swimming a 47.97 in the semi-finals, and Incerti split 48.28 on the 4×100 free relay. Lewis and Winnington have both swum 1:46s in the 200 free flat start, and Graham and Cartwright posted impressive 1:46 relay splits last summer in Budapest.
Nothing Earth-shattering there, but combined with Chalmers, McEvoy, a returning James Magnussen in the 100 free and distance man Horton in the 200 free, Australia's free relays should be competitive for Commonwealth gold in April and contend for medals at the next World Championships in 2019.
As for the medley relay, 19-year-old breaststrokers Daniel Cave, Matthew Wilson and Zac Stubblety-Cook have all been 1:00 in the 100 breast, so there's promise on that leg, but medal contention will depend on Larkin returning to form and whether a reliable butterflyer emerges.
What's up with Madeline Groves?
The Olympic silver medalist in the 200 fly, Groves was another of the big-name Australian swimmers who sat out the 2017 international season. But while she is entered in this week's Trials, whether she actually competes is still up in the air.
Groves was faced with a potential anti-doping suspension after she missed three random drug tests, but she ended up being cleared to compete in October after FINA officials determined that her drug testers did not do enough to find her before what ended up being the third missed test.
The appeal process to clear her name took an emotional toll on Groves, according to a report from the Gold Coast Bulletin, and she reportedly had surgery late last year to deal with endometriosis, the same condition which felled Seebohm before the 2016 Olympics.
Swimming Australia head coach Jacco Verharen told the Bulletin, "I think with her we will see on the day," but that's still not a certainty. Groves' time from Rio in the 200 fly, 2:04.88, is more than 2.5 seconds better than the next-best Australian competing this week.