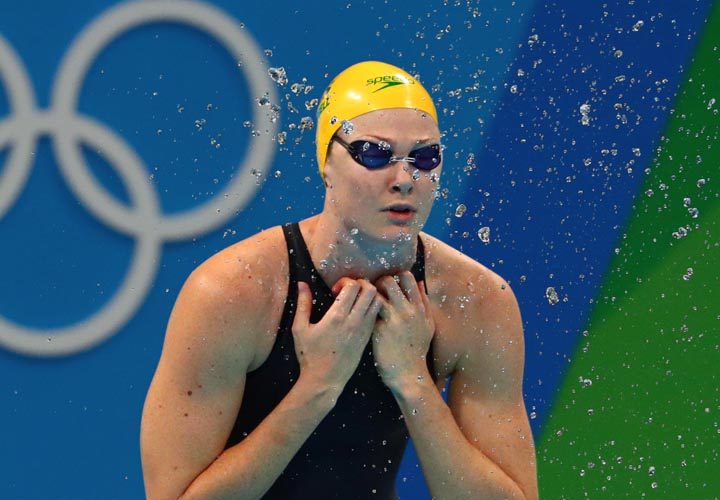 Photo Courtesy: Rob Schumacher-USA TODAY Sports
By David Rieder.
Cate Campbell arrived in Budapest last month confident that her 100 free world record was about to go down, and there was nothing she could do about it. If her Australian countrywomen needed a boost in one of the sprint relays, Campbell would not be up for the task.
That's because Campbell was not a member of the Australian Dolphins swim team, as she had been for most of the previous decade. She was in Budapest, yes, but her job there was to provide analysis for Australia's Channel 7 broadcast.
A strange position for Campbell, to be sure, especially as she watched her younger sister, Bronte, compete in a full schedule of events alongside other of her longtime friends—Emma McKeon, Brittany Elmslie and Emily Seebohm, who was Campbell's teammate as long ago as the 2008 Olympics in Beijing.
Months earlier, Campbell had decided to take the year off from competing at the World Championships, and even after racing at her country's national championships in April, she stuck to her guns and declined a spot in Budapest.
On day one of the meet, that meant watching helplessly as Bronte and the rest of the Australian team battled the United States women for gold in the 400 free relay.
"Obviously there is a really fierce rivalry between the USA and Australia. I'm just going to have to try to enjoy sitting back and watching," Campbell said of the impending dual for gold. "Ultimately, it's out of my hands, so what I think doesn't really matter because it's going to happen regardless and I cannot in any way change that fact."
As it turned out, the Aussie team did not have enough firepower to hang with the Americans, coming up three tenths short and settling for silver. To add insult to injury, Sarah Sjostrom became the first woman to swim a 100 free under 52 seconds while leading off Sweden's relay, demolishing Campbell's world record by more than three tenths of a second.
While all that went down, Campbell was watching from the deck nearby, preparing to analyze the session on camera for the fans back home in Australia.
But why—why did Campbell choose not to defend her world record and go into battle with her Australian teammates in Budapest? The answer to that question lies in what had happened one year earlier in Brazil, when Campbell, facing the more pressure than she ever had, came up short.
The Race
Five weeks before the Olympic Games, Campbell broke the world record in the 100 free, recording a time of 52.06 at a low-key Grand Prix meet in Brisbane. It was the first individual long course world record of her career.
So she had history's fastest time, but should she be excited about that, with the grand prize of Olympic gold not yet secured? Campbell wasn't sure, calling her feelings about the world record at the time "a weird mix."
"You are really happy that it has happened, but you also want to shut it off and put it away and not think about it and then you don't really get to celebrate that achievement for what it is," Campbell said. "That was like a little speed bump on the road to Rio."
But regardless of her emotions about the achievement, the record only ramped up the expectations for Campbell's Olympics: Anything other than an Olympic gold in the 100 free would be a disappointment.
In Rio, Campbell looked poised to deliver—at least through the meet's first few days. After leading Australia to Olympic gold in the 400 free relay on the meet's opening day, she paced the field through the first two rounds of the 100 free, setting the Olympic record on both occasions. She was the undisputed favorite for gold.
But in the Olympic final August 11, Campbell flinched. Literally.
After coming down into a set position, Campbell can be seen inching forward just slightly in the split-second before the horn sounded. She thought she false started, she admitted. Did that affect her? Impossible to know for sure.
Whatever her mental state, Campbell was out in 24.77, under world-record pace—and, apparently, too hard. Campbell still led with 15 meters to go, but all the sudden, her tempo dropped dramatically, and within moments she was passed on either side by Simone Manuel of the United States and Penny Oleksiak of Canada.
Manuel and Oleksiak tied for gold in 52.70, more than a half-second off Campbell's world record. Campbell ended up finishing sixth in 53.24. She was devastated.
"There were tears, there were many tears—I'd be lying if I said there weren't," she admitted.
Bronte, who arrived in Rio as the defending World Champion in the 100 free and was roommates with Cate in Rio, didn't put up the performance she expected either, ending up fourth in the final. In the ensuing moments, the sisters shared in their mutual pain.
"It was almost something that didn't need to be discussed because you could see your own emotions reflected in your sister's race," Cate said.
Two days later, Campbell came out in the 50 free and again missed the podium. She was fifth in 24.15, four hundredths away from winning bronze. That session, the last of the Olympics, wasn't a complete wash for Campbell, as she anchored Australia's 400 medley relay to silver, but relay accolades could not make up for the individual letdowns.
Finding Perspective
After Rio, Campbell decided to get as far away from swimming as she could. She avoided the water for six weeks, more time than she had ever taken off in her career. Deep down, she knew her career was not over, but she had no desire to swim.
"I was bitter, and I was angry, and I was frustrated, and I was scared," Campbell said. "It's strange, because it was 100 percent me (at fault) and I was in control, but I felt like I had given so much of myself to this thing and it had just really let me down and I was feeling really hurt by it."
But at the same time, nothing else Campbell was doing was all that satisfying either. So one day, Campbell decided to go for a swim—not necessarily for a workout, just a swim at her home pool in Brisbane.
She dove in, and immediately, without taking a stroke, she felt at home.
"It was really strange. I dove in and just glided. I didn't need to take a stroke. I didn't need to do a kick," she said.
"I knew as soon as I dove in that it was what I was born to do," Campbell said. "It's my great love and my great talent and my great passion, and it would be a shame to give it up over 100 meters."
But at the same time, Campbell knew she needed to make some changes to ensure her own longevity in the sport. She decided to take a step back, to return to training but with less focused intensity than she was used to.
She would still race throughout 2017, but that meant the World Championships would be out.
"I knew I couldn't be focused 100 percent, 100 percent of the time," Campbell said. That's an unrealistic expectation to have of anybody towards anything, and that's how I had been for the last four years."
Campbell resumed her university studies and allowed herself more freedom to live her life without thinking constantly about how anything she did would affect her training.
If she wanted to go hiking one weekend, Campbell would go. So what if her legs were a bit sore when she showed up for Monday morning workout? So what if she wanted to go back for an extra serving of ham at Christmas dinner?
Campbell has raced in a few low-key meets since Worlds— FINA World Cup stops and the Energy for Swim charity meet in Rome—and she plans to ramp things up again in the lead-up to next April's Commonwealth Games on the Gold Coast and then take a step back once again before what she hopes is a strong push towards another Olympics in Tokyo.
She still has big goals she wants to accomplish in swimming, but even if she has never won an individual Olympic gold medal, she has gained some perspective on her career during her mental break this past year. She has allowed herself to be proud of all she has accomplished.
"I've broken world records, I've become a world champion, I do have two Olympic gold medals, and one of them is in a world-record time. Yeah, they are not individual, and yeah, they are not exactly what I wanted or what I would dream of, but that doesn't mean my whole career has been a failure," Campbell said.
"I've had maybe one or two bad swims, and if I put them on a scale, the good far outweighs the bad. Why am I getting hung up on this one little negative? Well, more than little—it was big negative, let's face it—but why am I letting one bad swim define my whole swimming career?"
Now, as she aims for next year's Commonwealth Games, Campbell is armed with a healthier perspective. Her days as one of the world's best sprinters may not be over just yet.