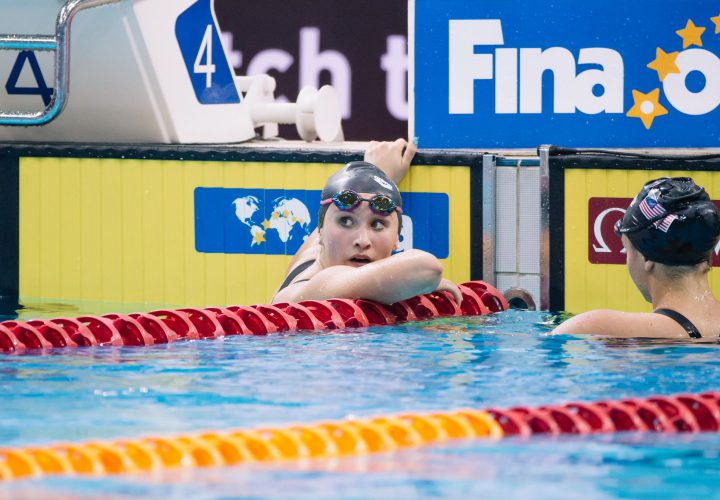 Photo Courtesy: Singapore Swimming Federation
Agon is the proud sponsor of all high school coverage (recruiting, results, state championships, etc.) on SwimmingWorld.com. For more information about Agon, visit their website?AgonSwim.com.?National Records for High School Are Pending Application Verification.? Click Here to Learn More
Agon is the proud sponsor of all high school coverage (recruiting, results, state championships, etc.) on SwimmingWorld.com. For more information about Agon, visit their website AgonSwim.com.
The girls from James Madison High School scored 217.5 points, just 10.5 more than Yorktown High School, to win the 2018 Virginia High School Class 6 State Championships. Langley won the boys meet by a solid margin, with 235 points to James Madison's 186.
Girls
Yorktown won the 200 medley relay in an overall state record time of 1:43.02 with the team of Mary Kate Reicherter, Kayle Park, Victoria Huske, and Emily Brooks. James Madison was also under the old Class 6 mark, touching in 1:43.71 with the team of Rachael Holp, Anna Keating, Madeline LaPorte, and Anna Miller.
Cassidy Bayer, a senior from West Potomac, won the 200 freestyle in 1:46.92. The Cal commit was also third in the 100 butterfly with a 53.07. Yorktown freshman Huske won the 100 butterfly in 52.64. Centreville's Lexi Cuomo placed second in 53.05. In the 200 freestyle Bayer was followed by Battlefield's Emily Hetzer (1:47.08). Huske won the 50 freestyle in 22.88. Hetzer won the 500 free in 4:46.99.
Bayer's teammate Holly Jansen won the 200 IM in 2:01.02, a half second ahead of James River's Caroline Sheble in 2:01.57. James Madison's Keating finished third (2:03.71). Keating won the 100 breaststroke in 1:01.06. Jansen was second (1:01.20).
Herndon's Grace Cutrell won the 100 freestyle in 51.12. James Madison's Elizabeth Kuhlkin was second in 51.35, just out touching South County's Kyrsten Davis in 51.37.
The Centreville team of Thalia Costanza, Emily Drakopoulos, Allyson Lerke, and Cuomo won the 200 freestyle relay in 1:35.93.
Elle Caldow, a sophomore from First Colonial, edged South Lakes sophomore Anna Redican 55.42 to 55.45 for the 100 backstroke title. Reicherter was third (56.09).
In a dramatic ending, Yorktown and First Colonial both hit the wall in 3:30.77 in the 400 freestyle relay to tie for first.
Boys
Oakton's Anthony Grimm, Nick Highman, Daniel Gyenis, and Devin Gardner won the 200 medley relay by nearly two full seconds, finishing in 1:33.42.
Tyler Zuyus, a senior from Langley, won the 200 freestyle by a second, touching in 1:37.58. It was a quick heat, with five swimmers under 1:39. His teammate Casey Storch stopped the clock in 1:48.86 for the 200 IM victory. Cosby's Phil Costin was also well ahead of the field in 1:50.52. Storch also won the 100 breaststroke in 55.70.
Zuyus was also victorious in the 500 freestyle, as his 4:28.42 was just faster than Oakton's Gyenis' 4:28.72.
First Colonial's Cason Wilburn was a 20.57 for 50 freestyle gold. Osbourne Park's Corey Shepard picked up silver with a 20.71. Wilburn added the 100 freestyle title with his 44.86. Costin finished second (45.12).
Blake Manoff, a Battlefield senior, raced to a 49.02 to win the 100 butterfly. In second was Oakton's freshman Grimm (49.30). Grimm won the 100 backstroke in 49.15, over a second ahead of second place.
Osbourne Park's Shane Morison, Robert Schultz, Steven Butler, and Cored Shepard raced to a 1:24.80 to win the 200 freestyle relay.
Langley wrapped up the meet with an event win. Zuyus, Will Koeppen, Darius Truong, and Storch swam a 3:10.16 in the 400 freeestyle relay as James Madison and Osbourne Parktied for second in 3:11.75.
Full results available here.