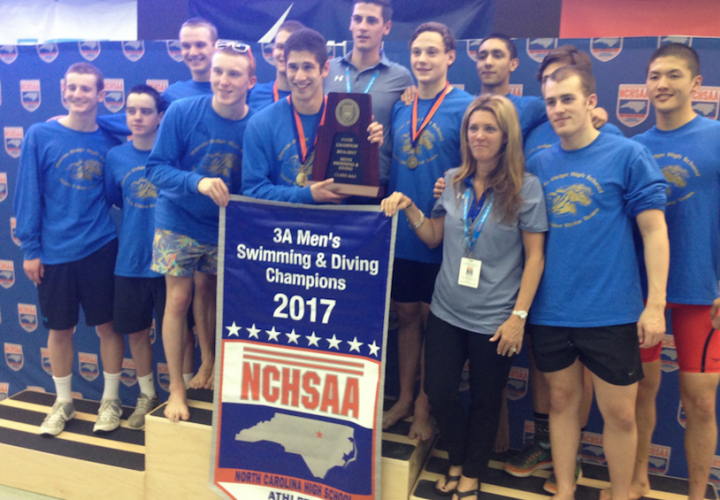 Photo Courtesy: NCHSAA (Twitter)
Agon is the proud sponsor of all high school coverage (recruiting, results, state championships, etc.) on SwimmingWorld.com. For more information about Agon, visit their website?AgonSwim.com.?National Records for High School Are Pending Application Verification.? Click Here to Learn More
Agon is the proud sponsor of all high school coverage (recruiting, results, state championships, etc.) on SwimmingWorld.com. For more information about Agon, visit their website AgonSwim.com.
The Marvin Ridge women kicked off the North Carolina 3A State Championships with a win in the 200 medley relay. The team of Caroline Hauder, Mary Agnes Rothenbeger, Katie Rivers, and Madeline Tessin teamed up for the win with a time of 1:46.60. The Cox Mill team of Madison Holland, Bailey Minnick, Cathleen Rogers, and Madison Greenhall took second in 1:47.70. Third place went to Weddington's Sarah Corbi, Maddy Flickinger, Sydney Everhart, and Kaylea Tolchin with a time of 1:49.99.
On the men's side, the Northern Guilford men won handily. Preston Forst, Jeremy Lalumondier, Jonathan Wachendorfer, and Bryan Hill combined for a time of 1:35.51. Marvin Ridge and Chapel Hill tied for second in 1:37.34. Matthew Shen, Nate Utesch, Boyd Poelke, and Charles Rothenberger represented Marvin Ridge, and Adam Batson, Jordan Ren, Jacob Werden, and Ang Li swam for Chapel Hill.
Marvin Ridge's Hauder picked up the first individual win of the night in the women's 200 freestyle. Her time of 1:48.52 was nearly two seconds ahead of Hickory's Anna Durak, who finished second in 1:50.37. Hauder's teammate, Ellie VanNote, finished third in 1:52.49.
The men's 200 freestyle went to Northern Guilford's Forst. The freshman barely edged Concord's Robbie Epler, 1:41.01 to 1:41.03, respectively. Li touched third in 1:41.83.
Hauder quickly followed up her 200 freestyle with another win in the women's 200 IM. Finishing in 2:01.52, she was again over two seconds ahead of the next competitor. Weddington's Flickinger took second in 2:03.94, with Sophia Cherkez of St. Stephens coming in at 2:05.58 for third.
Chapel Hill's Jordan Ren won big in the men's 200 IM with a time of 1:51.90. Second went to Robinson, J.M.'s Kyle Evans with a time of 1:55.51. Christian Lower of Cornith-Holders picked up third in 1:56.14.
In the women's 50 freestyle, Weddington's Katie Corbi edged out Cox Mill's Rogers, with times of 23.78 and 23.81, respectively. Alicia Hutchins, representing North Gaston, touched third in 24.43.
Noah Henderson of Western Alamance took the state title in the men's 50 freestyle in a time of 20.76. Marvin Ridge's Poelke was second in 21.35. Zech Chastain of Aycock, C.B. swam to third in 21.77.
Martin Ridge's VanNote picked up the win in the women's 100 butterfly, touching in 55.22. Rogers finished second in 56.22, followed by her teammate Holland in 57.80.
Henderson easily dominated the men's 100 butterfly, winning in a time of 48.986. Marvin Ridge's Peter Dwyer was the runner-up in 50.43. Dwyer finished just ahead of his teammate Poelke, who swam a time of 50.54.
Corbi out touched Durak for the win in the women's 100 freestyle. They swam to times of 51.21 and 51.26, respectively. Third place went to Chapel Hill's Peyton Whitaker, who touched in 53.55.
The men's 100 freestyle went to Epler, who finished in a time of 46.35. Marvin Ridge's Jeffery Murray took second in 46.75. Brady Leatherman of St. Stephens came in third at 46.89.
Hickory's Emmaline Peterson won the women's 500 freestyle by a margin of six seconds. She finished with a time of 4:49.84. Cherkez picked up second place in 4:55.31, while Peterson's teammate Maly Shores placed third in 5:05.99.
Thomas Breztmann of Chapel Hill ran away with the men's 500 freestyle in a time of 4:31.90. Weddingtion's Curtis Wiltsey was second in 4:33.83. Bretzmann's teammate Werden touched third in 4:39.98.
The Hickory women's team of Shores, Lauren Ferner, Peterson, and Durak swam to first place in the 200 freestyle relay with a time of 1:38.91. Second place went to Weddington's team of Kaylea Tolchin, Amelia Kudela, Kelsey Tolchin, and Corbi in 1:39.38. Marvin Ridge's VanNote, Ashley Baum, Kate Marshall, and Tessin were just behind in 1:39.81.
Marvin Ridge took the men's 200 freestyle relay. The team of Murray, Dwyer, Rothenberger, and Poelke swam to 1:26.46. Just behind them was the Northern Guilford team of Wachendorfer, Hill, Ben Snider, and Forst in 1:26.93. Third place went to Chapel Hill's team of Ren, Carson Wickman, Bretzmann, and Werden in 1:29.54.
Weddington sophomore Flickinger won the women's 100 backstroke. Over a second faster than the next fastest competitor, she swam to a time of 54.76. Holland was second in 55.86. Northwood's Sarah Helen Shepherd finished third in 58.17.
Li took the men's 100 backstroke in a time of 50.24. Chastain placed second in 51.19, while West Henderson's Jake Johnson came in third at 52.08.
The women's 100 breaststroke went to Virginia Gilliland of West Guilford with a time of 1:05.89. Central Cabarrus's Isabella Gaskey edged out Marvin Ridge's Rothenberger for second. Their times were 1:06.60 and 1:06.65, respectively.
The final individual event of the evening, the men's 100 breaststroke, went to South Iredell junior Colson Zucker. His time of 57.02 won by nearly a second. Ren placed second in 58.00. Tyler Bowersox of South Brunswick was third in 58.53.
The women's 400 freestyle relay proved to be a tight race between Weddington and Marvin Ridge. Weddington's Flickinger, Kelsey Tolchin, Kudela, and Corbi swam to a time of 3:31.37, just ahead of Hauder, Sydney Geada, Marshall, and VanNote in 3:31.52. Hickory's Peterson, Shores, Lauren Ferner, and Durak teamed up for third place in 3:38.57.
The Marvin Ridge men took the 400 freestyle relay. Murray, Utesch, Adam Fisher, and Dwyer finished in 3:11.16. Second place went to Chapel Hill's Li, Wickman, Beau Brauer, and Bretzmann in 3:12.82. Weddington's team of Connor Raines, John Morehead, Kevin Wiltsey, and Curtis Wiltsey swam to third in 3:20.06.
Marvin Ridge won both the women's and men's team titles, with 387 and 328.5 points, respectively. The Weddington women followed for second with 217 points, while the Hickory women took third with 174. The Chapel Hill men placed second with 297 points, and the Northern Guilford men followed with 191.5.
Results are available on Meet Mobile.