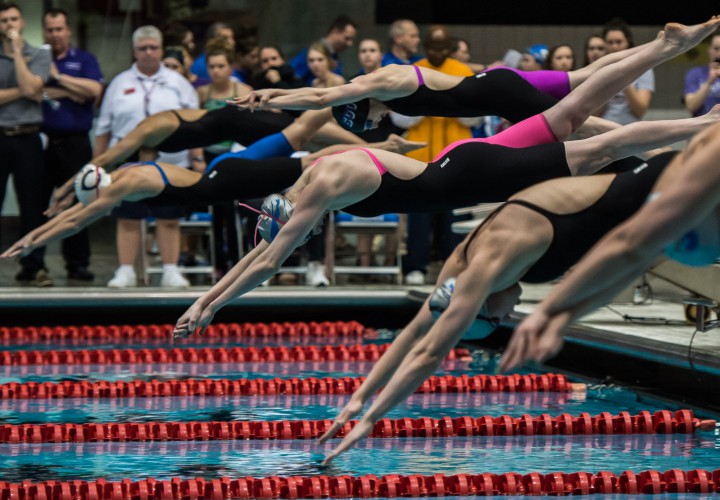 Photo Courtesy: Peter H. Bick
Agon is the proud sponsor of all high school coverage (recruiting, results, state championships, etc.) on SwimmingWorld.com. For more information about Agon, visit their website Agonswim.com.
INDIANAPOLIS – The Carmel High School girls swim team has already established itself as the best that the state of Indiana has seen. Today's 29th consecutive state title cemented that status, and put this year's squad from the northern Indianapolis suburb in contention as the best girls' high school swim team in history. The team broke all three national high school relay records, something very few high schools have been able to accomplish in history.
The state title also puts Carmel High School swimming in a tie with the Punahou High School's boys swimming program, which also won 29 straight Hawaii state titles from 1958-1986 to become the only high school sports team in the 50 United States to win that many consecutive titles. Based on the dominance Carmel showed today, that record is almost certain to fall next year.
Today's competition mirrored the dominance that the Bolles School men's team showed in November 2012 when the team dominated at the Florida high school championships and set three seemingly unbreakable national high school relay records to win the Swimming World Magazine Boys High School national title. Carmel appears to be headed toward its third-straight national title.
Highlighted by the three national relay high school records broken by Carmel today, the girls dominated the meet, winning by 266 points over runner-up Fishers, which scored 179 points. Every swimmer on the 27-person Carmel squad scored points in the competition, further accenting the depth that head coach Chris Plumb has created on the team. Amy Bilquist was the key contributor in her final high school meet, swimming on two of the record-setting relays and winning the 50 and 100 freestyles.
Carmel wasted no time in setting the tone for the meet, breaking their own 200 medley relay national recordin prelims with a 1:40.33. Sammie Burchill (25.39), Alex Clarke (29.00), Veronica Burchill (23.31) and Amy Bilquist (21.55) returned in finals to become the first high school squad under 1:40 with a 1:39.25.
Because she swam two individual events, Bilquist could only compete in two of the relays. The 400 free relay was a barnburner, and a memorable way for Carmel to put a bow on an impressive meet. Burchill (48.48), Claire Adams (48.68), Kendall Smith (50.52) and Bilquist (47.70) combined for a 3:15.38, breaking their own public school record by almost six seconds. It also claimed the overall national high school record, erasing the 3:20.42 that Carondelet swam in 2013. For more perspective, Carmel's 400 free relay would have placed 13th at last year's NCAA championships, and would stand fifth among all collegiate relays swum at this point in the season.
The 200 free relay national record further exemplified the depth that Carmel has on the team. Even without star sprinter Bilquist, the team lowered their national public school record from 1:31.37 to 1:30.72. That also beat out the overall national record of 1:31.18 set by the Baylor School in 2012. Burchill (22.29), Adams (22.53), Smith (22.77) and Trude Rothrock (23.13) were responsible for the new record. Notably, Adams and Burchill were part of the previous record that had also included Bilquist.
Bilquist's 50 free was one of the standout individual swims of the meet. Bilquist nearly cracked 22 seconds, and nearly took down Abbey Weitzeil's national record of 21.98 – with a 22.15 after a 22.19 in prelims. That ties her personal best from last year's state meet. Bilquist also got within five tenths of Weitzeil's 100 free national record of 47.82 with a 48.36 in her winning swim.
Carmel won all but two of the swimming events today. Lillia King of F.J. Reitz High School was responsible for both of those victories, taking the 200 IM with a 1:59.24 and the 100 breast in 59.70. King had faster prelims swims in both events, posting a 1:58.86 for a lifetime best in the 200 IM and a 59.63 in the 100 breast, breaking her state record and persona best by four hundredths of a second.
Adams was Carmel's other double individual event winner, taking the 200 free in a 1:45.78 to win by nearly two seconds over teammate Emma Nordin (1:47.63). Adams just missed out on resetting her state record of 1:45.09 from prelims which marks a personal best. It's bound to be one of the top eight swims in the country, though far behind the new national record of 1:41.82 swum by Katie Ledecky last week. Adams returned to lead another Carmel 1-2 finish in the 100 back with a 52.14. Adams, who was second at last summer's junior nationals in the event behind Bilquist, swam a 51.99 in Friday's prelims for a state record.
Burchill set a state record of 52.26 in winning the 100 butterfly, lowering the record from the 52.29 she swam in yesterday's prelims. It also sliced seven tenths of a second off her lifetime best, which she swam at last December's nationals. And after finishing second in the 200 free, Nordin got her state title with a 4:45.87 in the 500 free, just missing the state record of 4:45.15 she swam in yesterday's finals that marked a lifetime best by 10.5 seconds.
Hamilton Heights' Brooke Schultz won the 1-meter diving competition as a sophomore, earning a state record score of 563.65 points and beating runner-up Lawrence North's Morgan Meixner by 55.5 points.
Indiana Girls High School State Swimming and Diving Championships – Results
This slideshow requires JavaScript.